Texas authorities responded Saturday afternoon to multiple reports of boats in distress at the "Trump Boat Parade" on Lake Travis in Austin. Several of the boats have sunk, the sheriff's office confirmed.
Kristen Dark, a spokeswoman for the Travis County Sheriff's Office (TCSO), told Newsweek that the department received and responded to "many calls for service for boats in distress" throughout the parade. Authorities could not immediately provide specifics on the number of boats affected.
Austin-Travis County EMS (emergency medical services) tweeted it was not involved in any of the boat sinking incidents on the lake Saturday.
"No injuries or medical emergencies have occurred as the result of these incidents & #ATCEMS has not been requested to respond to any of them," the tweet states.
TCSO received its first call around 12:15 p.m. local time for a disabled boat, authorities said. The last call TCSO received regarding a boat in distress was at 1:53 p.m., and the incidents occurred along several points throughout the parade's route.
Photographs posted by the Austin American-Statesman capture boats taking on water from waves. A photojournalist tweeted that at least three boats were swamped "with no injuries reported."
While conditions on the lake can vary with the weather, skies on Saturday were partly cloudy and the water was calm, Dark told Newsweek.
More than 2,000 people said they were planning to attend Saturday's water rally to show their support of President Donald Trump, according to a Facebook page advertising the event. Nearly 6,000 others marked themselves as "interested" in the event.
Lake Travis, a reservoir located on the Colorado River near the western edge of Austin, covers almost 19,000 acres, according to its website. Event organizer Pacey Chynow wrote on Facebook that the parade was scheduled to take place Saturday from 11:30 a.m. to 2 p.m., with "concerts, gatherings and activities" to be held later in the evening.
Chynow called for boats of "all shapes and sizes" to participate, requesting that paraders decorate each vessel in patriotic colors and "fly as many Trump flags as she can handle."
"Let's really make a statement!" the event's Facebook page reads.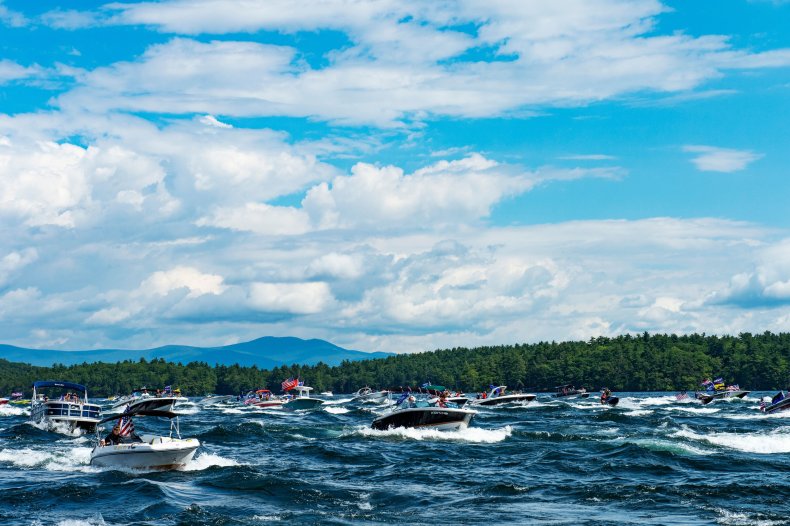 As the November 3 election date looms closer, polls show Trump might benefit from further support among Texans. Recent surveys put him neck-and-neck with Democratic candidate Joe Biden in the state, with the latest poll by Data for Progress showing Biden in the lead by three percentage points.
Biden received 48 percent of support among likely voters, compared to Trump's 45 percent, according to the poll conducted August 20 through 25.
Trump won Texas by nine points in the 2016 election, according to Politico's election forecasting tool. The traditionally red state holds a total of 38 votes in the Electoral College, which could be crucial for Trump to secure if he hopes for another four years in office.