A Southern Baptist minister was told his license to the gospel ministry would "not be renewed" at a Texas church following a Facebook post endorsing Joe Biden for president in September, according to the Baptist Standard.
David Bumgardner, a 21-year-old Fort Worth student at Southwestern Baptist Theological Seminary's Scarborough College, completed a year-long pastoral internship at Faith Memorial Baptist Church in Archer City, Texas. The congregation, which is aligned with the Southern Baptists of Texas Convention, licensed Bumgardner to the gospel ministry on July 19, a private agreement between himself and the church pastor, Avery Sprey.
Sprey and Bumgardner came to the agreement that the license was conditional and had an "expiration date," which noted the church or pastor had a right to either renew or let it expire at the end of the year, according to the Baptist Standard.
The young minister's divisive social media presence, which included sharp criticism of President Donald Trump and his administration despite being a Republican, was already a source of concern for the pastor. However, it reached a tipping point when, three days after his farewell sermon on September 6 after completing his internship, Bumgardner posted a brief essay on his Facebook page endorsing Biden, calling him the "true 'Christian option' in this election."
"I believe Donald Trump is a threat to the flourishing of my neighbors. I believe he is a threat to National Security. I believe he is a threat to national unity," Bumgardner wrote in the since-deleted post.
"I am voting for Joe Biden to get the most egotistical, hypocritical, divisive, deranged, and dangerous man to ever hold presidential office out of the Oval (Office)," he continued. "I am voting for Joe Biden because he will bring back decency to the White House."
Bumgardner went on to acknowledge that he is a "lifelong conservative" and that he hasn't abandoned his Republican values and evangelical and Baptist faith by endorsing Biden over Trump.
"I am voting for Joe Biden because the GOP—my party!—no longer has any moral courage," he wrote.
He later added, "I know this is a shock to many of you (and a year ago, I never would have thought that I'd be voting for a Democrat). As I said, in the coming days I will be happy to give you a biblical, theological, and moral case for my change of heart."
Bumgardner received a string of angry criticism over the post, with comments accusing him of "supporting murderers" and not being a "biblical Christian."
A far-right religious website, Reformation Charlotte, published a scathing report on Bumgardner's post, calling the young minister and those who share his views "foolish" and claiming he has "no business preaching or leading a church."
"I was flooded with notifications and messages," Bumgardner told the Baptist Standard in September. "I was called a baby-killer, cop-killer, race-baiter, unqualified minister, pedophile and fake Christian, despite the fact that my classical, conservative, orthodox and evangelical theological convictions have not changed."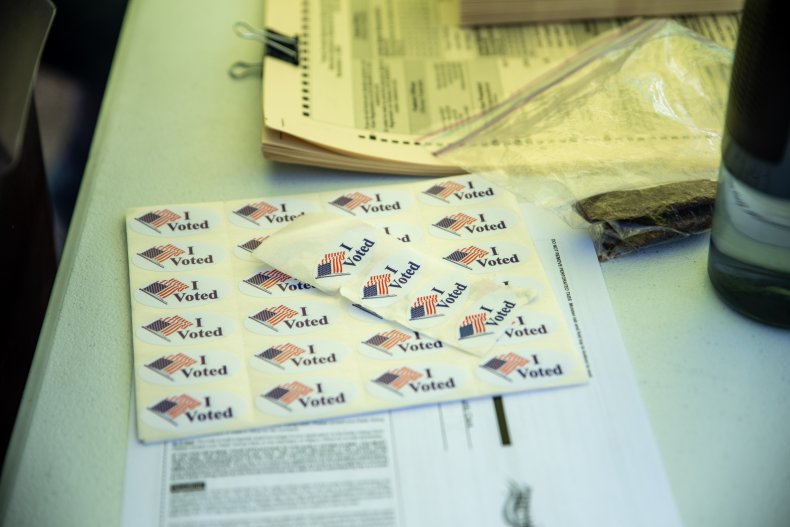 A few days after posting his endorsement, Sprey informed Bumgardner that neither he nor the church would be renewing his license. Shortly afterward, Bumgardner decided to give up the license altogether instead of taking action against the church.
"I couldn't care less about his political views," Sprey told the Baptist Standard. "My concern is that his social media posts cause discord among brothers and do not promote gospel unity."
Sprey declined to comment when contacted by Newsweek, noting that the parties involved have privately reconciled on the matter.
Gary Ledbetter, the communications director for the Southern Baptists of Texas Convention, told Newsweek that a ministry license is traditionally given when the church has had the opportunity to observe the person and agrees that he or she has been called to preach.
"In the case of licensing, it's kind of a stair step. Licensing means we agree that you've been called to the ministries. Ordination means we've had a chance to observe you doing ministry and are confident in your competence as well as your commitment," Ledbetter said. "So it is conditional on the church's evaluation."
Ledbetter said that, in his observation, an agreement in which the license could either expire or be renewed was unusual in the traditional process. However, he noted that although the license is usually a one-time thing, the church has the right to revoke it if it decides the person is "not fit for ministry."
Bumgardner told the Baptist Standard that he believes the outcome would've been different had he endorsed Trump.
"Had I endorsed Donald Trump or kept my views to myself, I am sure I would still be a licensed Christian minister on the pathway to formal ordination," he said.
Towards the end of October, just weeks after losing his license at Faith Memorial Baptist, Bumgardner was invited to give a "trial sermon" at Cornerstone Baptist Church in Arlington, Texas, according to The Dallas Morning News. The church unanimously voted to license him to the gospel ministry following his sermon.
Bumgardner told the newspaper he believes his Biden endorsement was a mistake after the dramatic series of events that unfolded in September. But he said that faith leaders should have the right to criticize politicians from either political party.
"I made a mistake with that Biden endorsement," Bumgardner told the Morning News. "I genuinely feel like it was a mistake, but what's done is done. I did what I thought at the time was the right thing to do, and I was willing to stand by my principles."
"Where's the line between ministers having obligations to his flock and your obligation to address things going on in the broader culture and political milieu that are important and that needs to be addressed? Where's that line?" he asked.
Bumgardner later added, "Man, I don't know where that line is. I'm still trying to figure that out."
Newsweek reached out to Bumgardner for comment but did not receive a response in time for publication.