Texas Border Protection Unit Would Let Citizens Arrest Migrants
Texas Republicans have introduced a bill in the state House that would give some citizens the authority to arrest migrants who illegally cross the southern border.
President Joe Biden has faced increasing pressure from Republicans to crack down on border security amid spiking levels of crossings along the U.S.-Mexico border in recent months. In the fall, several GOP-led states, including Texas, began busing migrants to cities like Chicago, New York and Washington, D.C., in protest of the president's "open-border" policies.
In a new move to bolster the state's own control over border security, Texas State Representative Matt Schaefer filed House Bill 20 on Friday, which proposes the creation of a Texas Border Protection Unit equipped to "arrest, detain, and deter individuals crossing the border illegally, including with the use of non-deadly force."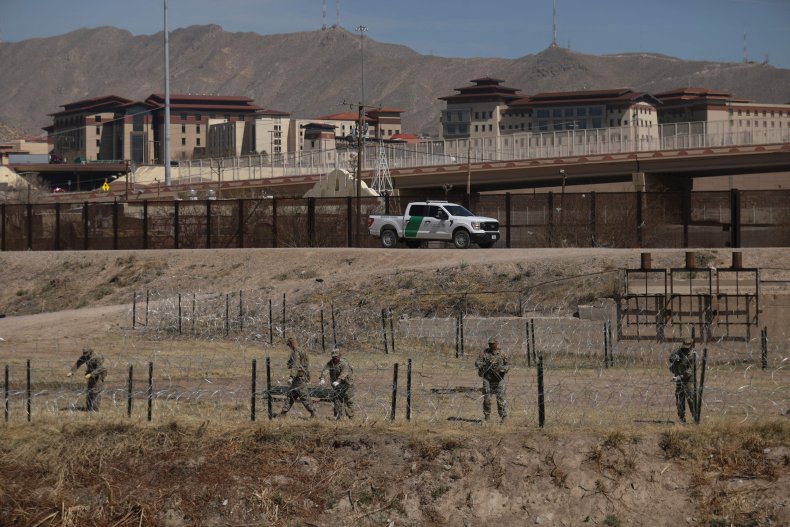 Under the bill, the unit's selected chief would be allowed to employ "law-abiding citizens without a felony conviction" to participate in the unit, although the proposal states that citizens "may not have arresting authority unless trained and specifically authorized by the governor."
The bill also states that the Texas governor, currently Republican Greg Abbott, "shall appoint a citizen of the United States" as the Border Protection Unit's chief. The unit leader, as well as their self-appointed deputy and assistant chiefs, would also be entitled to an annual salary "as provided by the legislature."
Texas House Speaker Dade Phelan praised Schaefer's proposal, which was filed alongside a slew of GOP-led bills intended to address the state's border crisis. Among the package introduced Friday includes House Bill 7 filed by State Representative Ryan Guillen, which would create the Legislative Border Safety Oversight Committee to provide recommendations and oversee Schaefer's proposed Border Protection Unit.
"Addressing our state's border and humanitarian crisis is a must-pass issue for the Texas House this year, and I thank Representative Guillen and Schaefer for filing Bills 7 and 20 respectively, which, when combined, will lead to a safer Texas that overall reduces the cost to taxpayers," Phelan said in a statement posted to Twitter.
Texas Democratic Party Chairman Gilberto Hinojosa quickly denounced the Border Protection Unit proposal, calling House Bill 20 "a new 'Show Me Your Papers' state police force."
"[House Bill] 20 is an egregious assault on our basic civil liberties and our core values as a nation of immigrants," Hinojosa said. "As we have seen in past iterations of this racist, fear-mongering concept, 'Show Me Your Papers' laws only stand to inflict constant anxiety and mental trauma upon all people who even look like they could be undocumented immigrants—whatever that means."
Rochelle Garza, president of the Texas Civil Rights Project, also criticized Schaefer's bill while speaking to The Dallas Morning News on Friday, saying that she was "appalled by this dangerous and unconstitutional proposal designed to violate federal law at the expense of the border community I call home."
"Not only does this bill mobilize a new military force under the governor, it also allows the head of the force to deputize almost anyone to enforce federal immigration law, including vigilante groups that have targeted Texas border communities," said Garza, a civil rights attorney in Brownsville, Texas.
Newsweek has emailed the Texas Republican Party for comment.
According to Schaefer's bill, the Texas legislature finds that the state is in "imminent danger" and declares "authority" to create the protection unit under Section 10 of Article 1 of the U.S. Constitution, which reads that no state is allowed to "keep troops" or "engage in war, unless actually invaded, or in such imminent danger."
Under the nation's current immigration policy, illegal entry into the U.S. is a misdemeanor, followed by a felony if an individual is arrested by Border Patrol agents a second time. While states technically have the option to write and pass legislation regarding immigration, the federal government has typically won control over border policies when challenged in court.
Biden has begun instituting some policy crackdowns that resemble immigration policies enacted by former President Donald Trump's administration, such as a move last month that could disqualify a majority of migrants from being able to seek asylum in the U.S. As media reports arise that the president intends to move toward a stricter approach on immigration, however, he's been met with disappointment from lawmakers in his own party.