Texas Border Town to Install Razor Wire Along Rio Grande Riverfront
Concertina wire is expected to be strung through sections of Laredo, Texas by U.S. Customs and Border Protection (CBP), leading some to believe that new sections of the border wall are to be constructed in the area.
As a border town, Laredo is a key port of entry for Mexican products to enter the U.S., also allegedly making Laredo an area where undocumented immigrants cross over into the country. Laredo is expected to contain 69 miles of the wall by the time construction is complete. According to the Laredo Morning Times, CBP officials told City Manager Robert Eads the concertina wire was essential for "operational reasons" but was not meant to be a marker for wall construction.
Councilman Mercurio Martinez said on Wednesday that he believed the wire was put in place before trenches for wall construction were dug. "It's going to look like a militarized zone," Martinez said. "I don't think it's conducive to being a good neighbor. We're not in a militarized zone."
In a statement sent to Newsweek on Thursday, the CBP explained that it had "recently presented a request to the City of Laredo for a new licensing agreement, allowing use of City owned property along the river for the possible future deployment of concertina wire. This updated agreement would replace a previously executed agreement, which recently expired, and allowed the U.S. Border Patrol (USBP) to deploy concertina wire on City property as an enforcement mechanism when needed."
"USBP does not have any current plans to deploy the concertina wire which could be used on an as-needed basis," the statement added.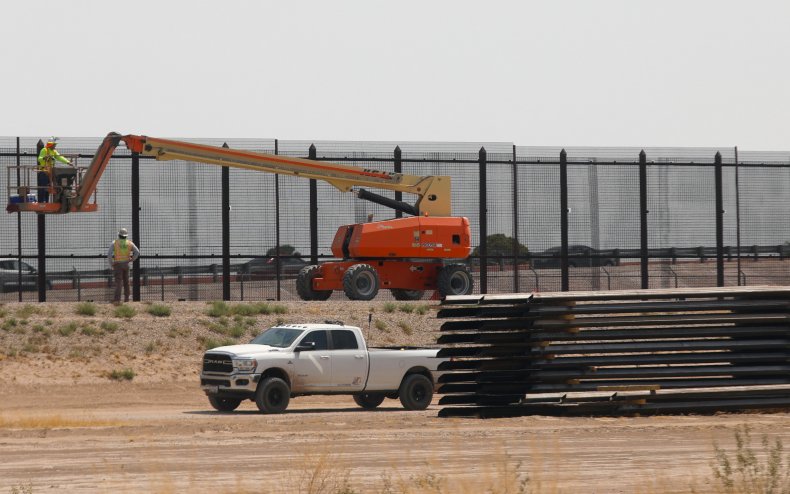 Laredo is regarded as an "area of high activity" by the CBP which claims the border in that region has yielded "over 21,750 illegal alien apprehensions and over 30,150 pounds of drugs seized this [fiscal year] to date." In May, CBP officers seized over $650,000 in narcotics in two separate events on a single day. At the time, Laredo Port of Entry Director Gregory Alvarez called the smuggling of drugs over the border a "serious international health and security threat."
Not all Laredo residents support the construction of the border wall in their city. Some individuals have formed the Defund the Wall Coalition, calling for the redirection of $275 million earmarked to finance wall construction into social programs.
"The 'Defund the Wall, Fund Our Future' campaign aims to build the political will to shift the federal government's priorities away from building a wall that will make local communities feel like an open-air prison, and towards creating real security: healthcare, jobs, education and a healthy environment," read a statement from the coalition.
Laredo community leader Juan Livas called the border wall a "sham" in July. "It's a colossal waste of money," Livas said. "The wall is already falling apart in places across the border."
In January, a California section of the border wall was blown over by high winds and landed in the Mexican city of Mexicali. Foundations for that section of the wall had only recently been poured and the concrete had yet to cure. At the time, CBP spokesperson Ralph DeSio called the collapse an "uncommon event."
"The border wall system is imperative to securing the border and is what border patrol agents have asked for and need to maintain operational control of the southern border," DeSio added.
President Donald Trump has continued to speak glowingly of the wall. During a visit to a Yuma, Arizona border wall construction site on Tuesday, President Trump said the wall would soon reach a length of 300 miles.
"It's a great feeling to have closed up the border," Trump said. "Now people come in if they come in through merit, if they come in legally, but they don't come in like they used to."
Updated 7:01 p.m. EST 08/20/2020: This story has been updated with a statement from the U.S. Customs and Border Protection agency.