Texas Border Wall Has Received Almost $400k in Public Donations, Greg Abbott's Office Says
Nearly $400,000 has been donated by the public to fund a border wall in Texas between the U.S. and Mexico.
Governor Greg Abbott's office confirmed to Newsweek on Tuesday that it's received $397,000 in donations from the public. The amount was first reported by CBS11 reporter Jack Fink.
The Republican governor officially launched the border wall project last Wednesday, announcing that $250 million in state funds would be used as a "down payment" on the construction.
"These are Texas taxpayer dollars that Texans should not have to be paying for because the federal government has a legal responsibility under the federal immigration laws to do it," the governor said in a press conference on June 16. "But because they are not doing it, Texas taxpayers are having to step up so that we as a state can protect our citizens."
The structure, Abbott said, will be built on state and private land. The governor hasn't provided a clear timeline on the wall, or its cost, saying those decisions would be made by the program manager.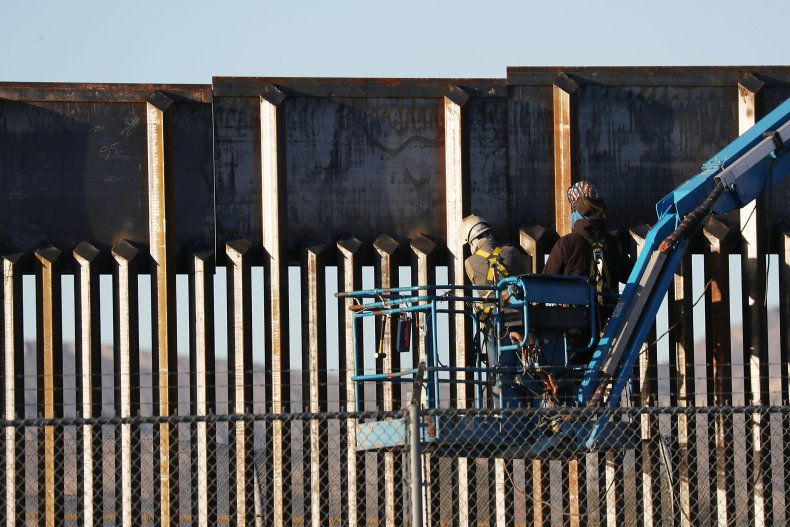 On the governor's website, there is a link to donate to the border wall project either by check or by credit card. The fund will be maintained by the Texas Division of Emergency Management.
"While securing the border is the federal government's responsibility, Texas will not sit idly by as this crisis grows. Texas is responding with the most robust and comprehensive border plan the nation has ever seen," Abbott said in a statement on the site.
Abbott's border wall project comes amid a surge in migration. Record numbers of people, primarily from Central America, have come to the U.S. border with Mexico in recent months. There were 180,034 border crossings last month, the largest figure in two decades.
More than 450 miles of border wall, including in Texas, was built during President Donald Trump's administration.
But President Joe Biden, in one of his first official acts as commander-in-chief, ordered a pause on the construction. Since then, he's canceled border wall projects Trump paid for by diverting funds from military missions.
Abbott's plan isn't the first time crowdfunding has been used to build a border wall.
We Build The Wall, a private fundraising effort, raised more than $25 million in its quest to construct 3 miles of fence posts in South Texas. But some of the project's leaders, including former Trump adviser Steve Bannon, have been charged with allegedly defrauding donors.
Newsweek reached out to Abbott's office for additional information on the average donation size and number of donors to the border wall project, but didn't receive a response before publication.