A villa that went on a court-ordered auction block on Tuesday because of a family feud between a Texas-born princess and her three stepsons contains the only known ceiling mural painted by Caravaggio.
The dispute is between Princess Rita Jenrett Boncompagni Ludovisi, 72, and three stepsons from her deceased husband's first marriage. The princess previously was married to U.S. Rep. John Jenrette Jr. and worked as an actor and journalist.
Prince Nicolo Boncompagni Ludovisi died in 2018, and, according to his widow, left her the estate in his will, she told the BBC. She said she first saw Villa Aurora in 2003 and since the two married, they worked to renovate it best they could.
Casa dell'Aurora, or Villa Aurora, was built in 1570 and has been in the Ludovisi family since the early 1600s. A young Caravaggio was commissioned by a diplomat and patron of the arts to create a ceiling mural in 1597 in a small room off a spiral staircase on the second floor that was serving as an alchemy workshop.
The mural is 9 feet wide and features Jupiter, Pluto and Neptune. It is oil on plaster, rather than the popular choice at the time of fresco.
"It's probably the first work of Caravaggio's that we know of, so historically, it's really a milestone," Claudio Strinati, art historian and Caravaggio expert, told the Associated Press. "And then, in and of itself, it's a beautiful piece about a mythological theme, which is rare in Caravaggio's art because he mostly dealt with sacred themes."
The mural was discovered in the late 1960s after previously being covered up. Other historical items on the premises include a Michelangelo statue of Pan in the garden and letters from Marie Antoinette, as well as a painting by Guercino in a fresco medium.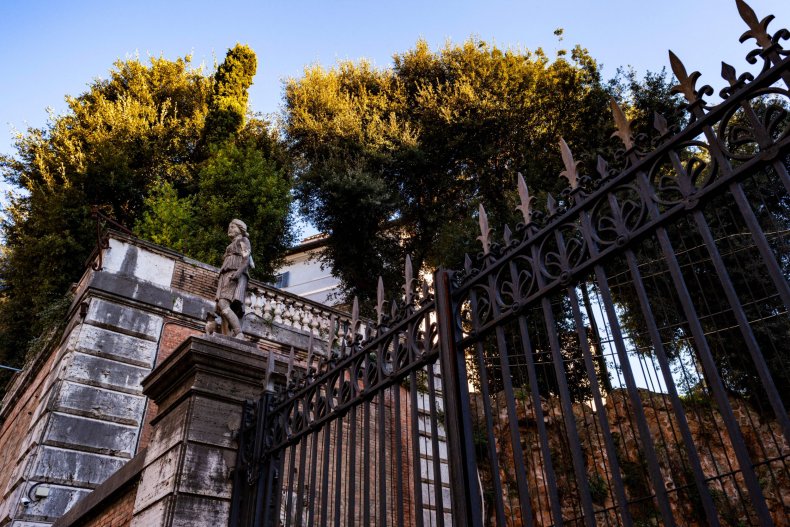 Together, the prince and princess opened the house to visiting students and tour groups, hosted dinners and helped arrange for the digitization of the Boncompagni Ludovisi archives, according to AP.
Boncompagni Ludovisi has lived in Villa Aurora for the last two decades and, according to AP, has looked at properties to rent or buy nearby. However, she believes driving by would be "painful."
"I keep thinking, won't it be painful to drive by here and see someone else living here?"
The property was auctioned for a starting bid of 353 million Euros ($400 million) with a villa off the property, Via Veneto, being court-appraised at 471 million Euros ($533 million) in an online auction organized by the Rome Tribunal.
The auction began Tuesday at 3 p.m., but the BBC reported no bidders and the property is expected to go back on the market in April with a 20 percent price cut.