Fights With Customers Over Mask Mandate Force Texas Business to Hire Security: 'They're Making a Scene'
Multiple locations of the Texas restaurant chain Shell Shack have hired security in response to hostile customers who oppose mask requirements.
The seafood chain has hired off-duty police to work weekend security shifts, according to a report from the local CBS affiliate. Shell Shack CEO Dallas Hale said that some patrons have been "aggressive" after being told to wear a mask.
"They're flat-out refusing. They start cursing. They're getting loud. They're making a scene in the restaurant. They're telling me that we have to let me in," he told CBS.
Hale later told Newsweek that despite following state mandates, many customers felt that they were being forced to wear masks.
"We decided to start hiring the security, because we started getting aggressive customers due to different rules as far as social distancing," he said. "Wearing a mask was a big one, and the aggressive behavior towards my staff for something that is mandated by the governor, and [the customers] take it as we're making them do something. That's really not [it]. It's out of our hands."
Despite some patrons' apprehension, Hale said, he's taken a number of steps to try to accommodate people who forget to wear a mask, or can't due to disabilities. But some customers, he added, have still been angry at the restaurant for requiring masks.
Hale said that masks were kept by the door to give to customers who don't have one. Patio seating or curbside pickup are also provided for customers who cannot wear a mask. The chain is enforcing the rule to avoid getting shut down, he told CBS.
Hale said that having security has been "very effective" in de-escalating conflicts with angry customers. "We have done everything we possibly can, and for these people that get aggressive with the staff, I mean, it's just a horrible thing. The security-it just diffuses the situation," he said.
Hale said that he wished that people understood that the restaurants were simply following protocol. "I just wish people would realize that we're doing what we're mandated to by the state. We always have. That's why we've never closed. We've never had a problem. Just remember: we're all in this together. My staff-they're working themselves to the bone, and unite," he explained.
Last month, Texas Governor Greg Abbott signed an executive order requiring face masks in many public places, including restaurants. "Every person in Texas shall wear a face covering over the nose and mouth when inside a commercial entity or other building or space open to the public, or when in an outdoor public space, wherever it is not feasible to maintain six feet of social distancing from another person not in the same household," the order said.
The order does include a number of exceptions to the rule, including children younger than 10; individuals with medical disabilities; and people swimming. People eating and drinking or seated at a restaurant are included in the exemptions for wearing masks in public.
The order also said that police should enforce the executive order. First-time violators will receive a verbal warning, but subsequent violations will result in a fine of up to $250. "Local law enforcement and other local officials, as appropriate, can and should enforce this executive order... and other effective executive orders, as well as local restrictions that are consistent with this executive order and other effective executive orders," the order said.
CBS detailed another restaurant, Love and War in Texas, that also saw customers angry at staff over mask requirements. One customer called out the restaurant on social media for refusing him service when he didn't wear a mask, but later apologized to the restaurant.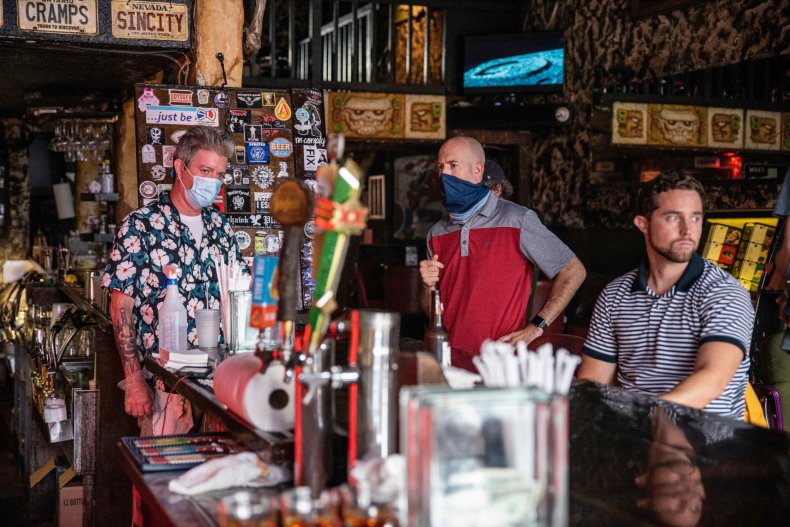 Updated 8/22/20 1:52 p.m. ET:This story has been updated to include comment from Dallas Hale, which was obtained after the story was originally published.