Texas Businessman Places $1 Million Bet on Local Team to Win NCAA Tournament
Houston businessman Jim McIngvale, better known locally as "Mattress Mack" for selling furniture, has bet $1 million that the University of Houston will win the NCAA Men's Basketball Tournament. If the Cougars prevail, then Mattress Mack would win a cool $9 million.
McIngvale placed his bet through DraftKings, which has Houston at 9-to-1 odds to win it all. McIngvale said anything can happen, and that Houston has as good of a shot as any team remaining as the Sweet 16 tips off.
"Anything can happen in March Madness as we all know, but I'm ten toes down on Houston to bring the national title to Texas, and willing to stake a million dollars with DraftKings on that outcome," McIngvale said.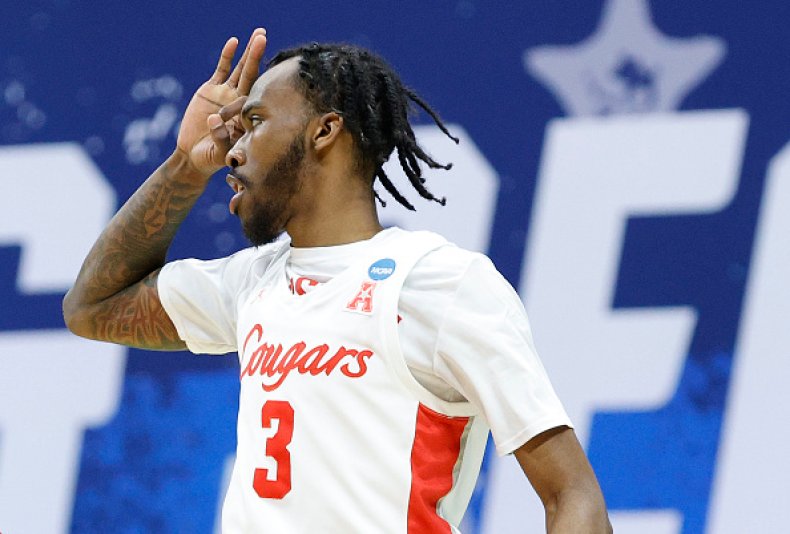 Houston is the No. 2 seed in the Midwest Region, and the highest seed remaining in that quadrant. The Cougars will play No. 11-seed Syracuse on Saturday night at 9:55 p.m. ET. The winner advances to the Elite 8, where they'll face No. 12 seed Oregon State, who defeated Loyola Chicago on Saturday afternoon.
Illinois was the top seed in the Midwest, but the Fightin' Illini lost to Loyola in the second round.
Houston defeated Cleveland State in the first round, and then needed a huge comeback to defeat 10th-seeded Rutgers in the second round.
Mack has a history of making big bets, including last month when he won $3.46 million by wagering on the Tampa Bay Buccaneers to win the Super Bowl. That coincided with his Gallery Furniture promotion that guaranteed anyone who bought more than $3,000 on certain mattresses—before the Super Bowl—would get them for free if the Bucs won.
Mack has made similar bets and promos with the Houston Astros. In 2019, he bet $3.5 million that the Astros would win the World Series. Houston lost in seven games to the Washington Nationals in a series where the visiting team won all the games—the first time this happened in any major American sports championship. Had the Astros won the Series, then Mack would have pocketed $11.2 million.
The mattress magnate also made a big gamble on the Astros in 2017, and it wound up paying off as Houston defeated the Los Angeles Dodgers in the Fall Classic.
Mack isn't just a wheeling and dealing Houston businessman, but he's become known as a compassionate Houstonian. After Hurricane Harvey devastated the Bayou City in late summer of 2017, Mack opened up his giant store as a shelter when many local people were flooded out of their homes and other shelter space ran out. Evacuees at his store were given food, a place to sleep and a chance to take a shower.
One year later, Mack held a party—complete with music, free food and mattress giveaways—at his store for all the people who sheltered there as a way to reminisce about the experience and talk about how their lives changed the previous summer.