Texas CBP Agent Accused of Killing Wife In Front of Their Two Children on Thanksgiving
A Texas Customs and Border Protection (CBP) officer is accused of murdering his wife in a shooting on Thanksgiving evening, in front of their two children.
Dudley Bernard, 40, was taken into custody on Thursday after League City Police Department (LCPD) received reports of multiple gunshot fire shortly after 11 p.m.
Upon arrival, police found 42-year-old Chauntelle Bernard "deceased at the front door of the residence with injuries consistent with gunshot wounds," a spokesperson for the force said.
The statement read: "On November 28, 2019, at approximately 11:08 p.m., patrol officers responded to the 2300 block of Indigo Harbour Lane, League City, in reference to a disturbance with multiple gunshots.
"Upon arrival, patrol officers took a male, Dudley Bernard, into custody in the front yard of a residence without incident.
"His wife, Chauntelle Bernard, was found deceased at the front door of the residence with injuries consistent with gunshot wounds.
"The LCPD Criminal Investigation Division responded to the scene along with Galveston County District Attorney's Office."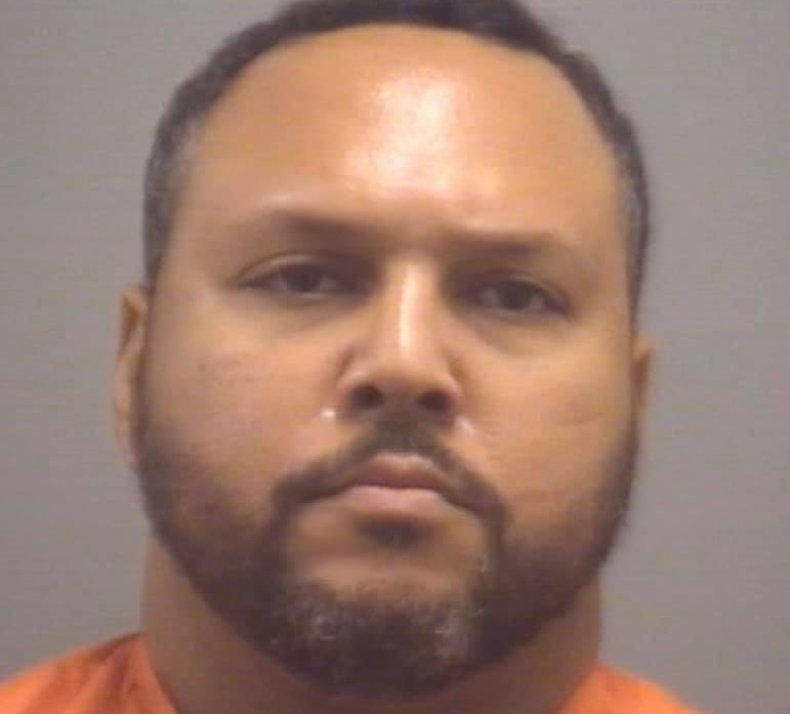 In a video captured by a neighbor and provided to ABC13 News shortly before Bernard's arrest, numerous family members could be heard screaming.
Police confirmed to the news channel that Bernard and his wife had been celebrating Thanksgiving with their family and confirmed that their two sons were present at the time of the shooting.
Both Bernard and his wife were employees of CBP, the agency confirmed in a statement.
"U.S. Customs and Border Protection Agriculture Specialist Dudley Bernard was arrested by the League City Police Department on November 28 while he was off duty," said Dennis Smith, a CBP public affairs specialist.
"Since August 2008, he has worked CBP agriculture operations in the Houston Seaport environment. CBP is fully cooperating with the League City Police Department who is leading this investigation.
"CBP Officer Chauntelle Bernard joined CBP in 2008 and she worked her way up the supervisory chain to become a supervisory CBP officer. Houston was her only duty station."
Smith added staff at CBP were shocked to hear about the news.
"No words can express the sense of loss SCBPO Bernard's death brings to her colleagues and friends in CBP," the statement added.
Neighbors and friends of the family declined to be filmed for interviews, but told KHOU 11 News that the couple showed no sign of trouble prior to the shooting.
Bernard is being held at the Galveston County jail on a $200,000 bond.