Texas Church-Going Couple Accused of Operating Drug Lab Out of Their Home
A church-going couple in Texas has been arrested and charged after authorities searched their home and found a sizable quantity of drugs and a drug lab, police said.
The home of Jake and Brooke Melton, located near the 900 block of North Washburn in Decatur, was searched by law enforcement with a warrant on April 28, the Wise County Messenger reported. Police said that they found 5 kilograms of DMT, a hallucinogenic and psychedelic drug, as well as methamphetamine and a drug processing lab. A total of close to $3 million worth of drugs was seized.
"They attended church frequently, and so it was really kind of a surprise to numerous people," Decatur Police Chief Delvon Campbell told ABC News affiliate WFAA. The police chief pointed out that the couple's arrest "is kind of a prime example of a normal-looking family that was obviously operating a drug house, basically."
The couple had three children all under age 15 living with them at the residence, which was located within a "drug-free" school zone. While Brooke Melton was arrested by local police last week, her husband was detained by authorities in Oklahoma on Wednesday.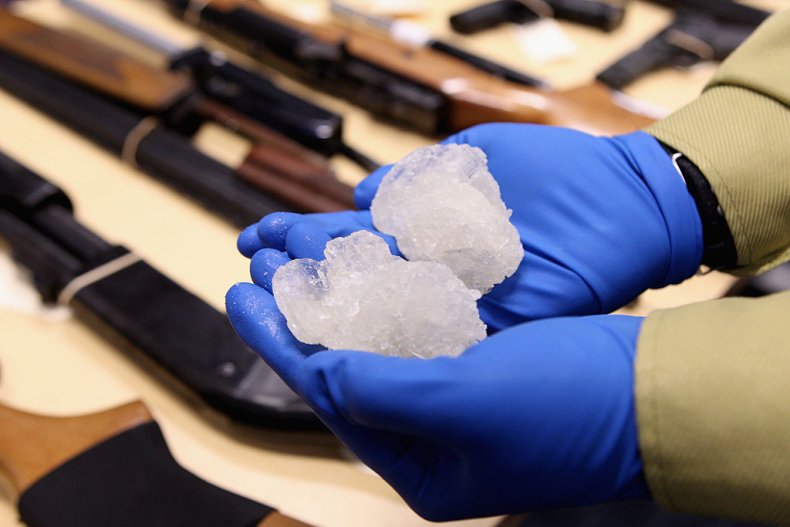 The probable cause arrest warrant against Jake Mellon reportedly came after federal officials intercepted a package of narcotics from Spain addressed to him. Brooke Mellon reportedly received and accepted the package at the home. She later told police she was aware that her husband was manufacturing drugs in their home.
In an April 28 statement about the investigation, the Decatur Police Department said the probe was launched in conjunction with the federal authorities from the Department of Homeland Security.
"During the search warrant, investigators seized marijuana, methamphetamine, over 5 kilos of DMT, and drug paraphernalia," the police said in the statement. They added that "investigators believe that the quantity of DMT seized is valued at 2.5 million dollars."
Craig Johnson, chief deputy sheriff at the Wise County Sheriff's Office, told Newsweek in a Thursday email that the investigation is "on-going" and that authorities couldn't provide further information at this time.
"As far as the Melton's church attendance I'm not certain which church they attended. There are two churches [within] walking distance of their home, and several more only a very short drive away," Johnson added.
The U.S. Centers for Disease Control and Prevention said last month that drug overdose deaths have surged during the coronavirus pandemic. Preliminary data from the CDC showed that more than 87,000 Americans died of a drug overdose in the 12-month period that ended in September. That marked the highest number of drug overdose deaths since the 1990s.
DMT and methamphetamine are federally listed as Schedule 1 drugs, which means the government has determined that they have no currently accepted medical use and also have a high potential for abuse.
Newsweek reached out to the Decatur Police Department for further comment but did not hear back before publication.
Updated 05/06/2021, 12:45 p.m. ET: This article has been updated with comment from the Wise County Sheriff's Office.