Texas Church Gunman Shot Children at Point-Blank Range When They Cried, Yelled, 'Everybody Die!' During Massacre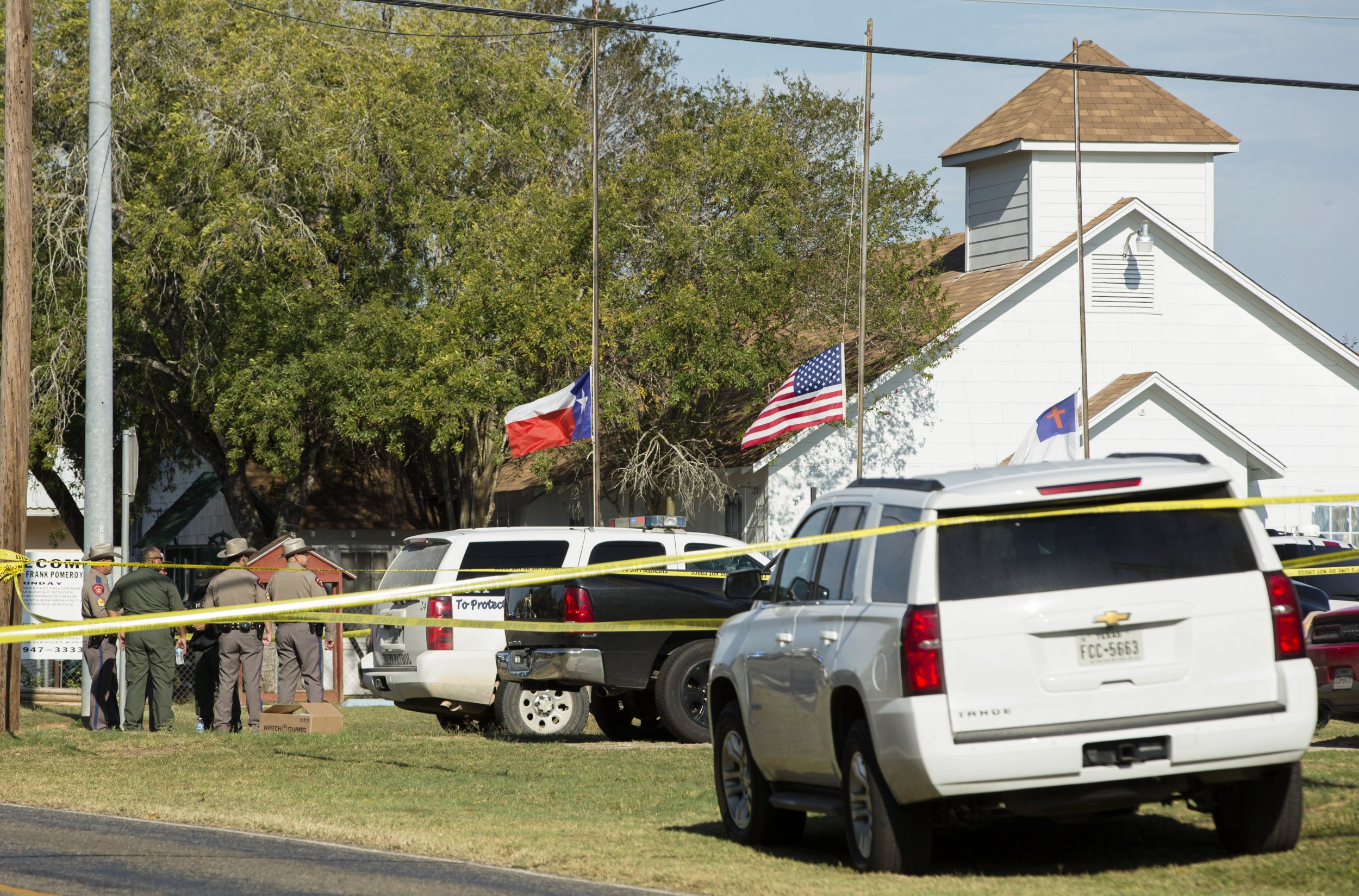 Church gunman Devin Patrick Kelley shouted, "Everybody die!" as he moved through the pews and mowed down a peaceful congregation at the First Baptist Church on Sunday in Sutherland Springs, Texas.
When he heard children and babies crying, Kelley hunted them down and without hesitation shot them at point-blank range.
Joaquin Ramirez and his wife, Roseanne Solis, were near the entrance to the church. They survived the carnage with minor injuries after playing dead as a barrage of bullets rattled the service, then stopped.
"I thought it was the police...because everyone got real quiet. Everyone was saying, 'Be quiet. It's him. It's him.'" Solis told San Antonio, Texas, TV station KSAT. "Then he yelled out, 'Everybody die.' That's when the shooting started again.
In the end, Kelley killed 26—roughly 4 percent of the small town's population—in the deadliest mass shooting in Texas history.
Ramirez told the TV station in Spanish that Kelley moved strategically through the church, starting with those who were in charge of video and audio. He then walked toward the pulpit, shooting into each aisle at people cowering beneath pews.
He shot cell phones anytime someone tried to call 911 and he paced back and forth, shooting some in the pews a second time, The Washington Post reported.
Related: Footage shows the last church service at First Baptist Church of Sutherland Springs, Texas—one week before the attack.
"Babies cried, and when they cried, he shot: rat-tat-tat-tat," Ramirez said.
Ramirez and Solis sneaked out amid the gunfire and called authorities. Their eye-witness account—one of few to emerge from inside the church—helped reveal Kelley's goal: to kill everyone.
Law enforcement is still probing Kelley's past and trying to piece together an exact motive. Police have said they believe the shooting is tied to a domestic violence situation.
Kelley, a U.S. Air Force veteran, was estranged from his wife, Danielle Lee Shields, and had been sending threatening text messages to his mother-in-law.
His wife and her family attended the church, but both she and other family members were not in attendance on Sunday.
Records from the U.S. Air Force show Kelley was accused in 2012 of hitting his wife, choking her, pulling her hair and kicking her. He was also reportedly accused of hitting his infant stepson so hard that it fractured his skull.
He pleaded guilty to the charges. Three other charges, including that he pointed a gun at his wife, were dismissed.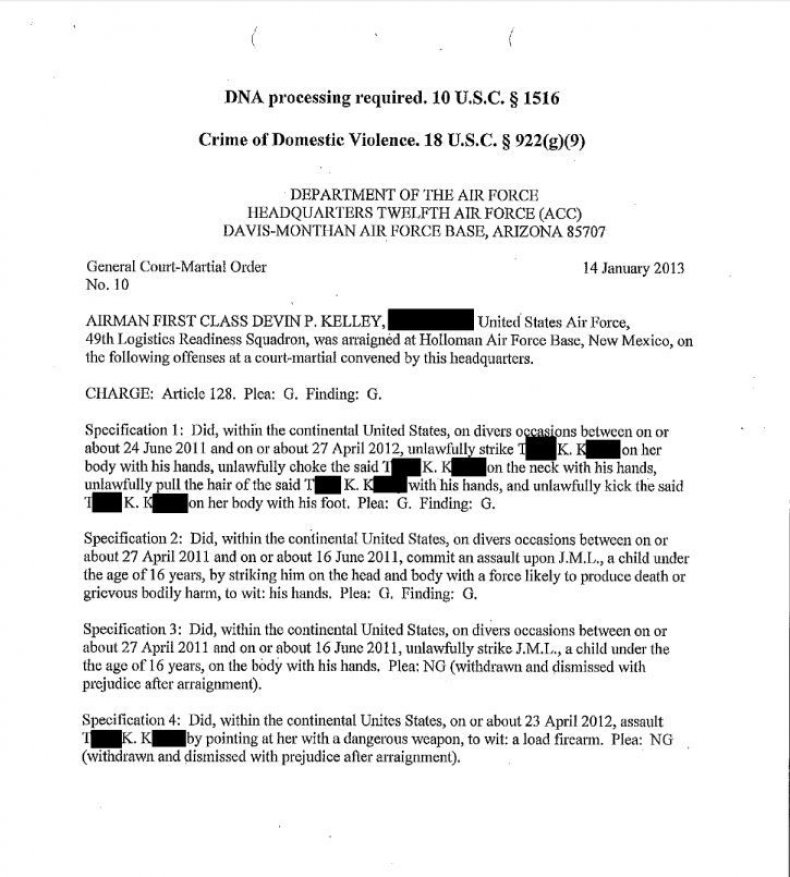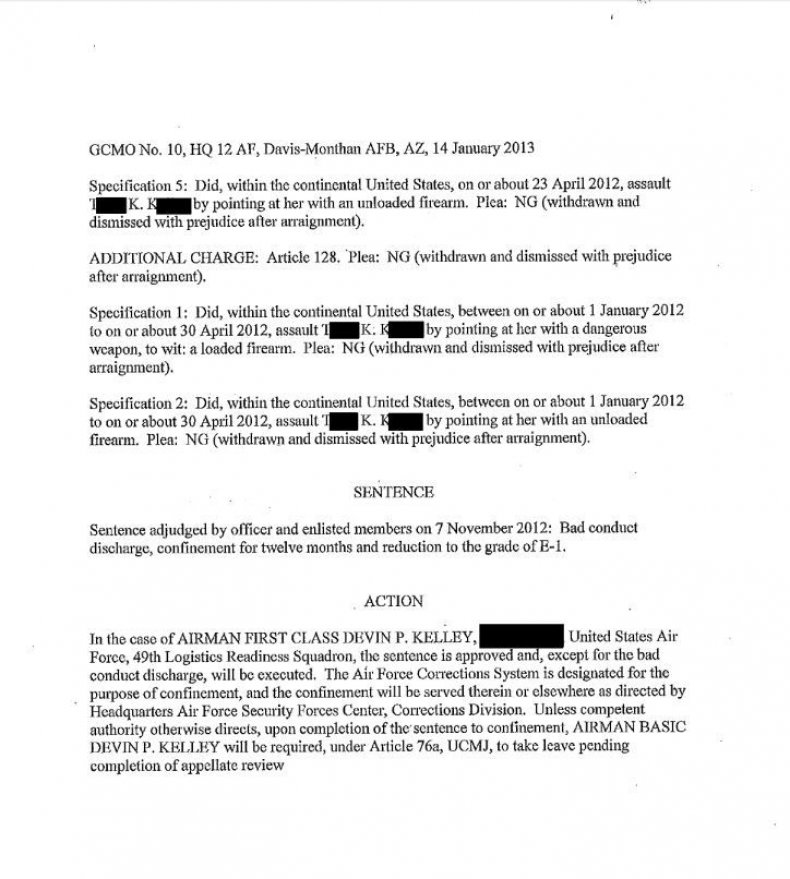 Kelley was court-martialed and spent 12 months in confinement, but his charges were never reported to the FBI—thus his criminal history wasn't added to the national background database and he could freely buy weapons, the Air Force said in a statement.
The mess up led to Kelley purchasing four guns after he received a bad-conduct discharge from the military.
The Air Force said in a statement they have launched a review of their procedures and to check whether other cases were properly reported to the background check system.