Texas Church Minister Thanks Government For Allowing Congregation 'An Opportunity to Protect Ourselves' After Shooting
The senior minister of a Texas church targeted by a shooter on Sunday said he is thankful that the government "allowed us the opportunity to protect ourselves."
Britt Farmer of West Freeway Church of Christ in White Settlement said his congregation proved they could "protect each other" at a press conference broadcast by Global News. He added that the shooting, which claimed the lives of two worshippers, broke his heart.
A man armed with a shotgun opened fire inside West Freeway Church of Christ during a Sunday service being livestreamed on social media yesterday.
The shooter killed two people before he was shot dead by congregants who volunteered for the church's security team, according to Texas Lieutenant Governor Dan Patrick.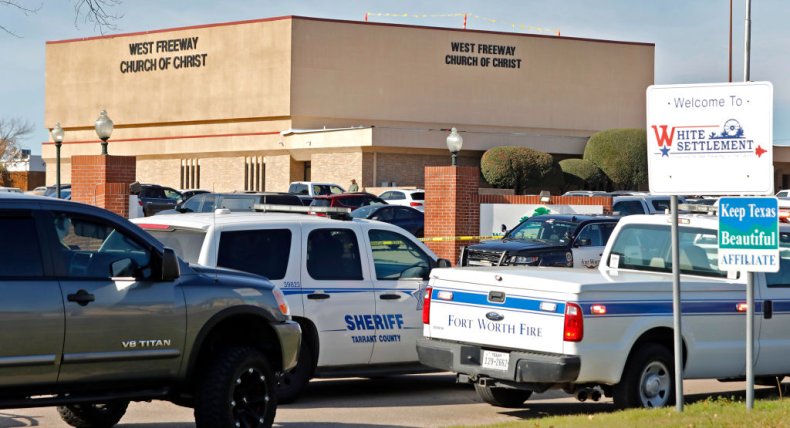 White Settlement Police Chief J.P. Bevering told reporters that the gunman entered the church at approximately 11:50 a.m. and was stopped "thanks to the heroic actions of those two parishioners at the church."
Speaking at a press conference Sunday evening, Farmer said he was "extremely thankful" to law enforcement personnel as well as Texas Governor Greg Abbott and Lt. Gov. Dan Patrick for their responses to the attack.
"We lost two great men today," the senior minister said. "And it could have been a lot worse.
"I am thankful that our government has allowed us the opportunity to protect ourselves.
"We have a congregation here of open-hearted people, we help people, we're here to help people. And to have something like this happen destroys my heart."
Farmer later added: "Today our home was invaded by evil. The sad thing is it happens all the time, as far as evil's concerned."
"I hope and I pray that not only will we survive this... but that in some way we might be a beacon to those who don't what to do, because today we proved that not only can we be God-loving, God-fearing people, but we can protect each other as well."
Newsweek has contacted the West Freeway Church of Christ for comment. The White Settlement Police Department has also been contacted for an update on its investigations.
In a statement following the attack posted on social media, Gov. Abbott said: "Our hearts go out to the victims and families of those killed in the evil act of violence that occurred at the West Freeway Church of Christ."
He also thanked the West Freeway Church of Christ security team for "swiftly ending the attack" on parishioners.
The ex-Texas Congressman and former Democratic 2020 Primary candidate Beto O'Rourke said he was "saddened to hear about another church shooting in Texas."
"Clearly what we are doing in Texas, what we are doing in this country, when it comes to guns is not working," he tweeted.
The church shooting took places a few months after a Texas law allowing gun owners to bring weapons into churches came into effect.