Texas Confederate Monuments Debate Invokes Talk Of Statues of Lynching, Tearing Down Auschwitz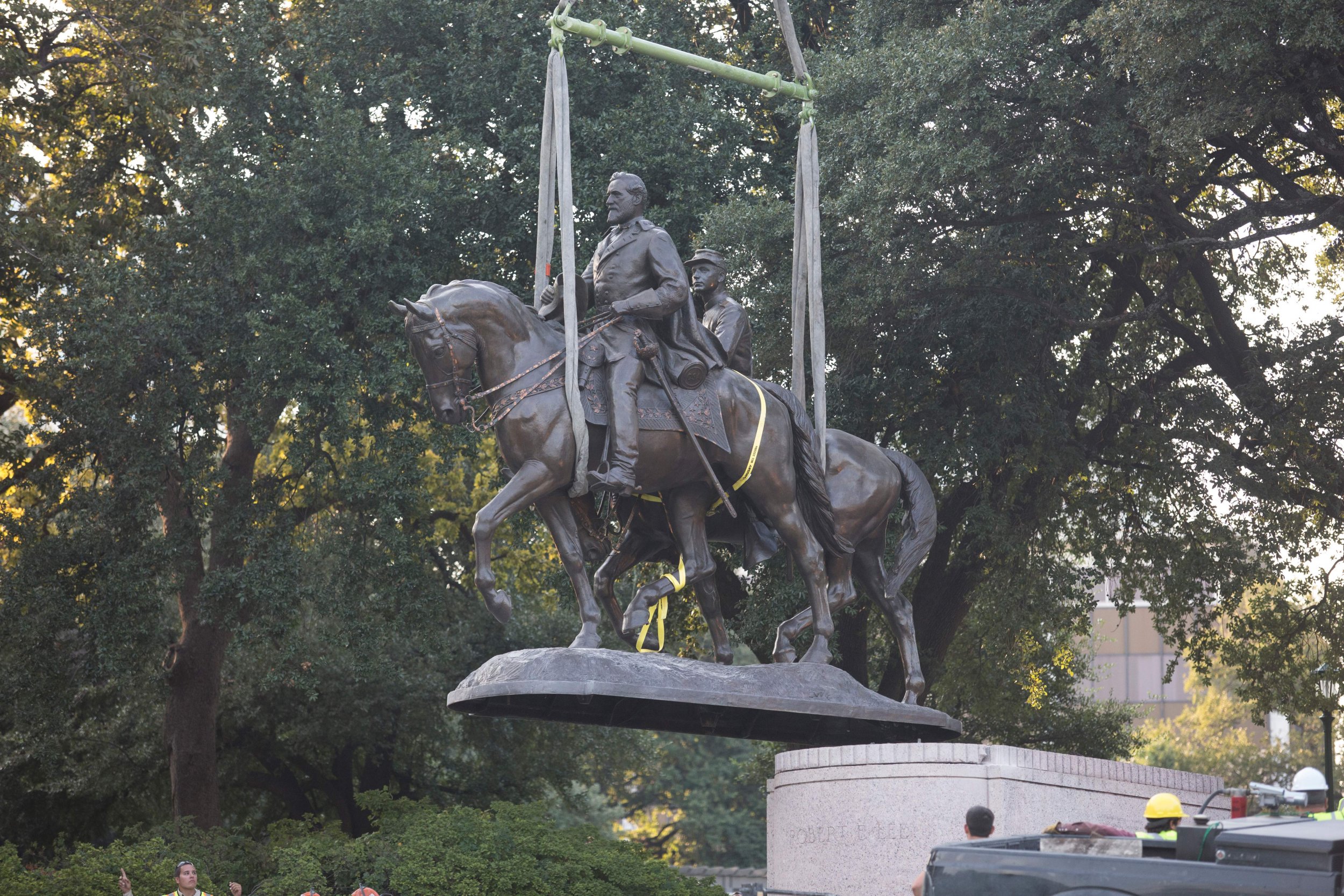 Tensions in Texas are boiling over as the state legislature debates a comprehensive bill that would extend protections for Confederate monuments throughout the state by removing the distinction between Confederate-era statues and other historic markers.
Democratic state Representative Jarvis Johnson knocked Republican supporters of the bill Tuesday, comparing their efforts to erecting a monument to honor lynchings and slavery.
"Because you guys want to continue to talk about history, should we erect a statue that demonstrated how slaves were disciplined?" The Texas Tribune reported Johnson as saying. "We want to teach, so should we erect a statue with slaves hanging from a tree? Should we erect a monument that demonstrates Indians being mutilated and run out of their land?"
Backers of the bill also drew drastic comparisons. Daniel Miller, of the Texas Nationalist Movement, testified that he supports the bill in order to honor his godmother who survived the Holocaust.
"Imagine what would happen if some politician decided they wanted to contextualize the history of World War II and the Holocaust and their solution was to tear down Auschwitz? I can't fathom what the outrage would be," he said. "But somehow, someway, we find folks out there who believe there are parts of our history that are so objectionable that we have to tear down monuments as if somehow forgetting these things is the most important thing."
The bill, first introduced by Republican representative James White, would protect all statues erected more than 20 years ago. White contended that the bill would aid in preventing gentrification and help preserve historic neighborhoods. The legislation is currently pending.
"I don't know what's going to happen to this bill," White told The Tribune. "A lot of bills die and this one may likely die, but I just hope one day that we can all respect everything that happened in this country and learn from all of it and stop all this national navel-gazing."
The fight in Texas comes as many southern states debate what to do about monuments that celebrate confederate war heroes.
During Stacey Abrams' and Brian Kemp's 2018 Georgia gubernatorial campaign, the issue of a Confederate memorial etched onto Stone Mountain was a powerful election issue. "As governor, I will protect Stone Mountain and historical monuments in Georgia from the radical left. We should learn from the past—not attempt to rewrite it," Kemp said.
Abrams, meanwhile, spoke out against the etching.
"In the wake of Charlottesville as an African-American woman running for governor, I was not going to equivocate about whether I think that a national monument or a state monument to the Confederacy that was put up, not post-Civil War, but post-Reconstruction by the authors of the new KKK in Georgia," said Abrams in an interview with the Ledger-Enquirer. "My belief is the state should never fund monuments to domestic terrorism. They have to be put in context."
In Charlottesville, Virginia, the removal of a statue of Confederate General Robert E. Lee prompted a white nationalist rally in 2017. The protesters chanted anti-Semitic and racist slogans and brought large guns with them. One counter-protester was killed when a participant in the rally run her down with his car.