Texas Congressional Candidate Says Obama Deserves Cancer 'Or Worse,' Blames Former President for Inadequate Health Care System
Justin Lecea, a Texas Democrat running for Congress, tweeted that former President Barack Obama deserved "the most malignant cancer imaginable" for his work on the Affordable Care Act, before deleting some of his tweets on the subject.
In the now-deleted tweet from Sunday, Lecea quoted a post from Obama encouraging people to sign up for health insurance. "I just want you to think about all the people who have and will die because Obamacare is pointless and your entire presidency was a waste," Lecea wrote. "If god was just you would get the most malignant cancer imaginable," he added.
Health care analyst Charles Gaba shared a screenshot of Lecea's deleted tweet with his 34,000 followers Sunday, tagging Democratic presidential candidate Sen. Bernie Sanders.
Lecea told Newsweek that the shocking nature of the tweet was intentional. "When I tweeted it out, I meant to say something offensive, because that's the only way that people pay attention to things," he said.
Hours after his original tweet was deleted, Lecea doubled down on his criticism in a new Twitter thread. He cited his personal experience with the health care system, and stood by his statement. "People are criticizing me for wishing cancer on Obama. I say that having lost a parent to brain cancer after 12 years of fighting, and getting to see just how terrible our Healthcare system is, and I still think he deserves it or worse," he wrote.
The candidate stands by his criticism of Obama. He said that he was "just wishing justice upon somebody who deserves it."
In the thread, Lecea also called Obama a "war criminal" responsible for deporting over 3 million immigrants and "allowed the continued poisoning of citizens in places like Flint." The candidate also called Obama "part of the club that is going to let y'all burn in climate change." He also criticized the former president for the recent purchase of a new home in Martha's Vineyard. Lecea claimed that Obama "demonstrated privilege so great" that he did not care about those who defended him.
On Tuesday, Lecea tweeted more of his thoughts on the subject. In the latest thread, he took a calmer tone while still standing by his original criticisms. "I acknowledge that the delivery of my statement may have been crude and offensive, but the motivation for my statement came from a place of deep suffering and anguish," he wrote. "I have personally seen the suffering that our inadequate healthcare system has inflicted on us all." Further in the thread he noted that Twitter had "forced the removal" of his original tweet.
Lecea addressed those that found his original tweet offensive but remained critical of Obama. "I apologize to the people that are offended by it, but I'm not going to apologize to a war criminal or somebody that I feel has no moral or ethical standing to be anywhere near the position of power that he's in.
Lecea stood by his claims that "Obama's unwillingness to intervene to rebuild" had been harmful to Flint, Michigan, sharing a clip from Michael Moore's documentary Fahrenheit 11/9. Lecea also vowed to "never apologize for speaking truth to power."
In the final tweet of Tuesday's thread, Lecea also called out his opponent, incumbent Representative Joaquin Castro, for not signing on to Medicare for All. "[H]e may not wish cancer on war criminals, but he certainly doesn't seem to care if any of our fellow Americans can afford healthcare,"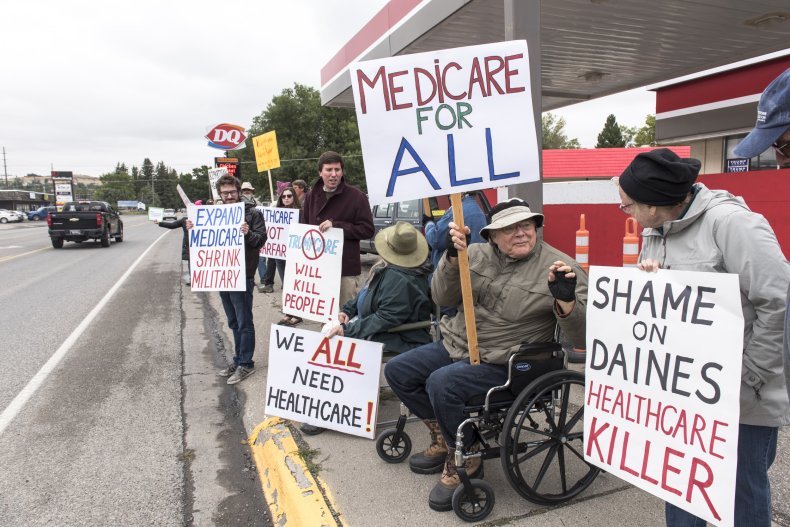 Update, 12/17, 2:16 p.m. EST: This story has been updated to include comment from Lecea, which was received after the story was published.