Texas Cop Detains Anti-Masker at Bank Who Taunted Him: 'What Are You Going to Do, Arrest Me?'
A viral video shows a 65-year-old woman arguing with a Texas police officer after refusing to wear a face mask inside a bank, before being quickly placed in handcuffs and detained.
Police were called by Bank of America staff in Galveston after Terry Wright refused to follow the mask wearing policy on Thursday. Police bodycam footage shows a maskless Wright insisting that she did not have to follow the policy before asking the officer "what are you going to do, arrest me?"
"Yes, for intruding on premises," the officer replied.
Wright proceeded to argue with the officer, telling him, "The law says that I don't have to wear a mask."
She was informed that although Republican Texas Governor Greg Abbott had lifted the state's mask mandate one day earlier, she was not in a public place and the law dictates that private businesses still have the right to impose their own requirements.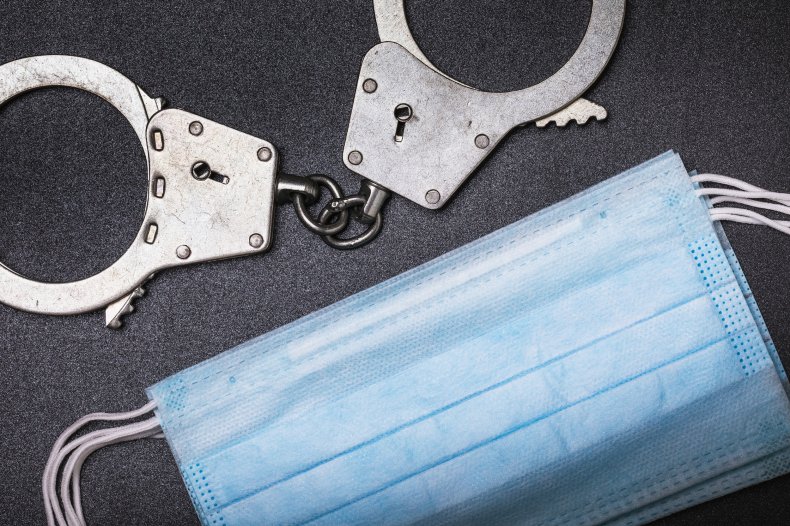 Wright contended that she was in public while protesting that the officer was "taking away people's human rights." The officer then informed Wright that he would be escorting her out of the bank. Wright turned to address other customers at the bank, asking if the officer was going to "shoot me for trying not to breathe."
Handcuffs were then produced, leading to a brief physical struggle that ended after a defiant Wright was brought to the ground. The officer could be heard telling Wright to stop resisting before her hands were finally placed in the cuffs.
"Police brutality right here, people," Wright complained to the crowd. Her claim was met with seemingly unanimous disapproval from the other customers, with one person bluntly replying, "No, it's not."
Wright went on to suggest that the officer may have broken her foot while she was being restrained.
Police said that Wright was taken to a local hospital for "minor injuries" that night, according to The Washington Post.
A warrant for Wright's arrest on charges of trespassing and resisting arrest was issued on the same day. It is unclear whether she had been arrested as of Monday.
Wright told the newspaper that the incident was a failed attempt to "cancel" her, while remarking that she "took one for the team, because people need to wake up" regarding mask mandates.
She also reportedly compared the treatment of those who refuse to abide by mask mandates to the treatment of Jews in Nazi Germany and revealed her belief in a false conspiracy theory claiming that the COVID-19 pandemic is not real.
Newsweek reached out to the Galveston Police Department for comment.