Texas Coronavirus Hospitalizations Soaring As Daily Cases More Than Double in a Day
Novel coronavirus cases in Texas have climbed to over 78,100, according to the latest figures from Johns Hopkins University. Hospitalizations in the state increased for the third consecutive day, with a record 2,056 COVID-19 patients hospitalized on Tuesday, according to the latest report from the Texas Department of State Health Services (DSHS).
The latest number of hospitalizations follows the previous record, which was reached just a day earlier on Monday. Four of the top five highest number of hospitalizations since the outbreak began were recorded in the past five days, according to data reported by the Texas DSHS.
The state's daily case count more than doubled on Tuesday, reporting 1,637 new cases on June 9, rising from 638 recorded on June 8, the Texas DSHS reports.
On several dates in May and June, daily cases in Texas have nearly doubled from the figure reported on May 1, when the state reopened, which saw 965 new cases that day. Around 1,900 new cases were reported on both May 28 and June 6, while around 2,000 new infections were reported on May 31 and June 5, according to the Texas DSHS.
The state's seven day positive test rate has been on a mostly increasing trend since May 26, the day after Memorial Day. On June 6 and 7, the rate was 7.55 percent and 7.11 percent, respectively, nearly doubling from May 26 when the rate was at 4.27 percent, according to figures posted on the Texas DSHS.
Texas entered the third phase of its reopening on June 3. Between May 26 and June 2, over 45 percent of new cases were reported to have come from jails or prisons, meat packing plants and nursing homes, the office of Texas Gov. Greg Abbott confirmed in a statement.
Abbott said in the statement: "As anticipated, the new positive cases that we are seeing are largely the result of isolated hot spots in nursing homes, jails, and meat packing plants. Thanks to the effectiveness of our Surge Response Teams, we have the ability to contain those hot spots while opening up Texas for business.
"As we begin Phase III, I ask all Texans and Texas businesses to continue following the standard health protocols and to heed the guidance of our state and federal officials who continue to closely monitor COVID-19. If we remain vigilant, we will continue to mitigate the spread of this virus, protect public health, and get more Texans back to work and their daily activities," he added.
Phase three of the reopening allows all businesses to operate at 50 percent capacity, with some exceptions, while most outdoor areas are not subject to capacity limits.
Bars and similar venues are allowed to resume at 50 percent as long as patrons are seated. Amusement parks and carnivals in counties with less than 1,000 cases may operate at 50 percent capacity, while restaurants may expand their table size limit from 6 to 10 people.
Restaurants may increase their capacity to 75 percent from June 12, while amusement parks and carnivals in counties with more than 1,000 cases may resume at 50 percent capacity from June 19.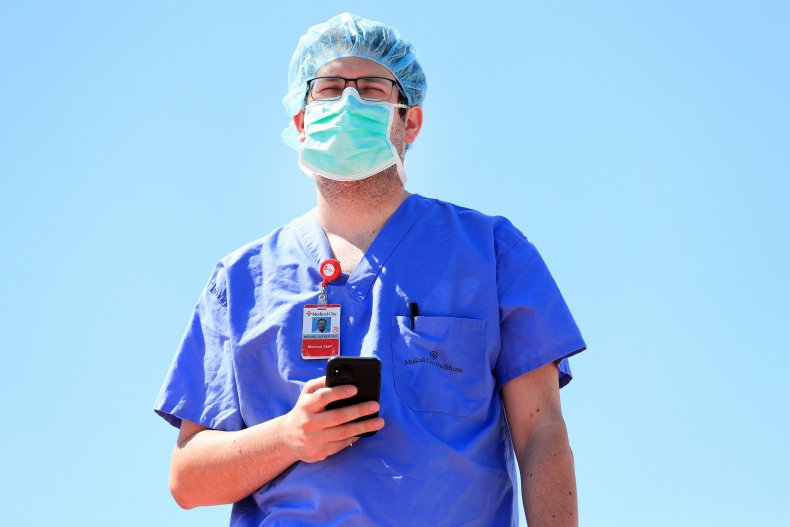 Several states have reported a spike in new cases since easing lockdown measures, including in Arizona, where the stay-at-home order expired on May 15. A former director of the Arizona Department of Health Services, Will Humble, has said the recent rise is "definitely related" to the state's reopening.
Speaking to Newsweek, Humble said on Tuesday: "The issue here isn't so much when Arizona lifted the stay-at-home order, but how it was done. When the order fully ended on May 15 it wasn't replaced with anything substantive."
The order included a basic recommendation that reopened businesses should follow guidelines from the Centers for Disease Control and Prevention (CDC) and Occupational Safety and Health Administration (OSHA), "but there were no compliance requirements or enforcement provisions," Humble explained.
Oregon, where most of its counties have been approved for the second phase of reopening, on Sunday reported its highest single-day rise in cases since the outbreak began.
The novel coronavirus, which was first reported in Wuhan, China, has infected over 7.2 million across the globe, including over 1.9 million in the U.S. More than 411,600 have died while over 3.3 million have reportedly recovered from infection, as of Wednesday, according to the latest figures from Johns Hopkins University.
The graphics below, provided by Statista, illustrate the spread of COVID-19 in the U.S. and the worst-affected countries.