Texas Flooding: Record-Setting Rain, Flash Floods Possible In Corpus Christi
With the first day of summer less than 24 hours away, Texas was getting some final springtime showers Wednesday. The southern coast of the state, including the Corpus Christi area, was set to see more rain Wednesday that could cause dangerous conditions in the region.
Early Wednesday morning, rain was already coming down in the area, radar from the National Weather Service showed. The excessive rain caused the NWS to issue flood warnings and watches for the area.
A flash flood warning was issued for parts of Aransas, Goliad, Refugio and Bee counties. Such a warning is issued when there is an imminent flash flood or one is already occurring. A flood warning was issued for the area along Oso Creek near Corpus Christi.
There was also a flash flood watch ordered in the larger area of south Texas, where flooding was already happening Wednesday morning after a night of rainfall. A flash flood watch simply means that the conditions are consistent with a flash flood, not that there would necessarily be one.
The NWS notice for the flood watch said there was a midlevel and surface trough over the area of south Texas that was set to produce "areas of heavy rainfall." Even more flooding was in the forecast due to rain expected to fall throughout Wednesday and into the evening. The risk was especially high in areas along rivers and creeks.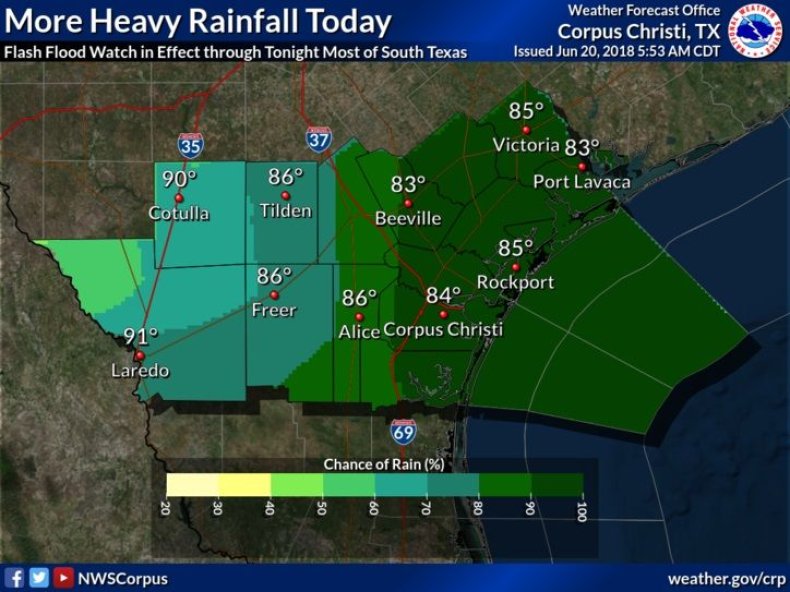 There was the also the risk of possible coastal flooding and a high risk of rip currents in south Texas Wednesday.
In just 36 hours, Corpus Christi got more than 8 inches of rain, while the city of Alice got more than 10 inches. Some parts of Texas even saw record amounts of rainfall on Tuesday, Weather Nation reported.
Other parts of the country were at risk for flooding on Wednesday. Flood warnings were issued by the NWS for parts of Montana and South Dakota, and heavy rain was expected to hit areas of the mid-Atlantic region through Wednesday night and, in some places, through the remainder of the week.
Hurricane season officially started June 1, though no hurricane has hit the continental United States so far this season. The National Oceanic and Atmospheric Administration predicted that there would be 10 to 16 named storms and that five to nine of those would become hurricanes.