Texas County Cuts Program Prioritizing COVID Vaccines for Minorities After State Intervention
Officials in Dallas County, Texas, were forced to slash a vaccination effort meant to prioritize doses for people living in high-risk communities of color, after the state health department threatened to end the county's vaccine supply.
Earlier this week, the Dallas County Commissioners Court voted to prioritize vaccines at a distribution center in Fair Park, Dallas, for individuals in mostly Black and Latino neighborhoods, The Texas Tribune reported.
County leaders wanted to focus on vaccinating residents who meet the state's criteria and live in any of the county's 11 most vulnerable ZIP codes. Each of the proposed ZIP code areas are located completely or partially south of Interstate 30, a dividing mark that splits Dallas County along racial and socioeconomic lines, according to The Dallas Morning News.
But the Texas Department of State Health Services (DSHS) said the proposed plan violated the county's agreement to be a vaccine "hub provider" by effectively ending vaccine availability for people who live outside of those areas.
"While we ask hub providers to ensure vaccine reaches the hardest hit areas and populations, solely vaccinating people who live in those areas is not in line with the agreement to be a hub provider," Imelda Garcia, an associate DSHS commissioner, wrote in a letter to Dallas health officials that was reviewed by Newsweek.

"We have been clear with all hubs that DSHS will guarantee consistent vaccine allocations based on compliance with the above requirements. If Dallas County is unable to meet these expectations, we will be forced to reduce the weekly vaccine allocation to Dallas County Health and Human Services and no longer consider it a hub provider," the letter added.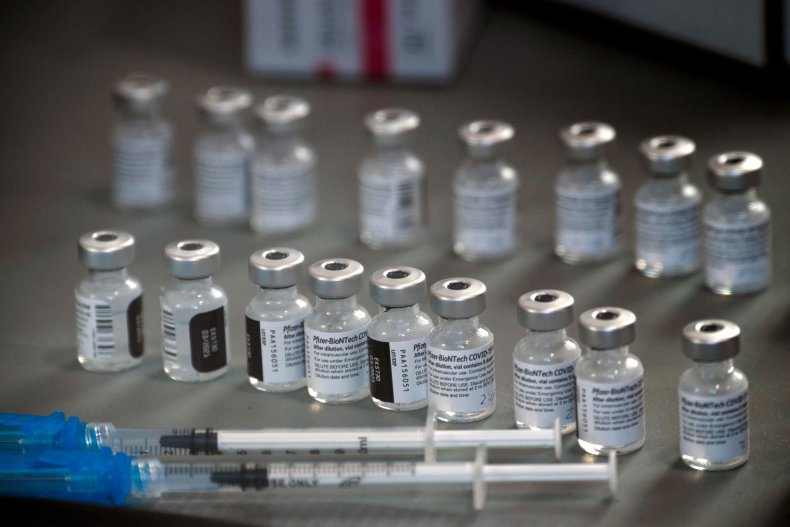 In response to the letter, the county commissioners held an emergency meeting on Wednesday and voted to rescind the order, according to The Texas Tribune.
On Friday, Dallas Mayor Eric Johnson said that the county would receive 5,000 doses of the vaccine for public distribution starting next week.
The doses will be "prioritized based on recommendations from the Centers for Disease Control and Prevention (CDC), the DHS, and Dallas County Health and Human Services," the announcement said.
But some county officials remain adamant that the proposed plan to target communities of color is necessary to help those who have been most affected by the coronavirus.
Commissioner J.J. Koch, who proposed the order, fought to maintain language prioritizing the vulnerable ZIP codes during the meeting on Wednesday. He said the commissioners needed to meet again later this week to design a more "transparent and accountable" plan.
Dallas County's desire to focus vaccination efforts on communities of color reflects an ongoing challenge in realizing an equitable vaccine rollout across the nation. The coronavirus has disproportionately affected people of color over white Americans since the health crisis first hit in March.
For Blacks, Hispanics and Native Americans in the U.S., the rates of hospitalization and death from COVID-19 are two to four times higher than those for whites, according to the U.S. Centers for Disease Control and Prevention.
Chris Van Deusen, a spokesman for the DSHS, told Newsweek Thursday that the county could still focus on prioritizing communities of color, just not exclusively.
"We have, in fact, directed all hub providers to ensure they are vaccinating people in the hardest hit areas and populations, but they cannot do that to the exclusion of literally everyone else," he said.
"All hub providers agreed to vaccinate people without regard to where they live, including from surrounding counties, and we expect them to do that. That doesn't prevent them from focusing some efforts on specific populations," Van Deusen added.