Texas County GOP Head Suggests George Floyd Death Was Staged to Stir Racial Tensions, Harm Trump
The GOP chairwoman for a county in Texas came under fire Wednesday for a Facebook post that appeared to promote conspiracy theories regarding the death of George Floyd.
In the Tuesday night post, which was later deleted, Bexar County GOP Chairwoman Cynthia Brehm suggested Floyd's death was staged in an effort to hurt President Donald Trump's chances of winning reelection in the fall.
"I think there is at the very least the 'possibility', that this was a filmed public execution of a black man by a white cop, with the purpose of creating racial tensions and driving a wedge in the growing group of anti deep state sentiment from common people, that have already been psychologically traumatized by Covid 19 fears," the post read.
"Historically, in election years and in politically contested areas or in groups, racial or gun violence incidents are becoming common place," the post continued. "Considering the rising approval rating of President Trump in the black community, an event like this was unfortunately 'Predictable.'"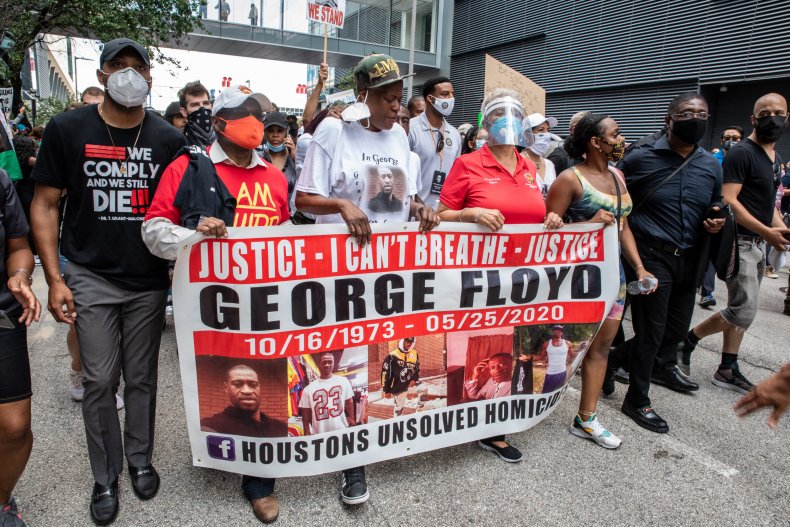 A columnist for the San Antonio Express first reported the post by taking a screenshot of its message before it was deleted and posting the screenshot on Twitter.
Brehm's post came as the U.S. entered its second week of protests in the wake of Floyd's death while in police custody in Minneapolis on May 25. While many political leaders have spoken out against the violence that erupted at many of those protests, most agreed Floyd's death brought attention to the problem of systemic racism throughout the country.
In Bexar County, Sheriff Javier Salazar was among the law enforcement officers who stood beside protesters over the last week. On Thursday, Salazar announced a sheriff's deputy was on administrative leave after posting "extremely inappropriate and offensive" language on Facebook about protesters.
A probation employee in Bexar County was also facing criticism for comments he posted on Facebook about George Floyd's death, local station KSAT reported Monday.
Republican leaders in Texas were quick to speak out against Brehm's comments. On Wednesday, Congressman Chip Roy, a Republican representing the state's 21st District, called for Brehm's resignation on Twitter, a position Senator John Cornyn and Governor Greg Abbott echoed Thursday in statements made to the Austin American-Statesman.
"These comments are disgusting and have no place in the Republican Party or in public discourse," Abbott's communications director, John Wittman, told the Statesman. "Cynthia Brehm should immediately resign her position as chair of the Bexar County Republican Party."
"The post demonstrates a complete disconnection from reality and undermines any authority Ms. Brehm has or expects to have," Roy told Newsweek. "She should resign immediately."
James Dickey, the chairman of the Republican Party of Texas, also called for Brehm's resignation in a statement shared with Newsweek.
"Cynthia Brehm's position regarding the tragic injustice of the death of George Floyd has no place in the Republican Party of Texas," Dickey said. "We can not abide by her caustic remarks. They are out of alignment with our core beliefs and our platform. I have personally reached out to Cynthia Brehm and called on her to resign her post as Chair of the Republican Party of Bexar County immediately."
Newsweek reached out to Brehm for comment but did not receive a response in time for publication.
This article has been updated to include statements from Republican Party of Texas Chairman James Dickey and Rep. Chip Roy.