Texas County Judge Who Ordered Mandatory Masks Now Quarantined For COVID-19
Lina Hidalgo, the Democratic Harris County Judge who was sued in April for her court order making face masks mandatory county-wide, is now self-isolating after a staff member in her office tested positive for COVID-19.
While Hidalgo hasn't reportedly contracted coronavirus, she has nonetheless decided to self-quarantine for 14 days until July 6.
"The reality of it is, there are thousands of residents across Harris County that are increasingly finding themselves in the same position I am in today," Hidalgo said in a statement.
On Friday, Hildalgo upgraded Harris County's COVID-19 threat level to Level 1 just as Republican state Governor Greg Abbott re-ordered the closure of the state's bars amid rising coronavirus case numbers.
Texas is currently experiencing a dramatic spike in COVID-19 cases with Harris County reporting more cases and deaths than any other Texas county. As of June 29, Harris County has had a total of 29,276 confirmed cases and 371 related deaths.
On April 22, Hildalgo issued an order requiring all county residents over age 10 to wear face masks in public places for 30 days or else face a $1,000 fine. Her order was immediately criticized by Texas conservatives: Texas Lieutenant Governor Dan Patrick called it "the ultimate government overreach," the Houston Police Officers' Union called it "draconian" and Texas Republican U.S. Representative Dan Crenshaw said the order could "lead to unjust tyranny."
Hildalgo's order on Friday moving the county's COVID-19 threat level to Level 1 declared outbreaks as "present and worsening" and the county's testing and contact tracing capabilities as "strained or exceeded."
The elevated threat level issued citizen advisories that cannot be legally enforced but are strongly encouraged nonetheless. These advisories included all citizens staying at home and canceling gatherings of any size, especially for citizens with pre-existing health conditions or over the age of 65.
The advisories also suggest that essential workers take special precautions to prevent the virus's spread; encourage people to wear face coverings; cancel visits to nursing homes, long-term care facilities, and hospitals; avoid public transportation and self-quarantine for 14 days after contact with anyone who tests positive with COVID-19.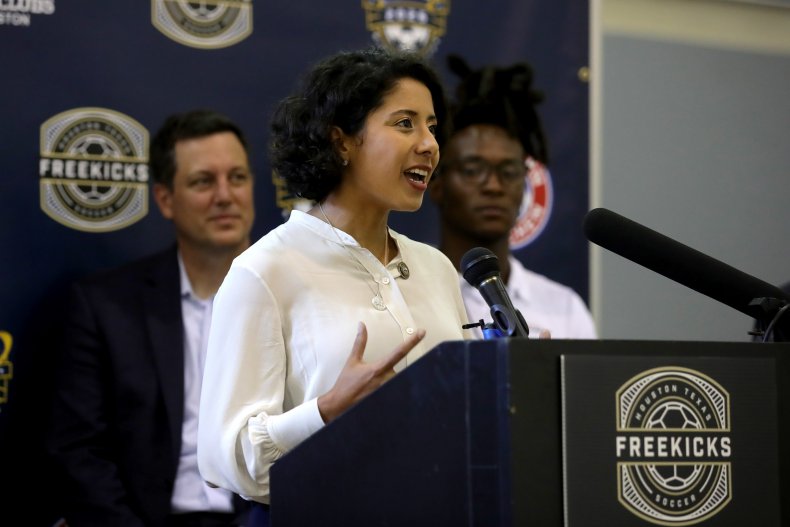 "Nobody who opposes bold steps is providing me with an alternative interpretation of this data," Hidalgo said on Friday when raising the county's COVID-19 threat level. "Nobody that opposes these steps is providing me with any evidence that something short of a full stay home order will work to avert the crisis right now."
As of June 29, Texas ranks fourth amongst U.S. states with the highest total number of coronavirus cases and deaths.