Texas County Says Failure to Quarantine After Contracting Coronavirus Could Lead to Arrest
Officials in Brooks County, Texas, have warned residents of the consequences they could face for entering public spaces too soon after testing positive for the novel coronavirus.
In an announcement this past Saturday, Brooks County Attorney David Garcia said failure to self-isolate for the period set by public health authorities violates a statute in Texas' state law. It noted that individuals who violate the statue could be arrested for the offense.
"Any person who has tested positive for Covid-19 and has not been released by the Texas Department of State Health Services must isolate themselves from other people until they receive a release," the statement read.
The statement referenced the Texas health department's guidelines for tracking active cases and close contacts who may have been exposed to the virus. The guidelines say that individuals with active infections must quarantine themselves for at least 10 days, while contacts must do the same for at least two weeks. Anyone who has tested positive for, or potentially been exposed to, the virus is required to test negative before release from isolation.
Brooks County said failure to sufficiently quarantine may be considered an unlawful violation. The county's announcement cited a subsection of Texas Penal Code 22.05, which states, "A person commits an offense if he recklessly engages in conduct that places another in imminent danger of serious bodily injury." Violations are considered Class A misdemeanors in Texas, which can bring fines and jail time.
"Please note that the victim does not have to get Covid-19 but just be exposed to it without previous warning," the statement continued. "Victims of this type of exposure may contact any law enforcement agency of the Brooks County Attorney's office."
Newsweek reached out to the county attorney's office for additional comments but did not receive a reply in time for publication.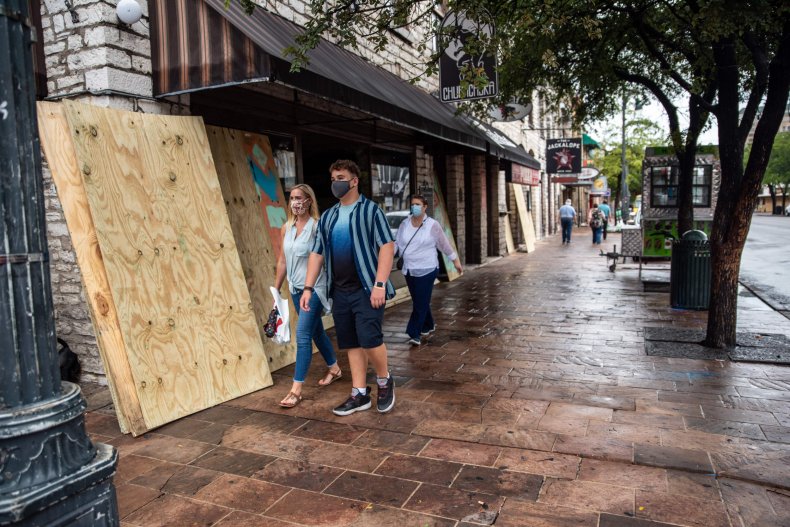 Saturday's warning to Brooks County residents was issued amid a state surge in new virus cases, as well as related hospitalizations, across Texas since the beginning of June. As of Monday afternoon, July 6, more than 200,000 people had tested positive for the virus across Texas since the pandemic began, according to data published by the state health department. Of those diagnosed, more than 2,650 have died from COVID-19, the virus's respiratory illness. Health officials estimated roughly 94,000 cases were still active on Monday.
As the health department continued to confirm infections in much higher numbers than Texas has seen since the start of the pandemic, Governor Greg Abbott issued a statewide order that mandated use of face masks in public by residents of counties where more than 20 cases have been confirmed.
One week earlier, Abbott paused further reopening in Texas, directed bars to close and lowered capacity limits for restaurants accepting dine-in customers.