The parents of a newborn baby in Texas have been arrested on suspicion they fatally abused their 10-week-old daughter, who was found to have suffered 96 bone fractures when she died.
Jason Paul Robin, 24, and his fiancée Katharine Wyndham White, 21, from Harris County, were arrested on Monday and Tuesday respectively. He was charged with murder, while she was charged with injury to a child by omission following the death of the pair's baby daughter Jazmine Robin.
KPRC reported the tiny child had suffered 96 fractures including two fractures to the skull, 71 rib fractures and 23 long-bone fractures, indicating breaks to the arm or leg bones. Jazmine Robin had also suffered a number of contusions, more commonly known as bruises, and multiple traumas.
According to autopsy reports the little girl had five contusions to the face and ten on her scalp. A further nine areas of bruising were found on the child's torso, while different areas of trauma were found in multiple instances each on her right arm and her left and right legs.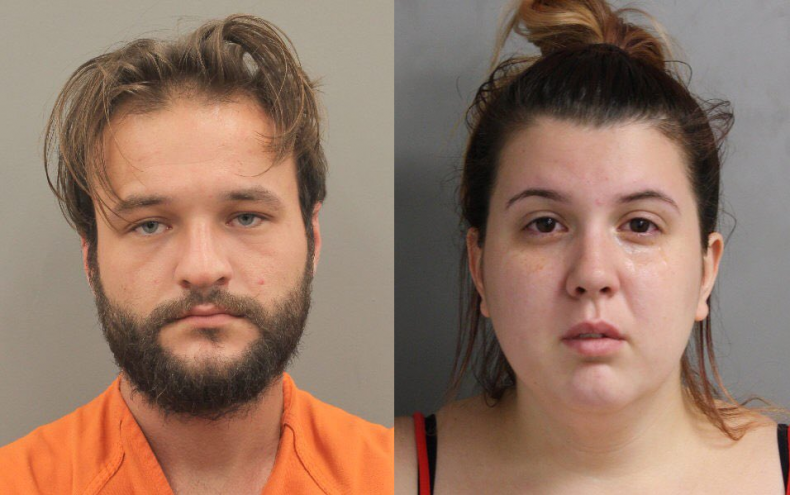 Jazmine Robin was reportedly born premature at 29 weeks and released from the neonatal care unit where she was born on July 3, 2018. Less than two weeks later on July 14, 2018 she was brought to Pearland Memorial Hermann Hospital in Houston because of her injuries.
Court records the newborn arrived at the hospital with "clearly inflicted head trauma." The official cause of death recorded in the case was from blunt force trauma to the head.
During an interview with investigators, Jason Paul Robin has explained that over a period of less than 12 hours Jazmine became unresponsive and needed to be taken to hospital. He claimed the baby "started acting weird and went limp," while having trouble feeding.
According to court records the father then made what appears to have been an attempt at CPR. He blew in her mouth twice and pumped her chest. Jason Paul Robin said the resuscitation worked and she behaved as normal for a period.
Later the same morning, after waking up again, the father found his daughter was moving unusually and her eyes were wide open with her tongue lolling back in her mouth. Katharine Wyndham White had already left the house for work by this point.
After a further six hours, Jason Paul Robin told authorities that his daughter acted strangely during a feeding. At this point he called his fiancée and asked her to come home early because of his concern for the child's well-being.
The pair then gave Jazmine a bath after which the father described that his daughter "acted dotted out again." After wrapping the child in a blanket, she fell asleep and the pair took her to the hospital. She died at the Houston medical center one day later.
If convicted both parents face the possibility of life in prison. White's bail bond has been set at $5,000 and she has been ordered to have no contact with children.