Texas Couple Charged With Enslaving 5-year-old West African Girl Who Later Escaped
A Texas couple was charged with forced labor and enslavement of a 5-year-old girl from West Africa, who escaped 16 years later, the Department of Justice announced Thursday.
Federal charges were filed against Mohamed Toure, 57, and Denise Cros-Toure, 57, who also allegedly denied the young girl an education, among other opportunities, The Daily Beast reported.
In 2000, the couple arranged for the young girl, who did not speak English, to travel from her village in Guinea, West Africa, to Southlake, Texas, so that she could work in their home, according to a DOJ press release.
The victim was forced into labor for long hours without compensation, according to the DOJ, before escaping in 2016. The young girl allegedly had to cook, clean and do laundry, in addition to caring for the couple's five children.
"These charges, sadly, represent the reality of labor trafficking in the United States," Jean Bruggeman, the executive director of Freedom Network USA, a national anti-trafficking organization, said in a statement to Newsweek.
In the case of the Texas couple, Bruggeman said they took "advantage of the dependence and fear that immigrants feel."
According to the DOJ, the Texas couple "isolated her from her family and others and emotionally and physically abused her." The girl was able to escape in part because of neighbors.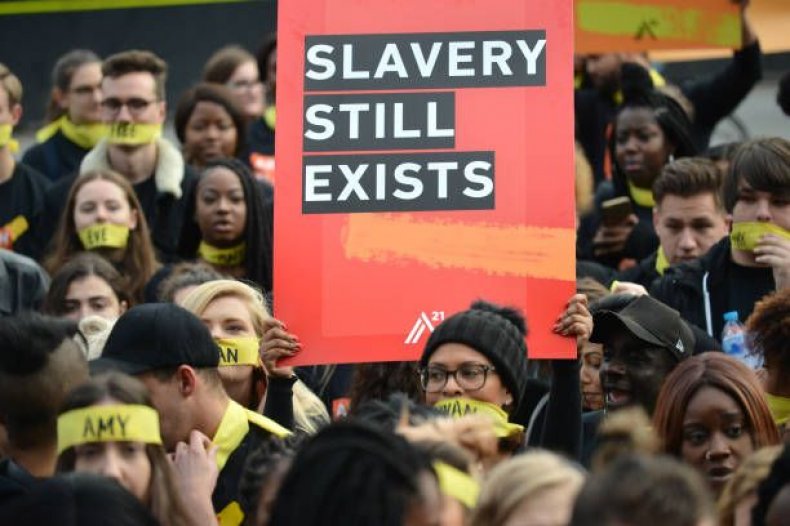 More than 40 million people around the world are estimated to be modern slavery victims, according to the International Labor Organization, the UN agency that focuses on labor rights. The figure also includes 24.9 million in forced labor; the number is further broken down into 16 million people exploited in private sectors, such as domestic work.
The Department of Justice did not immediately return Newsweek's requests for comment.