Texas Court Rejects El Paso's COVID Shutdown as City Resorts to 10 Mobile Morgues
A Texas state appeals court rejected a stay-at-home order in El Paso County on Friday despite the community seeing a surge in new cases and rapidly decreasing space in morgue trucks and tent hospitals.
The Eighth District Court of Appeals ruled in favor of the state and local restaurant owners, who sued El Paso District Judge Ricardo Samaniego for issuing a city-wide shutdown after Texas Gov. Greg Abbott issued a reopening order on October 7.
Samaniego initially ordered a two-week shutdown on nonessential businesses in El Paso on October 29 to curb the alarmingly high rate of hospitalizations in the county, which was immediately met with a legal challenge from local restaurant owners and Texas Attorney General Ken Paxton. In a virtual press conference on Wednesday, Samaniego ordered an extension of the lockdown to continue until December 1, which he described as "a short-term effort to make sure we don't have a long-term impact on our community."
A state district judge permitted the shutdown order to stand last week pending a final resolution of the case. The ongoing efforts to squash the shutdown orders by Paxton and local restaurants came to a conclusion after the Texas Supreme Court declined to halt the order on Wednesday and sought a resolution from the 8th Court of Appeals.
The three-judge panel ruled on Friday night that Samaniego's directives can't go against the governor's statewide orders.
"Because there must be a final decision-maker, the Legislature inserted a tie breaker and gave it to the governor in that his or her declarations ... have the force of law," Chief Judge Jeff Alley wrote in the decision. "El Paso County can point to no similar power accorded to county judges."
In the 2-1 majority opinion, the judges wrote: "Just as a servant cannot have two masters, the public cannot have two sets of rules to live by, particularly in a pandemic and when those rules carry criminal penalties substantially impacting people's lives and livelihood."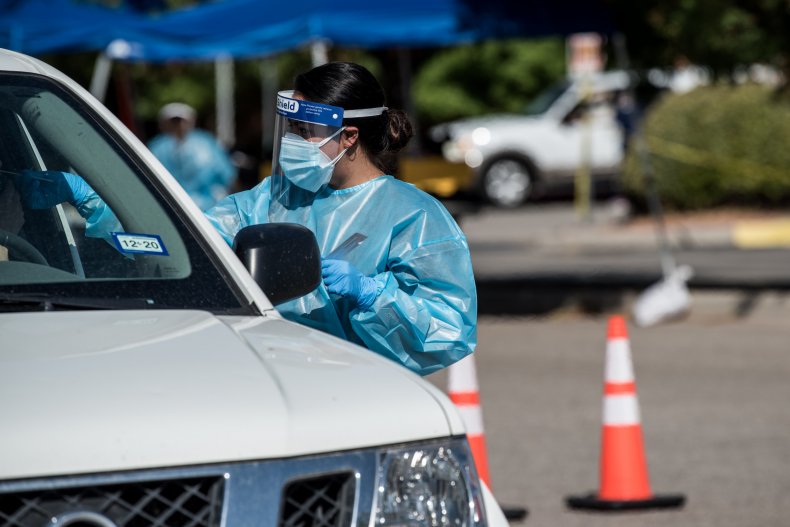 New cases of COVID-19 in the West Texas border city began spiking in October, going from 132 average daily cases in September to more than 1,120 daily in the past month. Deaths have also been surging in El Paso County, averaging 10 a day. On Saturday, El Paso saw 1,152 new cases—bringing its total to 72,238—and 15 new COVID deaths.
El Paso is struggling to find a place to store the overflow of dead bodies, now at a grim total of 756 since the pandemic began in March, and the county has now deployed 10 mobile morgues after requesting an additional four earlier this month, according to NBC News. Gov. Abbott has mobilized state and federal aid to fund travel nurses and tent hospitals to combat the severity of the virus.
In a statement posted to Twitter on Friday, Paxton wrote that the 8th Court of Appeals' decision was "outstanding" and called Samaniego a "tyrant."
"As the court aptly put, 'the public cannot have two sets of rules to live by.' A tyrant who thinks he can ignore state law cannot stop that," Paxton said. "I will not let rogue political subdivisions try to kill small businesses and holiday gatherings through unlawful executive orders."
Samaniego responded: "So unfortunate that Paxton, the 'Texas' Attorney General finds the opportunity to gloat instead of coming to El Paso to walk along side me by the mobile morgues with 144 El Pasoans; or send his condolences to the families of his 741 constituents who died of COVID-19."
"I guess El Paso is too far for Paxton to comprehend that we too are his constituents," he added. "I intend to use my legal authority to do everything possible to protect our community. I pray that his rhetoric won't discourage our courageous healthcare workers..we will always be grateful!"
The rejection of the shutdown orders comes as COVID-19 cases surge in the U.S., with at least 177,000 new cases reported Friday, according to data from Johns Hopkins. The U.S. has reported an average of 140,000 cases every day over the past week, an increase of 76 percent from the average just two weeks prior, reports the New York Times.