Texas COVID Hospitalizations Highest Since August as El Paso Struggles with Rising Deaths
Total coronavirus hospitalizations in Texas reached 5,691 on Sunday, the highest level since late August when 5,639 COVID-19 hospitalizations were reported on August 20, according to the latest report from the Texas Department of State Health Services (DSHS).
Hospitals in El Paso County are struggling to cope with the increasing number of fatalities which has been rising faster than the county can investigate those deaths, according to El Paso County Judge Ricardo Samaniego.
A total of 232 possible COVID-19 deaths were reported to be under investigation and the county is running out of places to place those bodies, according to Samaniego, who ordered a fourth mobile morgue unit just a day after a third mobile morgue unit was set up, El Paso's KFOX-TV reported.
Samaniego noted: "People that die are under investigation, to see if they died of COVID and to discern whether or not they had other diseases. That holds back the process.
"I think you're going to see tremendous more deaths coming up in the next two to three days," he added.
The mortality rate in the city of El Paso, the county seat of El Paso County, has been rising sharply since late April. The seven-day rolling average of COVID-19 hospitalizations in El Paso has been increasing on a sharp incline since early October, according to the El Paso city health department.
The rising number of deaths comes as a stay-at-home order was issued in El Paso County last week by Samaniego.
"Today [October 26], I am amended the County's Stay Home, Work Safe Order which will now include a 10:00 p.m. countywide curfew. Our hospitals are now at a point where they are overwhelmed and exhausted.
"I am left with no choice but to take this next step in hopes of seeing some stability in our community and most importantly to save lives," Samaniego noted in a post last Monday on Twitter.
Hospital capacity across the state was reported to be at 75 percent, with 13,499 beds currently available among the state's 54,203 total staffed hospital beds, and 1,108 available intensive care unit (ICU) beds, according to the Texas DSHS.
As of October 29, the ICU at the Texas Medical Center (TMC) in Houston, which claims to be the "largest medical city in the world" with "10 million patient encounters per year," was reported to be 89 percent full, according to TMC.
More than 140,000 of the state's total infections are reported to be active cases (those currently infected being treated at hospital or recovering at home), according to Worldometer.
Texas is the current epicenter of the outbreak in the U.S., with total confirmed cases approaching nearly 937,000, as of Monday, usurping the figures reported in California and New York, each of which formerly had the country's most number of cases, according to data compiled by Johns Hopkins University (JHU).
The seven-day moving average of daily new cases in Texas has been rising sharply since early October, reaching 6,873 on October 31, after declining for months and flattening out in September. However, the average count has yet to reach the record level seen in mid-July, when it peaked at 10,572, according to JHU.
The seven-day moving average of daily deaths has been declining since August and flattened out since early October, according to Worldometer.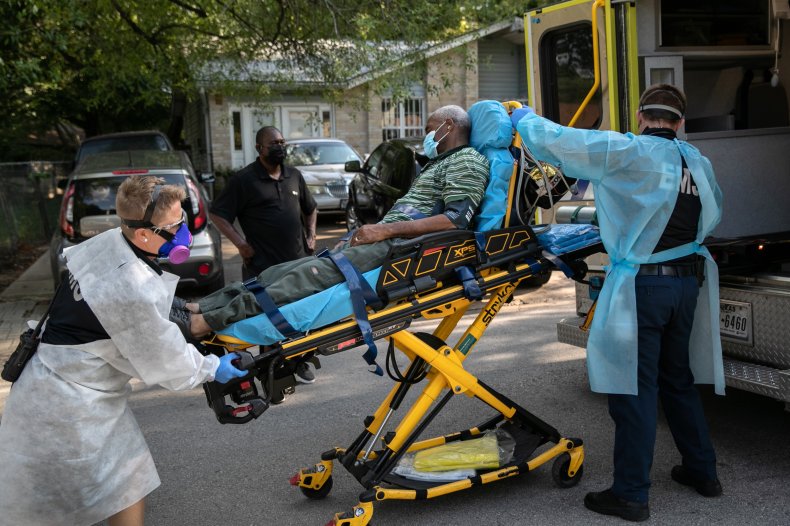 The wider picture
The novel coronavirus has infected more than 46.5 million people across the globe since it was first reported in Wuhan, China, including more than 9.2 million in the U.S.
Globally, more than 1.2 million have died following infection, while more than 31 million have reportedly recovered as of Monday, according to JHU.
The graphic below, produced by Statista, illustrates the spread of COVID-19 cases in the U.S.