Billy Joe Wardlow Shouldn't Be Executed, Fiancée Says: 'He's Not A Monster'
There's one thing every person who knows Billy Joe Wardlow can agree on: he should not be executed.
Wardlow was only 18 when he fatally shot 82-year-old Carl Cole during a robbery at the man's home in Cason, Texas on June 14, 1993.
During his trial in 1995, Wardlow testified that he hadn't intended to kill Cole, but he was nevertheless convicted of capital murder. In order to sentence him to death in the state of Texas, jurors had to determine if Wardlow—who had never committed a violent crime before—would pose a danger to others in the future. They decided he would and gave him the death penalty.
The 45-year-old's initial execution date of April 29 was postponed due to the coronavirus pandemic. He is now set to be put to death on July 8.
But Wardlow's attorney Richard Burr has filed a petition urging the Supreme Court to commute his sentence to life in prison or stay his execution, arguing that at the time he killed Cole, Wardlow's brain had not fully matured.
They cited advances in neuroscientific research that person's brain continues to develop until they are in their 20s.
Wardlow's loved ones also insist that he hasn't become the dangerous man that the jurors who condemned him to death feared he would.
Beloved, extraordinary, intelligent, kind and a peacemaker—those were the words his fiancée, friends and pen pals used to described him in interviews with Newsweek.
"He's not a monster. And I do not consider him a murderer. Even though he may have committed murder, he's not a murderer," his fiancée Danielle Allen said.
Allen, 51, is an anti-death penalty activist who started writing to Wardlow in 2015. Two years later, the pair were engaged—but the wedding has been postponed due to the pandemic.
She hasn't seen him since March, when visitation at the Polunsky Unit in West Livingston where Wardlow is housed was stopped in a bid to prevent the spread of the coronavirus.
Allen said she's met many men on death row, but she's never met anyone like Wardlow.
"I have visited with so many men because of the work I do. Hundreds of people, and I've never met anyone like him," she told Newsweek, through tears. "He doesn't deserve to die. And Mr. Cole didn't deserve to die either. And Billy knows that. When Billy speaks of him, he cries."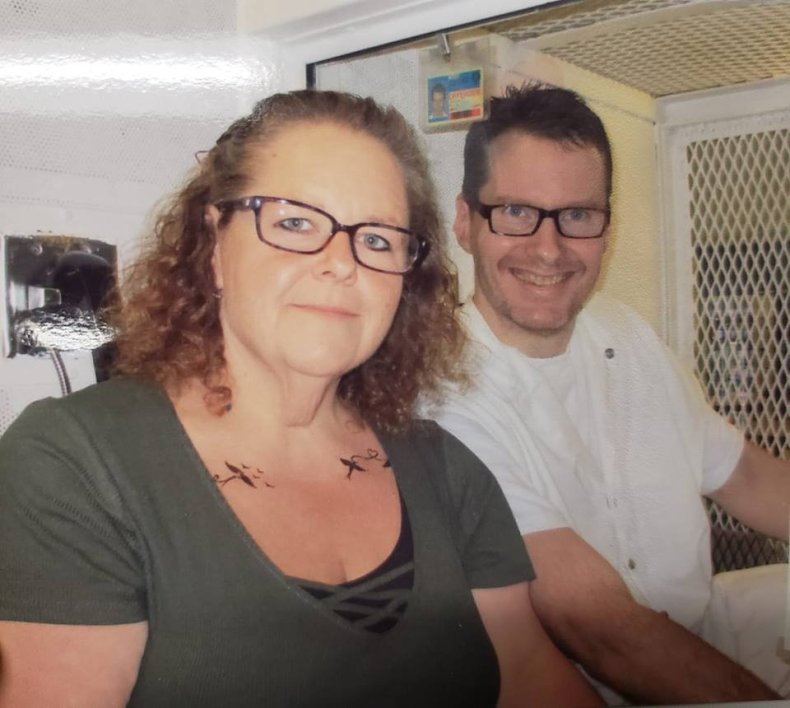 She added that anyone who spends time with Wardlow would agree that his life should be spared.
"The only thing I wish is that somebody, anybody would just go and talk to him just for an hour... that's all they need," she said.
"I don't care who you ask. Ask any man on death row and they will tell you Billy Wardlow should not be there. He is not a criminal. And this goes for Hispanics, blacks, whites, everyone, the guards. He was an adolescent. He made a mistake."
Allen isn't the only person whose life Wardlow has touched from behind bars.
He has maintained years-long friendships with people from all walks of life, corresponding in lengthy letters with pen pals all over the world.
Carl-Fredrik Johansson, a Swedish engineer, was curious about the kind of people who end up on death row and chose to write to Wardlow because he thought they were similar in some ways.
"I just wrote a letter, just one page and he immediately responded back. It was this very neat handwritten letter with no spelling errors. It was just like perfect grammar. A long letter, it was three or four pages," Johansson told Newsweek.
"This was a bright, intelligent person was my first impression. So I wrote the second letter. And that was sort of the start of this friendship or brotherhood."
Over the course of seven years, the pair have exchanged more than 400 letters, Johansson said, and he traveled from Sweden to Texas to visit Wardlow for the first time last year.
He said when staff at the prison found out he was visiting Wardlow, they told him that "he's one of the nice guys."
Dan Zegart, an investigative reporter based in New Jersey, went to Texas to meet Wardlow in March 2001 while researching a book on capital punishment.
"I was very impressed with Billy because of his intelligence and also his warmth," Zegart told Newsweek. "It was clear that he was a very empathetic person and that he had gone to great lengths to protect and help other inmates."
Wardlow made such an impression on Zegart that the pair have continued to correspond in the 20 years since that meeting.
"There are so many things about Billy that are extraordinary but what's really interesting is that over this period of time, he grew into a man," Zegart said.
"He became the sort of exemplary figure, who has pen pals all over the world, who educated himself and actually could offer solace to people because he just has this terrific sort of state of awareness, somehow, about other people's problems."
And one of the people who turns to Wardlow for advice is Zegart's 19-year-old daughter Lana. The fact that his own daughter has been writing to Wardlow since she was seven or eight is a testament to how much respect he has for him, Zegart said.
"I've been in many prisons, and I've sat down with quite a few people who are in jail for murder. I would not have had my daughter write to any of those people. But Billy is clearly an exceptional person in that sense," he said.
Zegart added that if Wardlow were to be released from prison today, he would happily welcome him into his home. "There's no question about it," he said. "That's how strongly I feel about him."
Lana Zegart told Newsweek that she would not be the person she is today were it not for writing to the man she calls "Uncle Billy" for more than half her life.
"He's creative, and he's smart, and he's caring, and he's empathetic. And he's an amazing artist," she said.
"But he goes farther than that... he wants to do more, he puts himself in other people's shoes, even though he's the person that is in the worst case scenario. He's putting himself in your shoes trying to help you out for any problems that you might have.
"He recognizes everything that he's done wrong and he will feel so guilty about it forever. But he also will take every day that he's there to learn and educate himself."
In a letter supporting Wardlow's clemency petition, she added: "By writing Billy it added another aspect to my life from a young age. It gave me someone to learn from, and a cause to fight for, something to disagree with.
"Right away I developed my point of view on the criminal justice system, because how could someone like Billy end up in the situation he's in?"
In Wardlow's petition for a stay, his attorneys argue that the basis for sentencing him to death was unreliable. It notes that the Supreme Court in 2005 decided that a person could not be sentenced to death for a crime they committed before they turned 18 because their brains had not fully matured by then.
Since that decision, advances in neuroscience have "led to two highly relevant findings concerning the brains of young adults like Billy Wardlow at the time of his offence," the petition states.
First, the "unformed character of 18-year-olds is associated with the lack of neurological maturity of their brains." And second, that "there is no appreciable difference in brain maturity—and in the brain functioning related to character—between 17-year-olds and people under 21 years of age," it adds.
The clemency petition asks that as an alternative to Wardlow's sentence being commuted, he be granted a reprieve for 330 days or until the Legislature has the chance to take up the question of whether people who are between 18 and 20 at the time of their capital crimes can still be put to death under the current version of the Texas death penalty statute.
"Time has shown that Billy Wardlow has not been dangerous, in the 25 years he has been on death row," the petition adds.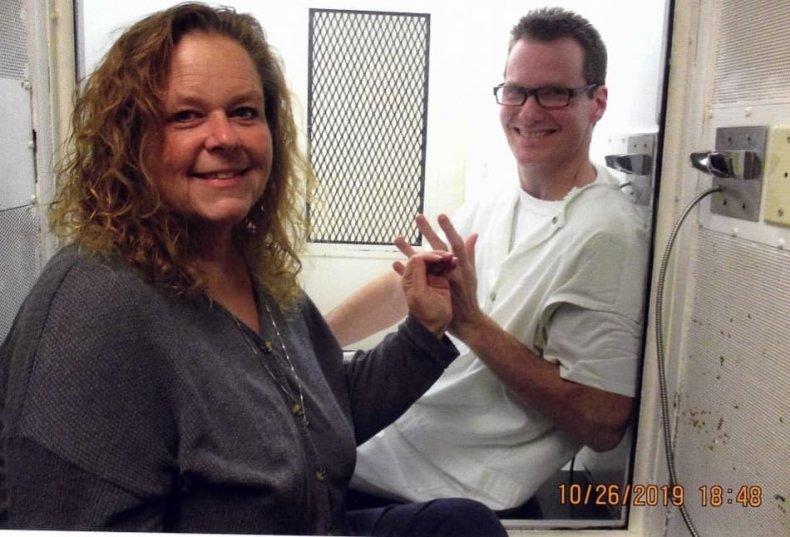 "As his brain matured, he became a likeable, kind, peaceful person, known to staff and other inmates as one who is helpful to others, never making others seek threatened or even uncomfortable. Kindness and compassion have been his defining characteristics."
Burr explained to Newsweek that "character is what underlies the question of future dangerousness."
"There was no way to predict what kind of person he would become at the time of the crime or the time of his trial," he said. But Wardlow has grown up behind bars to become a "peacemaker, not a troublemaker.
Burr added: "He's become beloved by by both staff and other inmates because he's kind and he listens to people and he empathizes with people."
In an affidavit before the Texas Court of Criminal Appeals, Mark Robertson, another death row inmate, spoke about the kind of man Wardlow is.
"He shares his special commissary 'care packages' from people on the outside with others on the row," Roberston said. "He takes it on himself to keep the showers we all use clean, not because he is assigned to do this, but because those assigned to do it usually only halfway do it."
Robertson added: "Once, when I had an execution date and was moved, I left all my Dungeons and Dragons game books with him. When I got a stay, he returned the books within a day or two. That's just how Billy is."
Dan Zegart, while researching his book, wrote to four of Wardlow's fellow death row inmates.
"What was really striking, though, were the similarities in how the inmates described Billy," he wrote in his letter accompanying Wardlow's clemency petition. "They remembered him as intelligent and generous, someone who first became known at Ellis [Unit] as a mechanical wizard who repaired inmate radios, fans, typewriters and nightlights and asked nothing in return."
Some members of the jury that sentenced Wardlow to death have also sent letters to support his petition, saying they regretted imposing it.
"When we considered Billy's sentence, we did not know the his reckless and dangerous behavior had anything to do with the immaturity of his brain," Bobby Schaller wrote.
"Now that I know that, I think Billy should have a life sentence instead of a death sentence. Everyone deserves a second chance, especially a kid whose brain was still growing at the time he did something horrible like Billy did."
Another juror, Bob Seale, also pleaded for Wardlow's sentence to be commuted to life in prison. "I knew Mr. Wardlow was only 18 years old when he killed Mr. Cole, and it bothered me to end the life of someone that young, but I felt we had no other meaningful option," Seale wrote.
"I have since that time also come to the conclusion that because of Mr. Wardlow's youthful age at the time this crime was committed, we could not have predicted how he would turn out when he grew into adulthood."
Seale noted that recent science has found that the human brain, including the frontal cortex, doesn't fully mature until a person reaches 25.
"This is the part of the brain that gives us the ability to make rational decisions and it is the last part of the brain to mature," he wrote. "Studies have shown that until that age, most people's frontal cortex has not developed enough to make rational decisions."
Lincoln Caplan, a journalist who has met Wardlow and written about his case for The New Yorker and The American Scholar, told Newsweek: "What happened in his case is a textbook example of how a young person—arguably still an adolescent, but at most a young adult—whose impulsive emotions overpowered his thinking made a tragic choice, which led to a terrible outcome for the owner of the truck and for himself.
"He should never have been charged with capital murder, based on the fact that there was ample basis for reasonable doubt about whether he intended to shoot the owner of the truck."
Caplan said that in his 25 years on death row, Wardlow has become "a decent, responsible, and caring man—the kind of prisoner who, in other circumstances, would be paroled and would demonstrate his capacity to make the most of a second chance and live an honorable life outside prison."
He added: "The death penalty, the Supreme Court has said repeatedly, is supposed to be reserved for the worst offenders — the worst of the worst. Whoever that term might apply to, Billy Joe Wardlow is nowhere near that standard. He did something terrible as a teenager that he deeply regrets and has apologized for. He has since done something remarkable, which should be recognized and celebrated: while on death row for 25 years, he has rehabilitated himself."
In his own statement supporting his petition, Wardlow recalled how he had spent his early years on deaths row "wrestling with how I could have done what I did."
Studying psychology, he said, had "opened a window to my psyche that allowed me to see myself from the outside."
He recalled how the people he loved the most had abused him during his childhood, while the men he met on death row had gone above and beyond his expectations.
"The two people I was closest to, who should have moulded me and made me stronger and ready for the world, Mom and my brother, had abused me (Mom physically, my brother sexually) and betrayed the trust I'd put in them.
"It was a relief to see that people—people sentenced to death, the so-called 'worst of the worst'—could actually rise above my expectations (and the world's) and teach me what I couldn't learn at home."
He concluded: "I came to death row a scared boy who made poor choices; I will leave death row a man that others admire because I weathered the storms of life with the help of people that loved me. We should all be so fortunate."