Texas Dem Lawmaker Compares Walkout to Sam Houston Battle for Independence
Texas state Democratic lawmaker Alex Dominguez defended his colleagues' "retreat" to Washington D.C. in order to halt Republicans' so-called voter suppression bill votes, comparing the fight to the 1836 Battle of San Jacinto.
Dominguez, who is one of nearly 60 Texas Democratic lawmakers who left the state earlier this month in order to avoid passage of GOP voting restrictions, penned an op-ed for Fox News Friday which compared the controversial move to the 19th century Texas Revolution. The state representative referenced the April 1836 battle between Generals Sam Houston and Antonio López de Santa Anna, which ultimately secured Texas' independence from Mexico.
In the piece, Dominguez accused Texas Governor Greg Abbott, a Republican, of having "pushed too far" on voting restrictions.
"Texas history is rich with lessons. The struggle for the freedoms of Texans will continue. From the days of Texas' independence to now, Texans are inspired by fights larger than legislators and our fight will continue until victory. Just like theirs," Dominguez wrote.
Dominguez, who represents a district that is is 91 percent Hispanic, said Sam Houston "retreated for months before his 18-minute conquest," adding that he and his colleagues now "have time" to outlast state legislature Republicans in this modern "battle." Dominguez also referenced controversial education reform in Texas in the op-ed.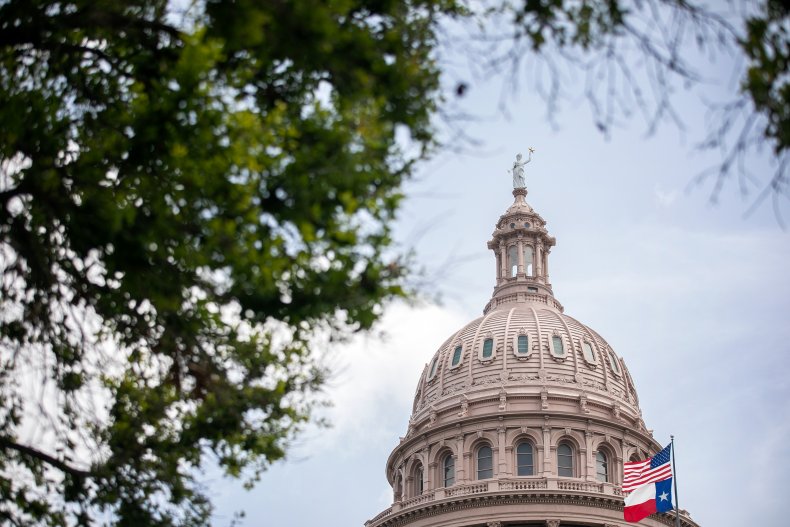 "Our governor is asking us to stop teaching the stories of American heroes like Cesar Chavez and Martin Luther King Jr.—freedom fighters not unlike those brave heroes at San Jacinto. He is asking us to stop teaching a theory that no Texas school teaches," Dominguez said in the Friday opinion piece, which also blasted Abbott and Texas Republicans of "hyper-partisan" pandering to its fringe, far-right-wing base.
"The Texas governor and his allies aren't seeking to defend constitutional liberties or keep your kids safe. They're goosing the governor's poll numbers by pandering to a fringe base who serve their own interests above those of the collective good," Dominguez continued, before again making the San Jacinto comparison.
"The Texans were in retreat facing a massive foe with vast resources. Victory in the face of what they were staring at was all but impossible," he added.
Dominguez and the dozens of other Texas Democrats who went to Washington have spent much of their time alongside voting rights activists at the U.S. Capitol.
"I just met with Texas State Reps Alex Dominguez and John Bucy to thank them for standing up for democracy in Texas. I showed them John Lewis's chair and we talked about the need to pass the Voting Rights Act NOW," tweeted New Jersey Congressman Bill Pascrell, sharing a photo of himself and Dominguez discussing GOP "voter suppression bills" across the country.
Newsweek reached out to Dominguez's Austin office, as well as Governor Abbott for comment but did not hear back in time for publication.