Texas Democrats Ask U.S. Supreme Court To Lift Ban on Certain Mail-In Ballot Requirements
On Tuesday, the Texas Democratic Party asked the U.S. Supreme Court to allow all Texas citizens to vote via mail-in ballots in upcoming elections following an ongoing court battle with state Republicans on the issue of mail-in voting during the coronavirus epidemic.
On May 27, the Texas Supreme Court decided that state residents worried about contracting COVID-19 while voting in public don't qualify under current state rules to receive a mail-in ballot.
The state Democratic Party then filed a lawsuit claiming that the state's rules—which only permit mail-in ballots for people who are 65 or older, disabled, imprisoned or out of the county on Election Day—violate the 26th Amendment, the amendment that allows everyone over 18 to vote, by discriminating against citizens under the age of 65, particularly those who want to vote by mail-in order to avoid transmission of COVID-19.
U.S. District Judge Fred Biery had ruled in the state Democrats favor, but a panel of judges in the U.S. 5th Circuit Court of Appeals in New Orleans put a stay on Biery's order when the Texas Republican party appealed the district court's decision.
In response, the Texas Democratic Party petitioned the U.S. Supreme Court to intervene. In its application to the court, Democrats said the 5th Circuit Court's stay would force voters to "relinquish their right to vote" or else risk contracting a potentially deadly virus to do so.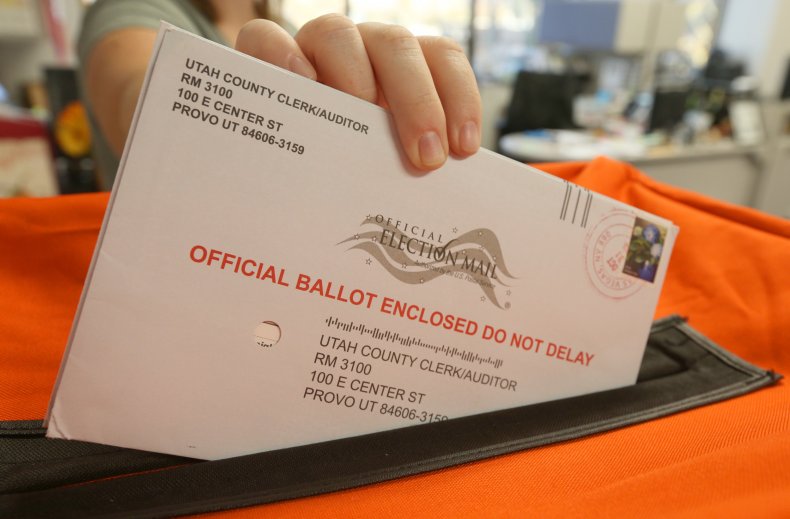 "Texas Republicans are hell-bent on discriminating against and blocking Texas' new diverse majority from casting their ballot," Texas Democratic Party Chair Gilberto Hinojosa said in a statement. "We have not—and never will—stand by as Republicans discriminate against hard-working Texans trying to cast their ballot."
In response, Alejandro Garcia, deputy director of communications for Republican Texas Attorney General Ken Paxton's office said, "This is clearly a ploy by the Texas Democratic Party to further confuse Texas voters."
Garcia claimed that the 5th Circuit's issuance of a stay suggested that it believes Texas state laws on mail-in voting laws comply with the U.S. Constitution.
Newsweek reached out to Paxton's for comment. This story will be updated with any response.
The Texas Supreme Court's majority opinion on May 27 essentially said that state election officials could simply take voters at their word if their application for mail-in ballot said that they qualified, but the decision set up a potential legal issue, especially since Paxton has said that healthy voters who seek mail-in ballots could be criminally prosecuted for election fraud.
On June 13, Texas reported 2,331 newly confirmed coronavirus cases, its highest ever daily toll of new cases since the epidemic began.