Two Texas Democrats will go head-to-head on Tuesday for the opportunity to challenge Republican Senator John Cornyn—the first step in the party's plan to win their first statewide election in 26 years.
Decorated Air Force veteran M.J. Hegar and longtime state senator Royce West will compete in the runoff, which is the result of neither candidate eclipsing the 50 percent mark in the March primary. Hegar finished first in that race with 22 percent of the vote, while West came in second with 15 percent.
Hegar is once again viewed as the front-runner heading into the July 14 contest. She is polling better—the latest survey found her 12 points ahead—and has raised more money than West. She also has the backing of the national party establishment and was endorsed by the Democratic Senatorial Campaign Committee in December 2019.
But the state Democratic Party supports them both and said either candidate would be poised to beat Senator Cornyn, whose approval ratings among Texans have hovered between 25 and 37 percent in recent surveys. A June Texas Tribune poll found that 37 percent of voters approved of his job as senator, 34 percent disapproved of his performance and 29 percent had no opinion.
"That's absolutely abysmal for an incumbent," Abhi Rahman, a spokesperson for the Texas Democrat Party, told Newsweek. "So no matter who the nominee is, we feel they have a very good chance to take him out. He is weak, he is vulnerable and he spent the last 20 years in Washington not looking out for Texas."
West, in a statement to Newsweek, pointed to his long record on police reform and expanding healthcare access as evidence that he is the best candidate to face Cornyn this fall. Both are key issues this election cycle amid the coronavirus pandemic and nationwide racial justice protests.
"In these difficult times, people want an experienced leader to tackle the tough problems," West said.
The Hegar campaign touted its grassroots organization, which they said is necessary to defeat Cornyn as well as "help candidates up and down the ballot deliver a healthy dose of Texas values."
"After spending almost 20-years in Washington failing to address Texas' health care crisis, broken immigration system, horrific racial injustice, and now the surge in the COVID-19 pandemic, it is no wonder that Senator Cornyn's approval rating is one of the worst in the country and Texans are excited to tell him to pack it up in November," Amanda Sherman, a spokesperson for M.J. For Texas, told Newsweek.
Of the two candidates Hegar is "probably the more known commodity," said Joel Sievert, an assistant professor of political science at Texas Tech University. "She's been more aggressive with advertising and voter outreach across the state."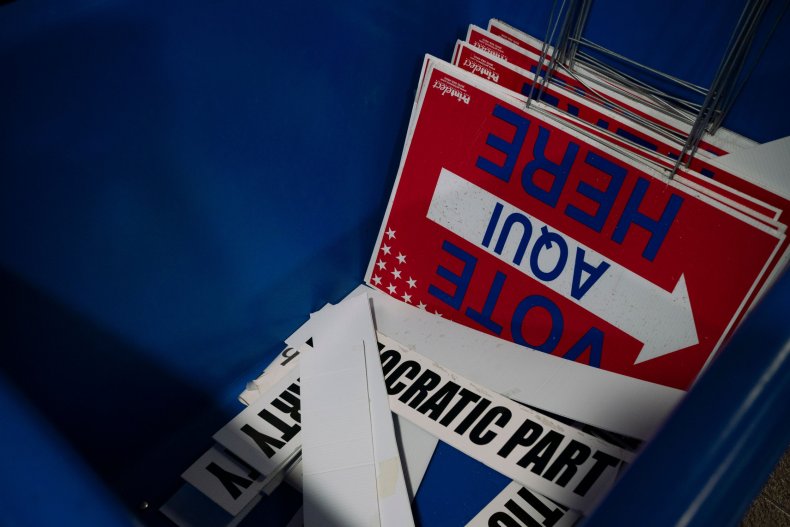 Whoever wins the Democratic nomination will face an uphill battle against Cornyn.
Election forecasters such as the Cook Political Report and Sabato's Crystal Ball still see the race as favoring the Republican candidate—at least for now. The most recent survey of the general election showed Cornyn outpolling both Hegar and West by 11 or 12 points.
The incumbent also has a massive $14.5 million war chest spend in the race, according to the latest campaign finance filings. The senator has already used some money on a television ad that took aim at West, calling him a "liberal politician" for his positions on abortion, guns and taxes.
Still, the changing demographics of the state have Cornyn playing defense for a seat he's held since 2002 and comfortably won by more than 25 points the last time he was up for re-election. Brendan Steinhauser, a Republican strategist and Cornyn's campaign manager for his 2014 run, said this contest is different because of the presence of President Donald Trump.
"Now that Trump's back on the ballot it's going to be 100 percent a referendum on him," he told Newsweek. "To the extent Senator Cornyn underperforms from six years ago has everything to do with the president and very little to do with Senator Cornyn."
Newsweek reached out to the Cornyn campaign but did not receive a response before publication.
Trump won Texas and its 38 electoral votes by 9 points against Hillary Clinton in 2016. But his hold on the traditionally red-state appears to be waning. A poll released over the weekend found Joe Biden, the Democratic nominee, ahead by 5 points.
The New York Times reported that the encouraging numbers coming out of Texas have prompted Democrats to push the Biden campaign to put more time and resources into the flipping the state. But the former vice president has so far remained cautious of pursuing a more expansive strategy.
"Texas has been moving more purple and although Democrats haven't pulled it off yet, I think they are within striking distance," Steinhauser said.
The nation got a glimpse of Texas's shifting political landscape in the 2018 midterm elections when Beto O'Rourke's challenge against Senator Ted Cruz became one of the most-watched and most-expensive races of the year. Cruz, the Republican incumbent, narrowly defeated O'Rourke by 200,000 votes.
"The long-term lesson from 2018 is if you invest the resources, you can make Texas competitive," said Sievert from Texas Tech University. "If you're talking about making it competitive two cycles in a row, I think long-term that's still a win for the Democrats."
The Senate seat isn't the only focus of the state Democratic party. The group also has its eyes on winning the presidential race and is targeting 22 state house districts and seven congressional districts. The Texas Democratic Party set a new digital fundraising record last month, bringing in about $1.4 million when it held its virtual convention between June 1 and June 7.
"There's never been a better time to be a Texas Democrat," Rahman said.