Texas Democrats are walking out of a special session of the state legislature in an effort to block a Republican-led elections bill from passing and flying to Washington, D.C. instead.
At least 58 Democratic members of the state House of Representatives plan to leave Austin on Monday to block several bills, including a sweeping elections bill, by denying Republicans a quorum.
Under the Texas Constitution, the legislature requires a quorum of two-thirds of lawmakers be present to conduct state business in either chamber. Absent lawmakers can be legally compelled to return to the state capital and risk arrest flying out of the state.
The group will fly out of a pair of private jets chartered for the occasion and fly to D.C. to call on their federal counterparts to pass federal voting legislation.
State Democrats had already staged a walk-out of the regular session in its final minutes to deny a quorum, causing Republicans to adjourn without passing the key piece of legislation, but Gov. Greg Abbott called a special session which began last week and could go on for weeks, effectively forcing lawmakers to remain out of Texas until it goes to recess.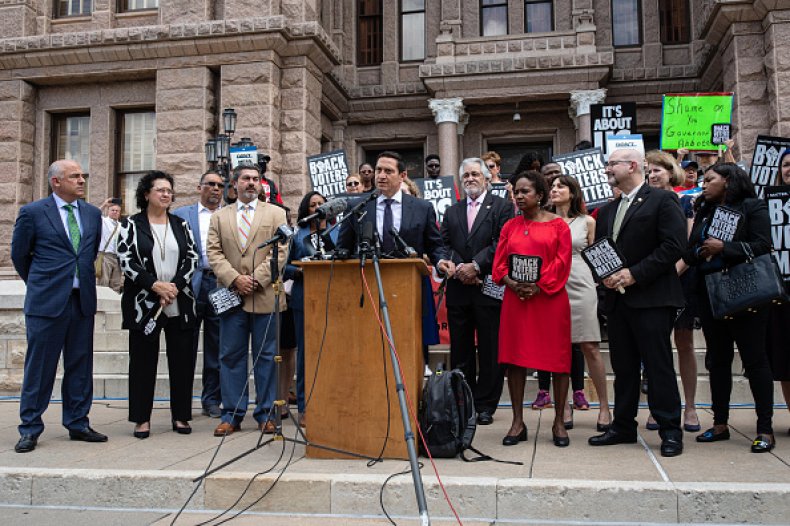 The last time Texas Democrats broke quorum was back in 2003 when more than 50 Democratic lawmakers bolted to New Mexico and Oklahoma in an effort to block a redistricting proposal supported by the Republican majority. The plan ultimately passed both the Republican-controlled House and Senate.
This time Democrats are fleeing to block a voting bill that has been one of the most expansive efforts to restrict voting across the nation.
In marathon sessions over the weekend, Republicans moved quickly to advance a pair of voting bills that add new identification requirements for mail-in voting, ban some early voting options and create new criminal penalties. The final vote was expected to take place starting Tuesday.
State Democrats are also abandoning other expected votes on Republican-backed measures that ban the teaching of critical race theory in public schools, further limit abortions, ban transgender athletes from participating in school sports and make it more difficult for people who have not been convicted to make bail.
On Sunday, former Congressman Beto O'Rourke told Vote Beat that he hoped Democrats would sit on the stairs of the Capitol building to force their federal counterparts to walk by them and realize they have not done enough on a federal level.
Congressional Democrats failed to pass the For the People Act last month after Republicans blocked it in the Senate and some Democratic senators signaled they wouldn't budge on eliminating the filibuster to pass the sweeping voting law.
Monday's efforts to block state election laws were applauded by several voting rights organizations.
"To protect the right to vote for all Texans—particularly for our community members who experience marginalization on a daily basis—Democratic legislators were left with no other option but to break quorum and stage a walkout the likes of which Texas hasn't witnessed since 2003," Sissi Yado, the director of Texas for All Coalition, which represents more than 30 groups fighting Texas voting restrictions, said.
"Texas Democrats are showing America what it looks like to fight like hell for our voting rights. They are using every tool available because they know there is nothing more important than preserving our democracy so every Texan can have their voice be heard by their government," Common Cause Texas Executive Director Anthony Gutierrez added in a statement.
Gutierrez noted that while the actions of state lawmakers are commendable, other states may not have the same option to push back on their own respective election bills.
"Texas is just one example. Voters in Georgia, Michigan, Wisconsin, and countless others are also facing Republican-led schemes to strip away our voting rights," he said. "Voters cannot afford to wait any longer for Congress to take action. If we believe in free and fair elections, then we have to fight for them."
"Texas Democrats have led by example, doing whatever it takes to preserve our democracy. Now it's time for Congress to do the same," Gutierrez added.
Newsweek reached out to Texas House Democrats for comment but did not hear back before publication.
Update 4:38 p.m.- 7/12/21 This story was updated with comments from Yado and Gutierrez.