Texas Dems Call for New Stay-At-Home Order as State Breaks Death Record
A trio of Democratic U.S. Representatives from Texas called for new stay-at-home orders on Friday, one day after the state recorded a single-day record for COVID-19 deaths.
Reps. Vicente Gonzalez and Filemon Vela issued a joint statement calling for Republican Governor Greg Abbott to reinstate a stay-at-home order in response to skyrocketing numbers of new cases and deaths. On Thursday, the state reported a record of 105 deaths due to the virus, following previous highs of 98 on Thursday and 60 on Wednesday. An additional 95 deaths were added on Friday.
"The health of our economy is tied to the health of our population," the congressmen said. "As Texans, we want the economy to thrive, but that is not possible if the lives and health of our fellow Texans are at stake. Clearly, the surge in new COVID-19 cases, resulting in a greater number of deaths, are directly related to Texas's premature reopening. Our call for action now is all we can do to prevent further deaths. The long-term sustainment of our economy depends on ensuring that Texans are healthy."
"Governor Abbott needs to issue a mandatory stay-at-home order," they added. "If the Governor believes that the numbers for our state are going to be worse next week, we must make every effort to protect our fellow Texans now."
Rep. Sheila Jackson Lee also called for renewed restrictions during a Friday interview with MSNBC's Andrea Mitchell, although she suggested that the governor allow local jurisdictions to impose their own orders, something Abbott has so far refused to do.
"We opened the government here in Texas too quickly," Lee said. "If you speak to doctors... they say that we cannot get our hands around COVID-19 until we have a stay-at-home order."
"And I think the best way to do that... we need to give the jurisdiction to the local community to be able to issue stay-at-home orders," she added.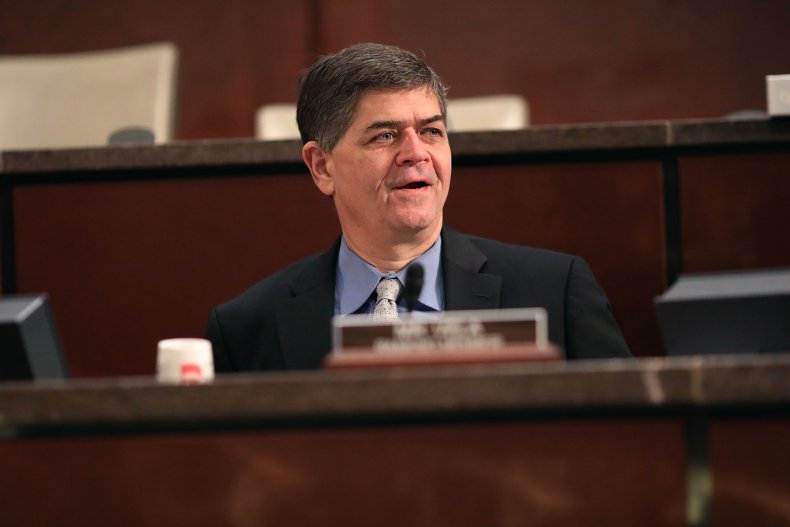 Texas was one of the first states to begin reopening amid the pandemic. Abbott let his stay-at-home order expire at the end of April and many businesses were allowed to reopen by early May. Cases began to slowly rise in early June before accelerating later in the month.
In response to the surge of cases, the governor paused reopening plans about two weeks ago, once again prohibiting bars from serving alcohol. Last week, he issued an order requiring that face masks be worn in public, after having earlier resisted calls to do so.
In addition to record deaths, new cases and hospitalizations also appear to be rapidly increasing. Texas confirmed 9,765 new cases on Friday, while a high of 10,028 new cases was reported on Tuesday. There were 10,002 people hospitalized with COVID-19 on Friday, an all-time high for the 12th consecutive day.
Newsweek reached out to Abbott's office for comment.