Texas Dems Sue Gov. Greg Abbott Over Vetoing Funding for Legislature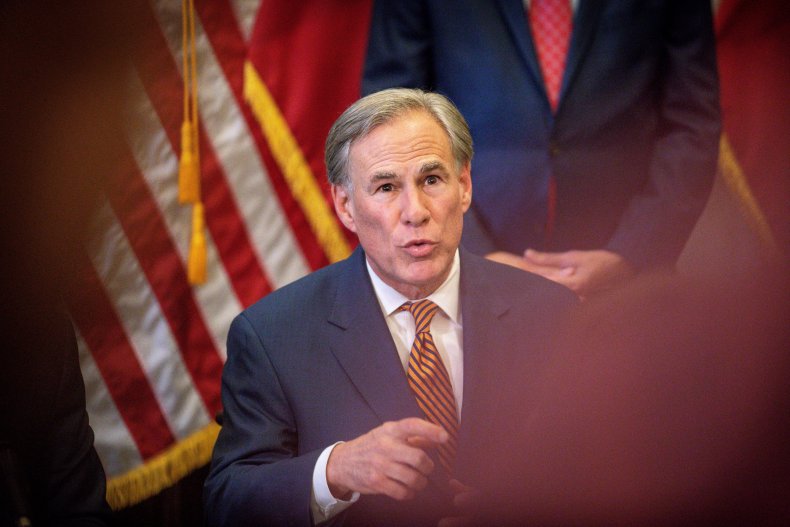 Republican Texas Gov. Greg Abbott has been sued by the state's Democratic House Caucus over his recent veto of funding for the legislature.
Abbott vetoed a portion of the state budget that funds the legislature last week in response to Democrats walking out of the House chamber last month just before it was set to vote on a restrictive voting rights bill championed by Republicans, effectively blocking the bill by denying the quorum required for a vote to take place. House Democrats, legislative staffers and other groups including the Texas AFL-CIO petitioned the Texas Supreme Court to nullify Abbott's "unconstitutional veto" on Friday.
"Abbott's veto is an abuse of power, an act of legislative coercion and a threat to democracy, the result of which is clear and immediate harm to the people of Texas," state Rep. Chris Turner, the Democratic Caucus chair, said in a statement. "The Legislature is a co-equal branch of government and the separation of powers is enshrined in our state constitution. The governor doesn't get to simply cancel another branch of government when he doesn't get his way."
Abbott's veto applies to funds that will begin to be distributed at the start of the next legislative budget cycle on Sept. 1, meaning the legislators and other impacted state employees are continuing to receive their pay until then. In addition to pulling funding from the House Democrats who blocked the bill, Abbott's veto also takes funding away from Republican legislators and over 2,000 other state employees.
"Gov. Abbott's bogus power grab has created one mighty large Texas injury involving 2,000 victims ranging from lawmakers themselves to legislative staffs to an infrastructure that makes law-writing possible," Texas AFL-CIO President Rick Levy said. "All the support staffers, whether Democratic, Republican or strictly nonpartisan, have several things in common: They are bystanders in this brawl, their livelihoods are now in jeopardy, and they have reason to wonder whether they will be able to pay the bills and support their families after Sept 1."
While issuing the veto, the governor said salaries "should not be provided for those who quit their job early, leaving the state with unfinished business and exposing taxpayers to higher costs for an additional legislative session." Abbott has ordered legislators to return for a special session on July 8, at which time the GOP-led House is expected to again attempt to pass the voting bill.
The bill, S.B. 7, is one of many restrictive voting rights bills proposed by Republicans at the state level this year while former President Donald Trump has continued to repeat false claims that widespread voter fraud was to blame for his 2020 presidential election loss.
While Abbott and other Texas Republicans say the bill would help to ensure "election integrity," Democratic critics contend the legislation is an effort to increase "voter suppression" because it would empower partisan poll watchers, limit Sunday voting hours, impose new restrictions on mail-in ballot requests and ban drive-thru voting.
Newsweek reached out to Abbott's office for comment.