Texas Doctors Rank (1-9) The Risks of Catching COVID-19 In These Activities
On Monday, the Texas Medical Association (TMA), an organization of 53,000 physicians and medical students across the state, released a chart of common activities ranked by their chances of spreading COVID-19.
The chart ranks activities like checking one's mail with a low-risk score of "1" but other activities like going to a bar with a high-risk score of "9." The activities were ranked by physicians from the TMA COVID-19 Task Force and the TMA Committee on Infectious Diseases.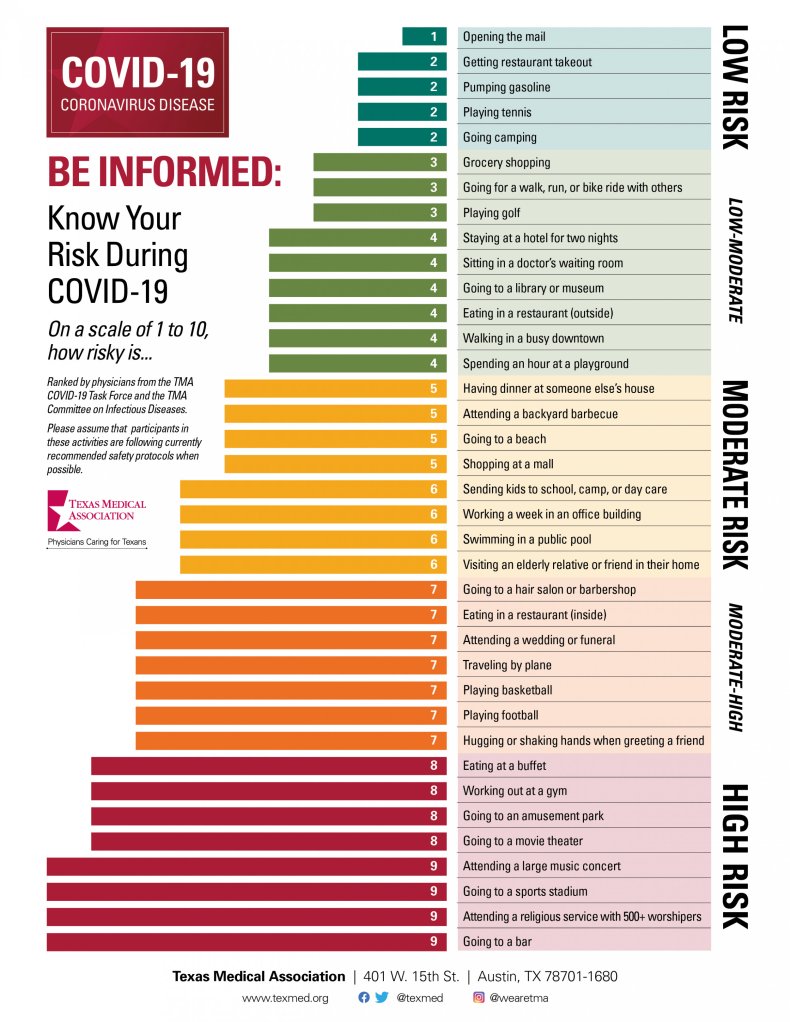 A spokesperson from the TMA told Newsweek that the numeric rankings do not represent absolute percentages on whether a person will or won't contract coronavirus through certain activities. As such, a "1" doesn't represent a 10 percent likelihood of contracting the virus nor does a "9" equal a 90 percent likelihood.
Rather, the TMA said physicians ranked the riskiness of each activity based on the difficulty of maintaining social distancing and other preventative behaviors in each situation.
So, for example, it's much easier to keep on a mask and gloves, to stay six-feet apart and for businesses to regularly disinfect public surfaces when it comes to pumping gas, currently ranked at a "2." However, it's much harder to maintain those things when visiting a food buffet, which, compared to an outdoor gas station, would involve staying in a crowded space indoors with other diners who are not wearing masks while eating.
"The risk of exposure increases in you're close together for long periods of time and not following the other protocols," the TMA spokesperson told Newsweek.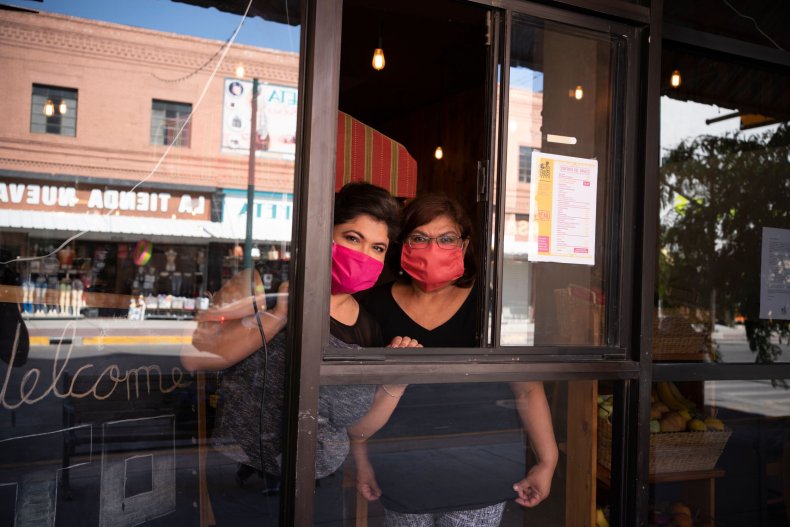 The TMA released its infographic as Texas has experienced a dramatic spike in COVID-19 cases, averaging about 6,644 new confirmed cases every day for the last seven days. As of July 6, Texas ranks fourth among U.S. states with the highest overall number of confirmed cases.
The increase in cases compelled Republican Texas Governor Greg Abbott to issue a statewide order on June 2 requiring all Texans to wear face masks in counties with 20 or more positive COVID-19 cases. Citizens who don't comply could face a $250 fine.
The TMA released its infographic four days after the organization pulled its sponsorship from the upcoming mid-July convention of the state Republican Party over fears that it will create a coronavirus outbreak.
The state Republicans plan on hosting over 6,000 people at the George R. Brown Convention Center in downtown Houston from July 16 to 18. Houston resides within Harris County, the Texas county with the highest number of total coronavirus cases.
While convention organizers have pledged to conduct temperature checks at entrances, conduct thorough deep cleanings of public spaces, maintain social distancing and offer free face masks and hand sanitizer stations throughout the convention, both the TMA and Houston's mayor have urged the state GOP to reconsider holding a virtual event instead because of the possible threat of coronavirus spreading in person.