Texas Doctors Say Police Use of 'Less Lethal' Munitions on Crowds During George Floyd Protests Caused Significant Injuries
Doctors in Texas who treated those severely hurt during protests earlier this summer found that the "less lethal" munitions police officers used to control crowds are what caused the injuries.
A dozen doctors from the Dell Seton Medical Center at The University of Texas published a letter Friday in the New England Journal of Medicine, arguing that Austin police used beanbag munitions that resulted in "numerous clinically significant injuries," including traumatic brain injuries.
"These findings highlight the fact that beanbag munitions can cause serious harm and are not appropriate for use in crowd control," the letter stated.
The 12 doctors worked at a level 1 trauma center located blocks from where protests broke out at the end of May, following the police-involved death of George Floyd in Minneapolis.
Floyd's death sparked protests of police brutality and racial injustice both around the world and in the U.S., many of which turned violent and saw law enforcement officers using beanbag munitions, rubber bullets, tear gas and pepper spray.
While members of law enforcement claim that these are all "less lethal" ways to control crowds, the doctors' findings suggest that weapons such as the beanbag munitions can cause significant damage. The doctors treated 19 patients who sustained injuries from the beanbags during the protests, the letter stated.
Out of the 19 patients seen by the doctors, eight were admitted to the hospital, seven had to undergo surgery for their injuries, and four retained beanbags or components thereof, the doctors said.
Dr. Jayson Aydelotte, a senior author on the letter and an associate professor of surgery and perioperative care at the Dell Medical School, told Newsweek that beanbag munitions are akin to a shotgun round. They consist of tiny metal bullets wrapped up in fabric, and are loaded into shotguns to be fired at crowds.
"So that makes holes in people, it breaks bones and does what shotguns are supposed to do," Aydelotte said. "So quite frankly, they're not much different than a shotgun."
The doctors decided to go back and look through the data collected from the patients after noticing an injury pattern and discovering that there wasn't much available research documenting or describing these types of injuries, Dr. Kristofor Olson, a surgical resident at Dell Med and the letter's lead author, told Newsweek.
A table included with the letter described the precise nature of the injuries sustained by all 19 patients, who varied in age from 16 to 54 years. Injuries included lacerations, fractures, abrasions, open wounds and retained beanbags requiring surgical removal.
A 20-year-old male appeared to suffer the most severe injury caused by a beanbag munition. According to the doctors' report, the man suffered a traumatic brain injury including a skull fracture and severe bleeding and bruising in his brain and spine.
Doctors admitted the man to the hospital's intensive care unit, intubated him and performed emergency traumatic brain surgery to try and reduce swelling. The patient was discharged from the hospital after 23 days and admitted to a rehabilitation facility, the report stated.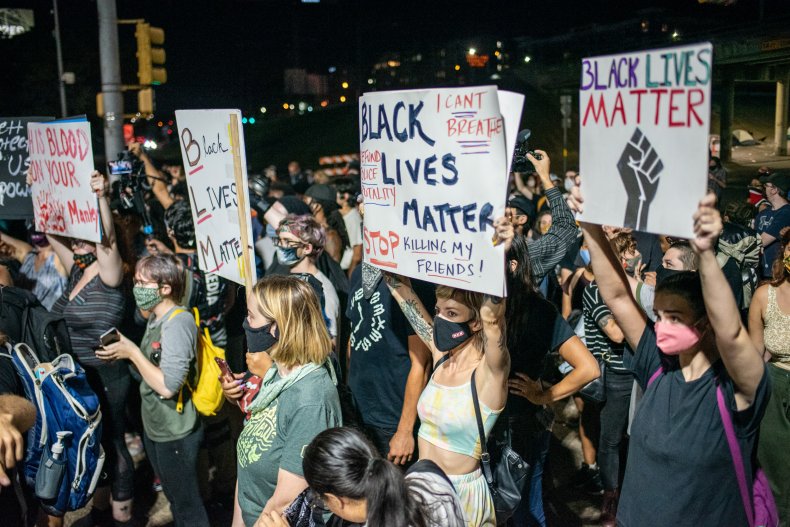 The doctors acknowledged in the letter that their findings reflect patients seen at only one trauma center and during a short period of time. While the doctors said they could not determine the frequency of injuries caused by these munitions, the data ultimately suggested that beanbag munitions should not be used as a form of crowd control.
Aydelotte, who previously served as a military doctor, said he has seen some of the "most lethal things you can use," both in war and in the civilian world. Wounds like the ones doctors saw resulting from the beanbag munitions are "way more related to the lethal side of things than they are to the not-lethal side of things," he said.
Austin Police Chief Brian Manley announced in June that his department would no longer fire beanbag munitions at crowds after facing outrage from the public over injuries suffered by protesters.
"It is still an appropriate tool in other circumstances so it is still approved for use, however not in crowd situations," Manley said during a special meeting of Austin's City Council.
Olson said that while protests in Austin continued after that first weekend, doctors stopped seeing injury patterns like the ones first presented in the patients being treated for beanbag wounds, because Austin police had by then decided to stop using the munitions for crowd control.
Aydelotte and Olson both stressed that the purpose in publishing their findings was to make people more aware of the types of injuries that beanbag munitions could cause.
"I'm sure there's other ways to deal with crowds and things like that than shotgun wounds," Aydelotte said. "So we were hoping that maybe everyone else would take notice and either adjust their policies or come up with something a little safer."
Update 08/16/20, 1:16 p.m. ET: This article has been updated to include comments from two doctors at the Dell Medical School at University of Texas, Austin.