Texas DPS on Biden's Border Policy: 'We Don't Need Their Permission to Protect Texas'
Border and public safety officials in Texas joined Governor Greg Abbott and other Republican state leaders to address a series of policy recommendations unveiled Wednesday that are aimed at improving security along the U.S.-Mexico border.
The 10 points outlined in the recommendations range from finishing the border wall and cracking down on U.S.-bound migrants who cross into the country illegally to reinstating controversial border policies championed during former President Donald Trump's administration.
Abbott hosted a press conference in South Texas alongside nine other GOP governors on Wednesday to discuss their policy recommendations following a meeting with Texas Department of Public Safety (DPS) officials. Steven McCraw, the director of the DPS, also spoke at the press conference to praise the work he said Abbott has done to shift Texas from a "reactive position" and to "put us in a proactive position."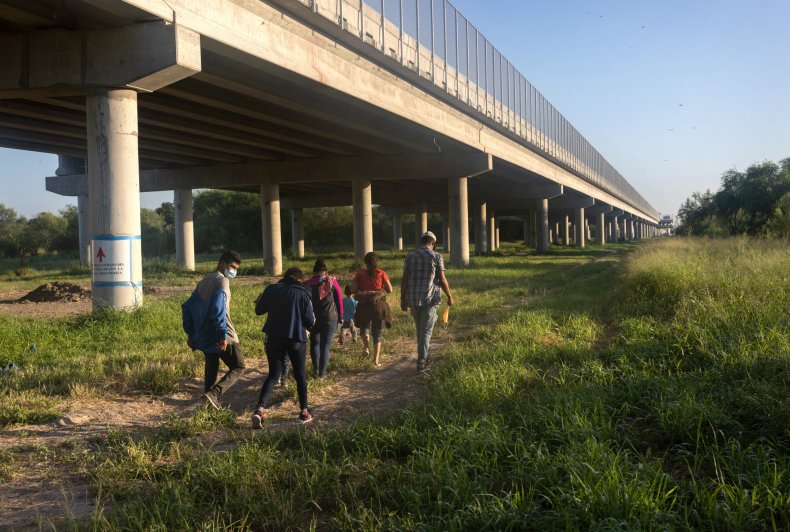 The Texas governor has "formulated a plan that has all the border basics, including infrastructure, personnel, capabilities, technology and doctrine, that can secure the Texas-Mexico border," McCraw said of the proposed border policies.
"Unfortunately, the state of Texas has made it very clear—the governor made it very clear. We can't wait for Washington to do it. We don't need their permission to protect Texas," McCraw said.
Brandon Judd, the president of the National Border Patrol Council, also spoke about the contrasts between the Republican governors' proposals and the policy positions that he said were continuing to "reward criminality" under Biden's administration.
"The action of the Biden administration is very clear: You cross the border illegally, you will be rewarded. And that's what this administration is doing," Judd said. "If we continue to reward criminality, if we continue to reward people for crossing the borders illegally, people are going to continue to come."
Their statements were followed by comments from some of the GOP governors who attended the press conference and, according to Abbot, were to tour sections of the border later in the day. The list of governors who traveled to Texas included: Doug Ducey of Arizona, Kevin Stitt of Oklahoma, Brian Kemp of Georgia, Kim Reynolds of Iowa, Pete Ricketts of Nebraska, Brad Little of Idaho, Mark Gordon of Wyoming, Greg Gianforte of Montana and Mike DeWine of Ohio.
All 10 of the GOP governors joined 16 other Republican governors in signing a letter addressed to Biden last month. The letter, which requested a meeting to discuss border issues, was ignored by the president, according to Ducey.
"It's been 16 days since we sent the president the letter, and we still haven't heard anything back," Ducey said. "We're not going to sit around while Joe Biden refuses to act."
Newsweek reached out to the White House for comment and will update this article with any response.