Texas Driver Avoided $5,400 in Tolls by Using Illegal License Plate Flipper, Say Police
If you want to avoid or reduce the cost of paying hefty highway tolls, there are things you can try: Public transportation, using surface roads, or carpooling, to name a few. What you shouldn't do is follow the lead of a Texas man, who used an illegal license plate flipper in an effort to get out of paying thousands of dollars in fines.
Police in Harris County, Texas, said Friday they pulled over a man earlier in the week for apparently avoiding to pay a toll on the North Sam Houston Parkway West.
"During the course of the traffic stop, it was discovered that the driver, identified as Preston Cody Talbot was in possession of a license plate flipper which was installed on the rear of his vehicle," wrote Mark Herman, Harris County Constable Precinct 4, on the precinct's Facebook page. "Further investigation revealed that he was prohibited from operating a vehicle on the Toll Road due to failing to pay tolls in the amount of $5,473.07."
For those unfamiliar with a plate flipper, it's a device that often does exactly what it sounds like: It allows the driver to temporarily flip around — or otherwise conceal from view — their license plate in order to avoid detection from traffic cameras, toll booths, and sometimes police and witnesses.
Talbot was arrested and booked into the Harris County Jail, where he was charged with Possession of a License Plate Flipper. According to the Houston Chronicle, the alleged scofflaw was released after paying the $100 bail on the misdemeanor charge.
License plate flippers are specifically barred by Texas law, which makes it a misdemeanor offense when a "person with criminal negligence uses, purchases, possesses, manufactures, sells, offers to sell, or otherwise distributes a license plate flipper."
First violations of this law are only punishable by a fine of up to $500, but a repeat offender can be charged with a Class B misdemeanor, which can carry up to $2,000 in penalties and as many as 180 days behind bars.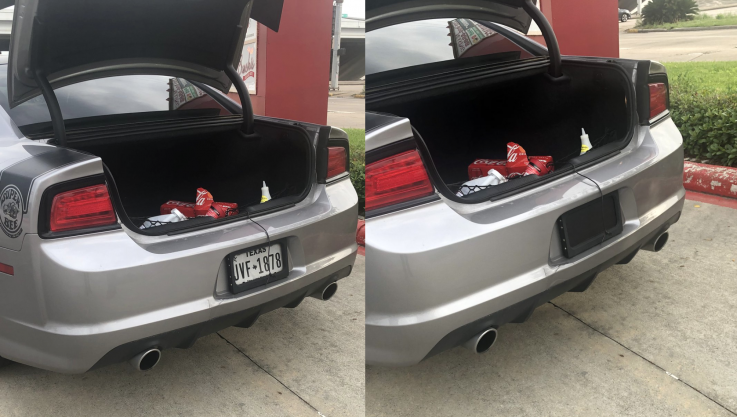 While license plate flippers may be illegal, they are readily available for purchase online and at some retail stores, often for less than $130.
"Why would anyone even try to own one of those knowing you can get a class b misdemeanor from it?" the owner of one Houston-area store said to KHOU-TV. "Obviously not a lot of people want to pay their tolls."
Texas Driver Avoided $5,400 in Tolls by Using Illegal License Plate Flipper, Say Police | U.S.