In the wee hours of Thursday morning, one driver on the Grand Parkway East on Texas Highway 99 ran into a very rude awakening.
A colossus alligator, measuring in at over 10 feet, was hit by a vehicle on the 6450 block North just after 3 a.m. The driver suffered minor injuries while the crash proved fatal for the alligator.
"The driver suffered minor injuries, airbags deployed, and the alligator did not survive," Steve Squier from Montgomery County's Sheriff's Office confirmed to Newsweek.
The alligator was ultimately measured at 10-feet-3-inches in length, Squier said.
The driver of the vehicle, Anthony Jackson, was traveling at the posted speed limit of 70MPH, as reported by the Montgomery County Police Reporter, when he crossed the San Jacinto River bridge. He ended up crashing into the 300 pound alligator, dragging it almost half a mile under his vehicle.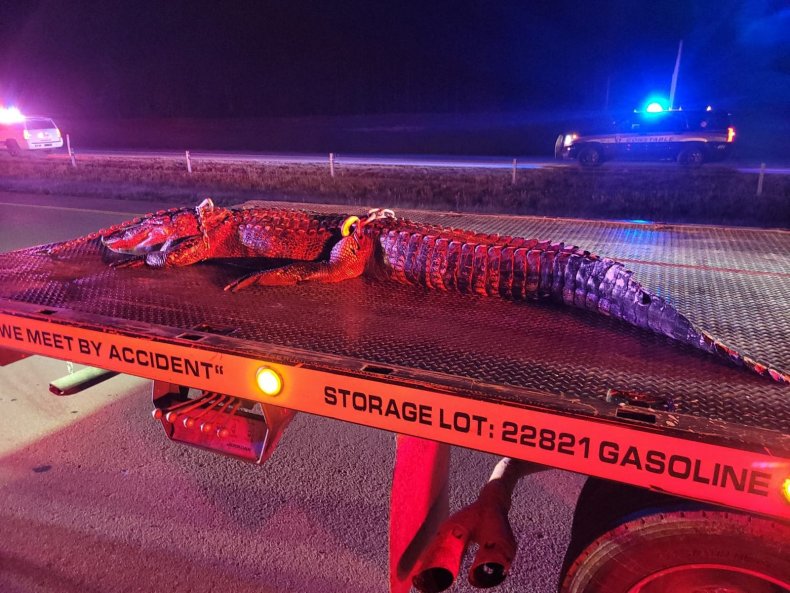 According to the report, Porter Fire, South Montgomery County Fire, and MCHD responded to the scene along with Montgomery County Precinct 4 Constables and the Montgomery County Sheriff's Office. The accident severely damaged and disable the vehicle involved.
"This is not a common thing here, for us, but it is something that happens from time to time as large parts of our county are rural," Squier told Newsweek. "There aren't a lot of bodies of water nearby according to google maps."
The Montgomery County Sheriff's Office shared two images from the accident on their Facebook page, showing the dead alligator loaded onto a flatbed to be disposed of.
"Adding to the list of things not commonly seen while on patrol in Montgomery County, TX: A motor vehicle crash involving a 10-foot alligator! The driver of the vehicle had only minor injuries from the airbags... but sadly the alligator perished," they wrote along with the pictures.
The deputy was instructed by the game warden to dispose of the gator in the San Jacinto River, reported the Police Reporter.
"That's the third one or maybe fourth I've heard of getting on roads near us. I wonder if the population is exploding or if something's going on with the weather pattern?" a concerned user commented on the post.
Last week, in another alligator incident, a lounging 8-foot long alligator caused a major traffic jam on the Fred Hartman Bridge in Houston, Texas, during lunch hour. Luckily, the animal was safely relocated.