Texas Driver Shoots Pregnant Woman in Car, Speeds Off
A young pregnant woman was killed in Houston, Texas after a man opened fire on the car she was traveling in before fleeing the scene on Easter Sunday.
Police said a man in a dark-colored two-door coupe fired at the victim's vehicle in the 11200 block of Richmond Avenue, near Wilcrest Drive, in west Houston on Sunday afternoon, KHOU11 reported.
The 22-year-old woman, who was six months pregnant, was in the car with her boyfriend and young son at the time, according to KRPC-TV. A bullet went through the rear of the vehicle and struck the woman, who was sitting in the front passenger seat, in the back.
Brian Evans, with Houston Homicide Division, told the station that a Houston police officer heard shots being fired while on their way back to a police station.
Evans said the victim had been responsive in the vehicle when the officer approached but was declared dead at the scene after being pulled out.
The suspect remains at large. It wasn't immediately clear what prompted the shooting, but Evans said the suspect may have been following the victim's vehicle prior to the incident, which took place at around 12.30 p.m.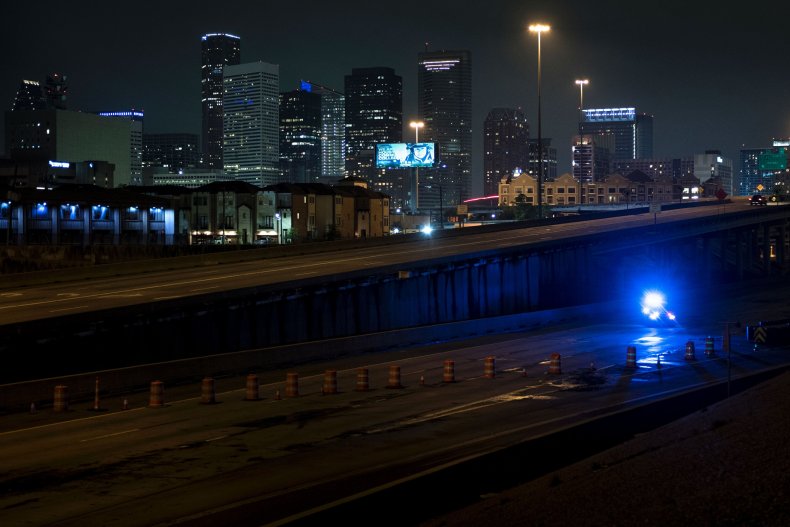 "I don't think he's aware that he struck someone inside the vehicle," Evans added.
Police say the victim and the suspect did not know each other and that they are not referring to the shooting as a road rage incident, according to KPRC-TV.
Fox 26 reported that the woman's boyfriend had a gun, and investigators are working to determine if it played a role in the shooting.
According to the station, the incident could be counted as a double murder because the woman was pregnant when she was killed.
Meanwhile, the victim's grandmother, Loretta Romo, paid an emotional tribute and said it was lucky her grandson was not struck by the gunfire.
"She was lovable. There are no words that you can explain to her because she's always laughter," Romo told KPRC-TV.
"She loved life, she was just getting started to enjoy it. She was becoming independent."
Police are reportedly pulling surveillance camera footage from the area where the shooting occurred, hoping it may help them identify the suspect.
The Houston Police Department has been contacted for additional comment.
The shooting comes as Houston hit 100 homicides over the weekend, according to KTRK. At the same point in 2020, the city had seen 75 homicides.