Texas Driver's Racist Road Rage Caught on Video: 'This Isn't Pakistan, B****'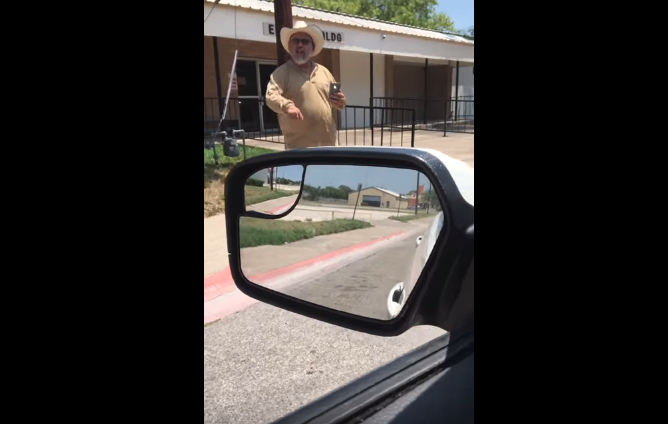 A Texas man was caught on video yelling xenophobic remarks at an engineering student in Kingsville earlier this month in a roadside altercation sparked by a driving dispute.
The footage was recorded by Ali Alghamdi, a 24-year-old student at Texas A&M University. The video shows a middle-aged man in a cowboy hat standing beside his car on the road while yelling racially charged profanities, including accusations that Alghamdi was a "terrorist."
"This is America, dumbass," the man, whose name has not been publicly released, said. "You better learn how to drive in America. This isn't Pakistan, bitch. This is not Pakistan, Afghanistan or Kuwait, motherf**ker."
The man continued his rant. "This is not Pakistan, Afghanistan or Kuwait. We have rules in this f**king country… You sound like a f**king Arab."
Newsweek subscription offers >
Warning: This video contains explicit language.
Alghamdi told The Huffington Post that he was running an errand when he noticed that the black Chevrolet in front of him had run a stop sign. He continued to follow behind but suddenly the driver of the vehicle started repeatedly breaking the car. Soon after, the driver abruptly swerved his car and stormed out while screaming racist remarks.
Alghamdi said he decided to get his phone out and start filming the incident because he was worried that something might happen to him. "I was just shocked; honestly, I was scared," Alghamdi said.
Newsweek subscription offers >
In the video, the man can be heard accusing Alghamdi of tailgating him and driving too close. After a long tirade of verbal abuse, the unidentified man returned to his car.
According to Alghamdi, the man then followed him in the black Chevrolet until he reached his destination. He then saw the man speaking with a clerk before leaving.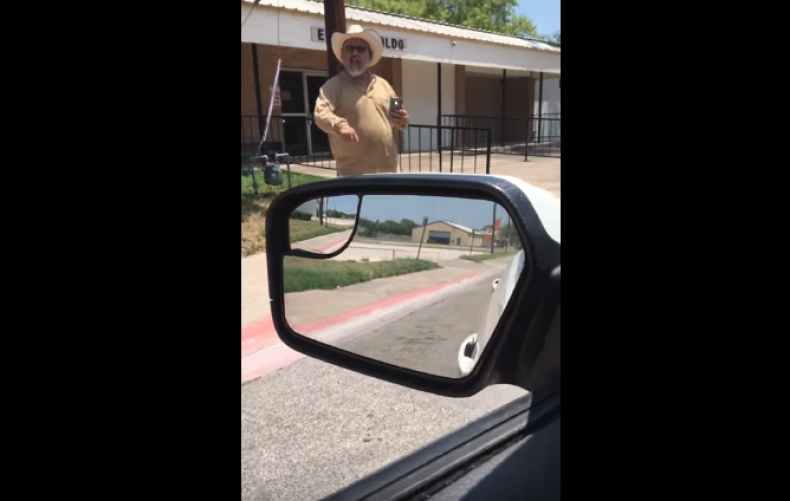 Kingsville Police reportedly arrived on the scene within minutes and requested to see Alghamdi's identification. When he told them that he recorded the incident on his phone, the police asked him to turn over the video as evidence and to file a report. "I swear, that's when the whole process changed 180 degrees," Alghamdi said.
Lieutenant Bradley Lile told Huffington Post that authorities have identified the man in the clip and will pursue charges of disorderly conduct.
Alghamdi believed the incident was motivated by hate.
"Yes, it's road rage, it happens to everyone," he said. "I look different, that's when the incident went further." He uploaded the video to Youtube on May 4 and also submitted it to HuffPost's "Documenting Hate" project, which uses a database to identify incidents of prejudice.
Texas Driver's Racist Road Rage Caught on Video: 'This Isn't Pakistan, B****' | U.S.