Supermarket shelves in Texas have been left empty as the weather crisis in the state hits supply chains.
An unprecedented storm swept the southern U.S. states last week, leading to icy roads, traffic deaths, frozen pipes and circumstances most southerners have never seen in their lifetime.
Millions of people were also left without power and reliable water as cold temperatures increased demand but hit supply.
Now Texans are facing food shortages after stores had to throw out refrigerated items due to days of power outages and some began panic shopping.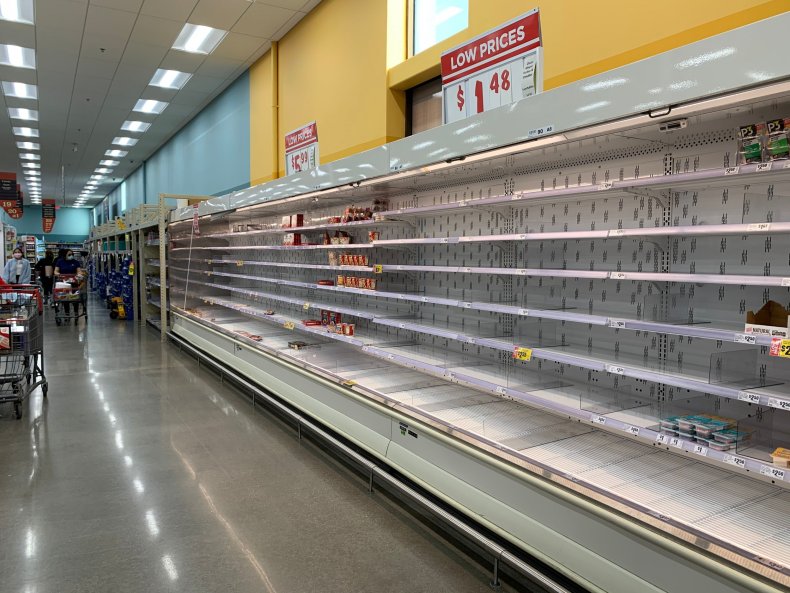 The cold weather also hit the supply chain with fruit and vegetable crops in the Rio Grande Valley freezing in what The Produce News described as a "Valentine's Day produce massacre."
Texas Department of Agriculture Commissioner Sid Miller has issued a "red alert" due to the storm hitting agriculture and food supplies in the state, saying: "We're looking at a food supply chain problem like we've never seen before, even with COVID-19."
He said dairy farmers have been throwing away $8 million worth of milk every day because they can't get it to dairies.
Miller added: "I'm getting calls from farmers and ranchers across the state reporting that the interruptions in electricity and natural gas are having a devastating effect on their operations."
Meanwhile, school districts across the state have halted meal distributions to students for the next several days.
Photos shared on social media show empty supermarket shelves while Facebook users have been sharing information on where people can still find staples.
Kris Carmona wrote: "HEB on Grissom and Tezel doesn't have everything back but does have a descent selection to get you through until the stores are restocked. We found eggs, milk, bread, fresh meats, chicken etc."
Cindy Marie also commented: "Couldn't find water at Walmart or HEB but found at Circle K. No eggs no milk no meats anywhere. Luckily, I still had Bread flour leftover from the lockdown so was able to make a loaf of bread at home."
Carol Bannworth said: "Boerne didn't have milk or bread, but we were able to find a good supply of other items," and Magali Velaquez said: "Anyone know where I can buy bottled water? I've gone to Walmart, heb and other places and I cant find any - new braunfels area."
Cristal Porter, from Austin, told the Texas Tribune about the situation at her local Target: "It was out of meat, eggs and almost all milk before I left. Lines were wrapped around the store when we arrived. ... Shelves were almost fully cleared for potatoes, meat, eggs and some dairy."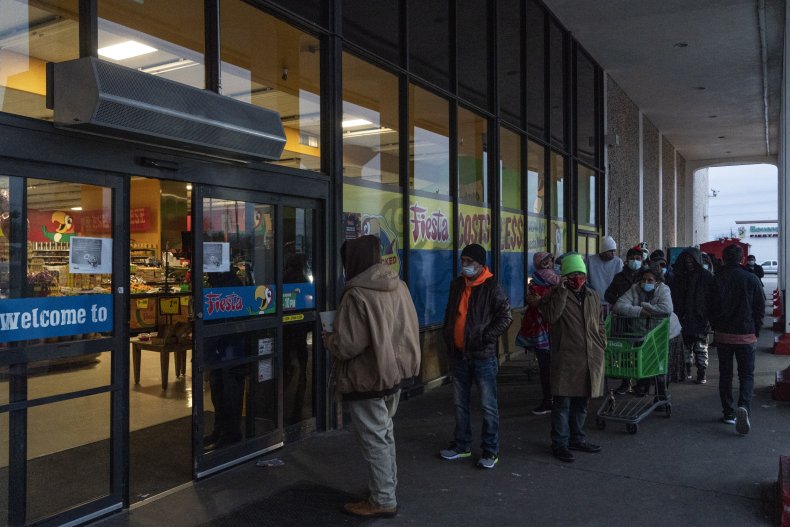 Porter said that two days later one of her neighbors went to the same Target and found the store entirely out of food with no sign of additional shipments arriving or employees restocking shelves.
She said she has been using a camping stove to make hot meals since losing power, while others have resorted to heating their food in the fireplace.
The crisis has also hit food banks in the state which have asked lawmakers for support to feed the communities, according to the hunger-relief organization Feeding Texas.
In a statement, the organization said: "The Food Bank's fleet, equipment, facilities and operations have been adversely impacted by the extremely low temperatures, and hazardous road conditions are hindering our staff and volunteers from getting to our building safely. These conditions are also keeping us from distributing food safely."