ExxonMobil Baytown Explosion Declared 'Major Industrial Accident' As Multiple Injuries Reported
Several people have been injured after an explosion at the ExxonMobil plant in Baytown, Texas, early on Thursday morning.
Harris County Sheriff's Office tweeted that deputies were attending the scene of "a major industrial accident at 3525 Decker Dr. in Baytown."
The facility, which is around 25 miles east of Houston, houses a chemical plant, an olefins plant and an oil refinery that has the capacity to produce 584,000 barrels a day.
Residents in the area reported hearing the blast at around 1 a.m. according to CNN.
Harris County Sheriff Ed Gonzalez tweeted that "four persons may be injured." He added later that three of the injured were evacuated from the plant by Lifeflight rescue helicopter and a fourth person was taken by ambulance.
Dramatic footage of the scene has been shared on social media, showing flames and thick black smoke billowing into the sky over San Jacinto Bay.
"Explosion at Exxon! It rumbled my apartment and knocked my pictures off the wall", tweeted one local resident.
Another wrote: "Exxon explosion made my house jump fr LMAO wtffff."
A Twitter user called Tonja Tolleson posted that the boom was so loud "everything inside the house rattled."
"Sounded like freight train connecting cars outside the house, hope there are no injuries," she added.
According to the Baytown police department, the unit affected by the blast processed material with gasoline components. Reuters has reported that sources familiar with the Baytown operations said the fire was in its olefins plant.
In a statement sent to Newsweek, ExxonMobil said its emergency response teams were still working to extinguish the fire and "our first priority is people in the community and in our facilities."
"We are saddened to inform that four people were injured and are receiving medical treatment. All other personnel have been accounted for."
The company said its industrial hygiene team was monitoring air quality at the site and fence line, and that "available information shows no adverse impact at this time."
It added: "We are coordinating with authorities as appropriate. We deeply regret any disruption or inconvenience this may have caused the community."
The Baytown refinery started operations in 1920 with the chemical plant opening in 1940. The facility is located along the Houston Ship Channel on about 3,400 acres of land and employs about 7,000 people.
The company website describes it as "one of the largest integrated and most technologically advanced refining and petrochemical complexes in the world."
Newsweek has contacted Harris County Sheriff's Office for further comment.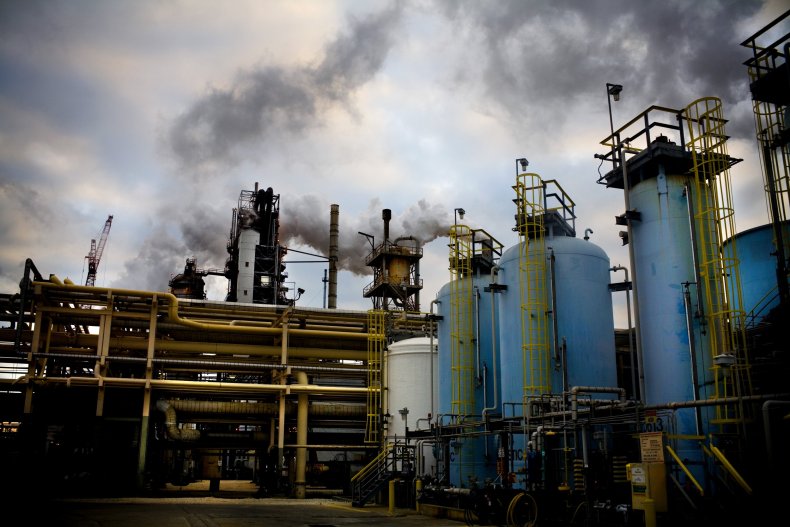 Update 12/23/21, 6:00 a.m. ET: This article was updated to add further information and a statement from ExxonMobil.