Texas Family Say They Were Evicted Even After Relief Program Paid Back Rent
A family say they were evicted from their home even after the Texas Rent Relief Program notified them that the rent they owed had been paid.
Cherice Scott said she and her husband had applied for the program and notified their landlords at the Seville at Clay Crossing apartments in Katy, a city west of Houston.
Scott told Fox 26 Houston that she was alerted on September 15 that her landlord had been paid the back rent.
But she said she continued to receive notices that the family was still going to be evicted.
"They continued to tell me to disregard them, and so I did," Scott told the station. "It shows that on September 15 an electronic payment was sent to them and they're continuing to say it wasn't."
Scott said she arrived home on October 5 to find her family had been evicted.
She recalled her terror at the thought of her family ending up homeless. "I have four children and it's all about them. I'm sorry, I'm still trying to process all of this," she told the station.
Her daughter Jasmine added that what happened was "pretty heart-wrenching."
"It was kind of a kick in the gut, because it was kind of like, What did we do to deserve something like that, you know? Um, it hurt a lot," she said.
The family are currently staying in a hotel, but don't know where they will go next.
Scott's attorney Sarah Doezema, of the Earl Carl Institute at Texas Southern University, said she was pursuing legal action against Scott's landlord.
"We are going to do everything we can for her to make sure we pursue all legal remedies against that complex for what they've done," Doezema told Fox 26.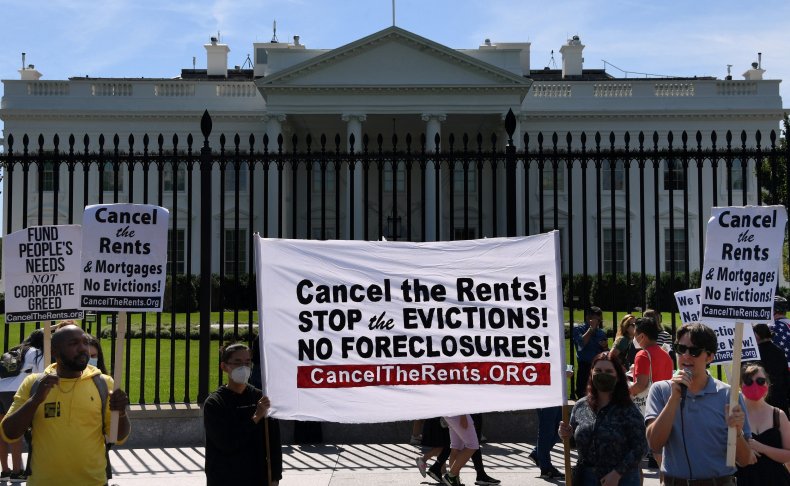 The Texas Rent Relief Program (TRRP) aims to help Texas renters pay rent and utility bills, including those that are past due, to help avoid evictions, housing instability and financial hardship due to the COVID-19 pandemic.
According to the program's website, landlords cannot receive TRRP funds for rent and then pursue eviction related to the time period covered by those funds, except "for actions or breaches of the lease that are related to criminal activity, property damage or physical harm to others."
The Earl Carl Institute, the Texas Rent Relief Program and the apartment complex have been contacted by Newsweek for comment.
Renters facing eviction can seek free or low-cost legal assistance at stoptxeviction.org, texaslawhelp.org, or by calling the Texas Legal Services Center at 855-270-7655.