Texas Farmers Say Biden Should Pay for Damages Suffered Due to Migrants, Border Crossings
Farmers in Texas are calling on the federal government to help them recover from the damages their properties and crops suffered as a result of the recent uptick in illegal border crossings.
The Texas Farm Bureau (TFB) has for months been documenting damages reported by the state's farmers that they attribute to migrants traveling north after crossing the U.S.-Mexico border.
After the bureau led more than 50 other state and national farming organizations in calling for a federal response last month, its president is asking for President Joe Biden's administration to help pick up the tab.
TFB President Russell Boening recently told The New York Post that while the federal government has a way for Americans to request assistance from the federal government after their home or business is impacted by a sudden storm or other natural disaster, property owners do not have a way to request that same kind of assistance when the damages incurred are related to immigration.
"When there's a disaster of some kind—people lose property or lose their home, or lose part of their property—there's places that you can go apply and say, 'OK, this is what I lost,'" Boening said. "We don't have a direct way to do it."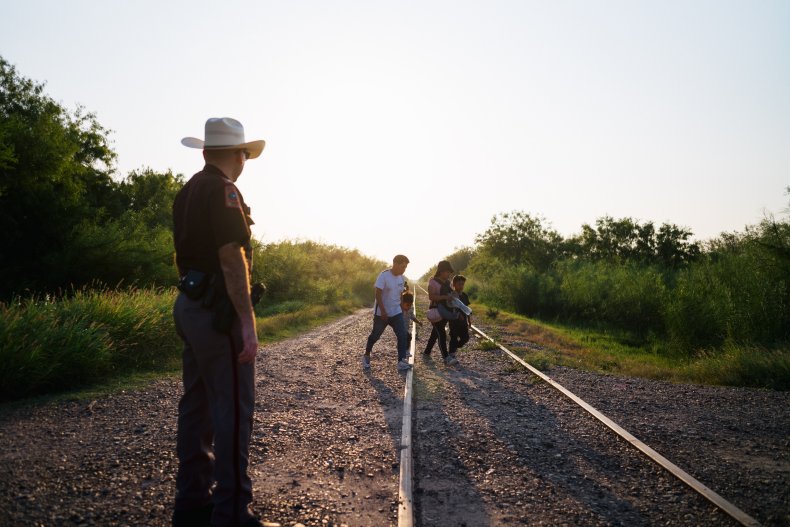 Though border crossings began increasing before Biden took the presidential oath, his administration has reported large numbers of intercepted migrants during his first six months in office.
Border officials reported more than 188,000 encounters between border officials and migrants who tried to cross into the U.S. in June, a 5 percent increase in reported encounters over the previous month, according to data released by U.S. Customs and Border Protection last week.
The TFB began compiling photos and videos that showed the impact of illegal crossings on border farmers. Some photos showed broken fence railings along the edges of farmers' properties, while the videos primarily featured personal statements from farmers detailing their experiences, with some content addressing unaccompanied minors whom farmers discovered.
The increase in border crossings, which the TFB referred to as a "crisis," impacts farmers in that it "threatens personal safety, causes serious financial hardship and disruption, and overwhelms local resources, according to the state's largest general farm and ranch organization," according to an April TFB news release.
In requesting enhanced border security, the bureau called on state and federal officials to "help mitigate the border problem, as soon as possible."
Just over a month after sharing its collection of farmer photos and videos, the TFB further detailed farmers' experiences in a June 3 letter addressed to U.S. Department of Homeland Security Secretary Alejandro Mayorkas, U.S. Department of Agriculture Secretary Tom Vilsak and U.S. Department of the Interior Secretary Deb Haaland.
The letter said farmers were "bearing the brunt of this unprecedented influx" of U.S.-bound migrants.
The farmers "shared how their crops and property are being damaged, which in turn has caused financial hardship. For example, these landowners are experiencing cut fences, destroyed crops, compromised water sources, vandalism, litter on their property and more," the letter said.
The TFB and its allied organizations concluded the letter by calling for "swift" federal action.
"Local and state border security resources have been exhausted, leaving little help for farmers and ranchers," the letter said. "We respectfully request federal authorities work promptly to provide additional resources and enforce legal immigration to secure U.S. borders."
Newsweek reached out to the Texas Farm Bureau for further comment and will update this article with any response.