A popular Texas fisherman has died at the age of 61 after being infected with a bacteria described as "flesh-eating."
Raymond "Skipper" H. Mock passed away on July 30 at a medical center in Brownsville, Texas, due to complications from vibriosis—a disease caused by about a dozen species of bacteria from the genus vibrio—according to an obituary posted by the McCaleb Funeral Home in Weslaco.
Mock eventually succumbed to the infection after experiencing organ failure and sepsis—a life-threatening condition that occurs when the body's response to an infection damages its own tissues—mysanantonio.com reported. He probably contracted the bacteria through an oyster cut, his family and friends said.
Mock spent much of his life on the water around South Padre Island—located off the southern coast of Texas—and learned fishing from his grandfather. In 1982, he founded a fishing guide service in 1982 and in the years after he went on to become a well-known local fisherman, helping to establish Cameron County as a sought-after fishing destination.
"Skipper was a friend to all who knew him and was loved by so many. His free-spirited, laid back, and fun-loving personality will be cherished by all who knew him. His legacy will live on forever at South Padre Island, Texas. RIP Captain Skipper Mock," the obituary read.
Some of the fisherman's loved ones also paid tribute to Mock following his death, including a close friend, John Dargan.
"Captain Skipper Mock, my very special friend and brother for over thirty years," Dargan wrote in a Facebook post. "Fondly considered a special member of my family. A man of steel with a heart of gold. The best of the best sea captains you could ever hope to fish with. Rest In Peace Skipper. We will remember and think of you each and every day."
The Centers for Disease Control and Prevention (CDC) estimates that, in total, vibriosis causes 80,000 illnesses each year in the U.S. and around 100 deaths. The most commonly reported species, Vibrio parahaemolyticus, is thought to cause roughly 45,000 of these illnesses.
Most people infected with Vibrio bacteria will recover on their own in a few days with no lasting effects. But individuals infected with particularly dangerous species, such as Vibrio vulnificus, can become seriously ill and require intensive care or limb amputation.
Around one in five people infected with Vibrio vulnificus will die, sometimes within a day or two of becoming sick. Infections with this species are rare though, with only about 200 cases recorded in the U.S. every year, according to the CDC.
Most Vibrio infections occur due to people eating raw or undercooked shellfish, particularly oysters. But some species can enter the body through the skin when an open wound is exposed to contaminated salt or brackish water.
For those people who eat contaminated shellfish, symptoms can include watery diarrhea, abdominal cramping, nausea, vomiting, fever, chills and severe pain.
But some Vibrio vulnificus infections, in cases where the bacteria enter the body through an open wound, can lead to a severe condition known as necrotizing fasciitis, in which the flesh around the wound dies—hence the "flesh-eating" moniker. Necrotizing fasciitis can also be caused by other types of bacteria, such as Streptococcus A.
Most Vibrio infections occur in the period between May and October when water temperatures are warmer.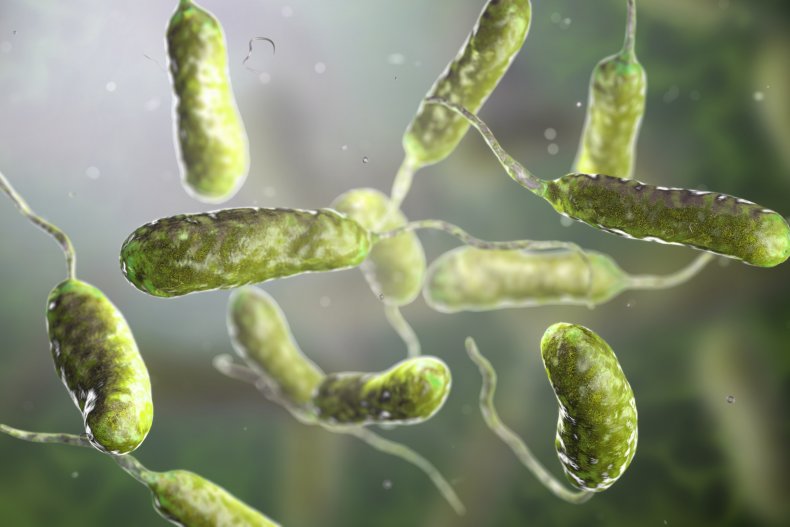 Uncommon Knowledge
Newsweek is committed to challenging conventional wisdom and finding connections in the search for common ground.
Newsweek is committed to challenging conventional wisdom and finding connections in the search for common ground.
About the writer
Aristos is a Newsweek science reporter with the London, U.K., bureau. He reports on science and health topics, including; animal, mental health, and psychology-related stories. Aristos joined Newsweek in 2018 from IBTimes UK and had previously worked at The World Weekly. He is a graduate of the University of Nottingham and City University, London. Languages: English. You can get in touch with Aristos by emailing a.georgiou@newsweek.com.