Texas Flooding Pictures: Heavy Rains Submerge Coastal Towns Under Several Inches of Water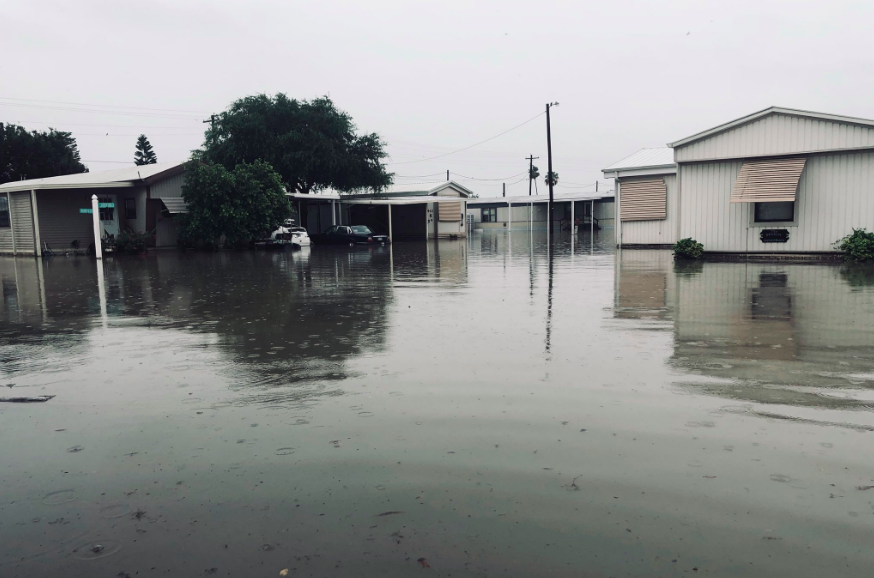 South Texas was struck by heavy rainfall Wednesday, prompting major flooding that left yards and vehicles submerged for hours. The heavy rain prompted the National Weather Service to issue flash-flood emergencies in at least two counties.
The NWS warned that periods of heavy rainfall leading to flash flooding will be possible across the watch area. Additional rainfall of 1 to 2 inches is expected, with 3 to 4 inches possible in isolated locations.
Residents of Weslaco, Texas, took to Twitter to share photos of the devastating floodwaters in their neighborhoods. Weslaco police urged residents to avoid driving and stay home.
Leo Dan Perez of Weslaco told Newsweek that the floodwaters were already receding but cautioned it probably was not safe to drive out yet. "Looks like the worst of it is over," he said. He noted, however, that the rain was sorely needed.
The rain flooded Perez's backyard but did not reach the inside of his house, he said. But he had spoken to neighbors who experienced water damage in their homes and flooding to their cars.
Joshua Rodriguez, who also lives in Weslaco, told Newsweek the rain flooded both his front and backyard. The water reached his home's porch but fortunately did not enter his home. Rodriguez said the water has been slow to recede because the "draining system usually takes a while."
"We were lucky," Rodriguez said. While some water did enter his vehicles, "it's nothing we're too concerned about." Rodriguez noted that the area is expected to receive more rain the following day. "We're hoping Mother Nature spares us."
Rodriguez's sister, Anjelica Jeannette, shared photos of the flooding surrounding his home and their mother's.
In a message on Twitter, Weslaco resident Dakota Cline told Newsweek, "The flood water has gone down about an inch but we are expecting more rain." She added, "The houses seem fine at the moment."
Cline shared several images of the flooding, including a photo of her neighbor standing knee-deep in water.
Fellow Weslaco resident Basilio Bazan Jr. took photos of his neighborhood submerged by water. Bazan's images reveal lawns under several inches of water as rain poured down.
Bazan recorded a video of his living room "flooded with water." He told Newsweek that his living room, kitchen and garage had sustained 4 to 5 inches of flooding. "We used a carpet, towels, pillows and quilts to try and stop the water from coming in," he added.
Other towns and cities also experienced intense flooding. According to the Weather Channel, the NWS reported that Harlingen, Texas, received 14.65 inches of rain in the 72 hours ending at 11 a.m. CDT on Wednesday.
Fabian Ramirez shared a photo of his neighborhood in Pharr, Texas. Floodwaters can be seen stretching throughout the block, making the street impossible to see.
According to the Weather Channel, radar imagery shows rain showers and thunderstorms, with locally heavy rainfall affecting parts of the Texas coastline. An upper-level low-pressure system, which is prompting the heavy rainfall, is expected to stick around into Thursday.