Texas $1 Million Fraud Tip Reward Branded 'Bribe to Generate Lies' by Democratic Rep. Pramila Jayapal
Texas Lieutenant Governor Dan Patrick's offer of up to a $1 million reward for voter fraud reports that lead to arrests or convictions has been branded a "bribe to generate lies" by Rep. Pramila Jayapal (D-WA).
President Donald Trump has insisted foul play in the election is what cost him, with network calls having deemed Democrat Joe Biden the winner and now president-elect.
Trump's team has launched a raft of legal action in the wake of Election Day, insisting upon widespread fraud. However, they have struggled to fully substantiate these claims thus far.
In a statement Patrick, a Republican, spoke of his support for Trump's pursuit of alleged irregularities.
"I support President Trump's efforts to identify voter fraud in the presidential election and his commitment to making sure that every legal vote is counted and every illegal vote is disqualified," he said.
"The delays in counting mail-in ballots in other states raises more questions about voter fraud and potential mistakes."
The statement outlined that Patrick will "pay up to $1 million to incentivize, encourage and reward people to come forward and report voter fraud."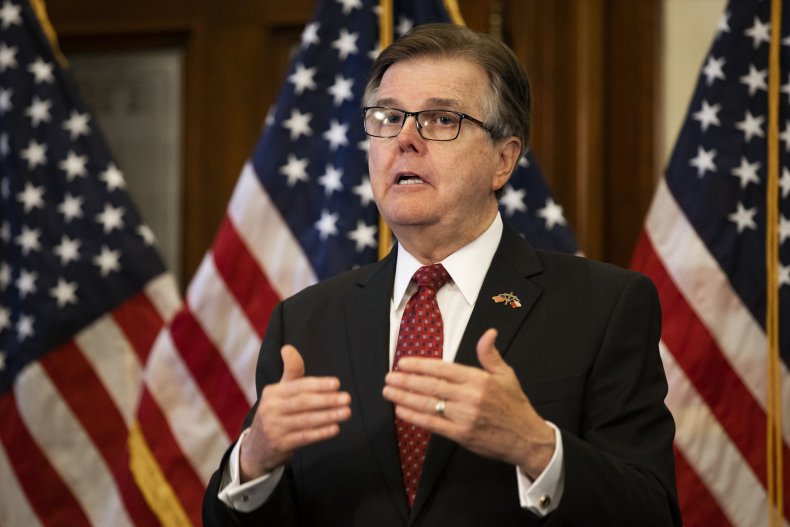 "Whistleblowers and tipsters should turn over their evidence to local law enforcement. Anyone who provides information that leads to an arrest and final conviction of voter fraud will be paid a minimum of $25,000," the statement adds.
Patrick said his goal is to "ensure that, regardless of the outcome, every American has faith in our electoral process and our democracy."
Sherry Sylvester, a spokesperson for Patrick, told the Associated Press the offer was about voter fraud and made "regardless of the outcome of the election."
Sharing a report from The Daily Beast outlining this plan from Patrick, Jayapal suggested it highlighted a lack of evidence for apparent voter fraud.
"The only reason you would offer a million bucks reward is if you do not have any evidence of voter fraud and you are offering essentially a bribe to generate lies," Jayapal tweeted.
Trump had also previously shared the same report and said: "Thanks Dan. Big win for us in Texas!"
Newsweek has contacted Patrick, Jayapal and the Trump campaign for comment.
Patrick's support of Trump comes with a number of high-profile Republicans having backed his post-Election Day actions, with only a few having broken rank.
Biden has described Trump's decision not to concede "an embarrassment," and has begun transition work.
Trump persists with his claims, though, and has questioned what he brands the "lamestream media" calling the race.