A 5-year-old black girl named Simone Bartee was comforted by a white police officer during a Tuesday protest in Houston, Texas. The clip of the officer reassuring her is gaining viewership on social media.
Bartee was crying during a march for racial justice in the nation's fourth-largest city. An officer in a bulletproof vest kneeled beside the young girl—the visor of his riot helmet lifted and his black-gloved hand grasping her shoulder—and asked what was wrong.
Bartee's father, Simeon, said his young daughter asked the officer, "Are you gonna shoot us?"
"We're here to protect you, OK?" the officer responded. "We're not here to hurt you at all, OK. You can protest. You can party. You can do whatever you want. Just don't break nothing."
At the time of publication, the video of their interaction has been shared 820 times and favorited over 2,600 times on Twitter. Most of the 100-plus comments to the video have been positive.
"Being as smart as she is she sees what's going on even when we try to hide things," Simeon Bartee told Newsweek. "I've also sat her down on a child's level and explain to her what's going on in the world because I can be the next George Floyd."
"She seen a little emotion in crowd yesterday and started crying. She also seen the police officers with their gear on and genuinely asked the question," Simeon said. "It was not rehearsed, it came from a genuine place!"
The interaction is just one of numerous recent examples of local police officers showing support and solidarity with other racial justice protesters. The protests have occurred in response to the death of George Floyd, the 46-year-old black man who died in police custody after a Minneapolis police officer knelt on his neck for nearly nine minutes.
Many of the protests in over 75 U.S. cities have gone peacefully. But while police officers have made some shows of solidarity by making peaceful declarations, linking arms with marchers and kneeling alongside protesters, some protesters have claimed that police officers have attacked them after initially making such displays.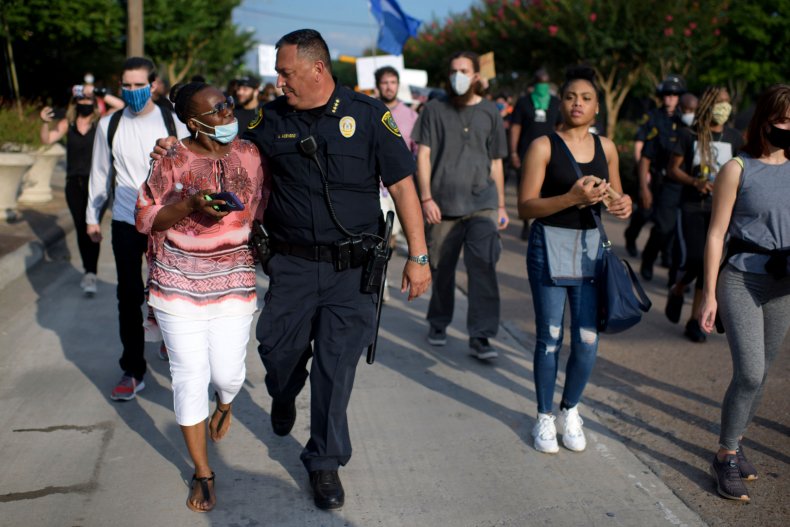 On May 31, Aleeia Abraham, the leader of a Queens-based organization called The BlaQue Resource Network, posted a video of New York police officers kneeling with protesters during a Sunday demonstration march.
According to CNN, a pastor invited the officers within a circle of protesters to kneel with them. The crowd cheered as the officers took a knee and the march organizers began reciting the names of people who had died as a result of police violence.
Forbes journalist Andrew Solender posted a similar video of NYPD officers taking a knee during a nighttime protest on the same date.
Though Facebook and Twitter users shared Abraham's and Solender's over 4,300 times, a Queens-based protester who goes by the Twitter handle diablita (Spanish for "little she-devil") claims that the police set upon protesters later on.
The New York Times reports that recent protests against police violence have been accompanied by videos showing the very aggression condemned by demonstraters. Such videos have shown police using batons, tear gas (a chemical agent banned by the Geneva Convention), blunt impact munitions, and pepper spray against demonstrators—the videos often make the attacks seem unprovoked.
While Abraham told CNN that she had never seen such an act of solidarity in all her days of activism, she expects police to do more to resolve the longstanding issues she and others are demonstrating against.
"That's great, it's a good sign but what we're really looking for is action," Abrams said. "I really want to be clear that that's not enough. It's a nice start, but it's nowhere near enough.... I'll be even more impressed when we're not stepped on and gunned down. That's the moment I'm looking for."