Texas Man Whose Head Was Run Over at a 'Go Topless' Event Survived Brain Injuries, Writes 'My Head Hurts' on Hospital Paper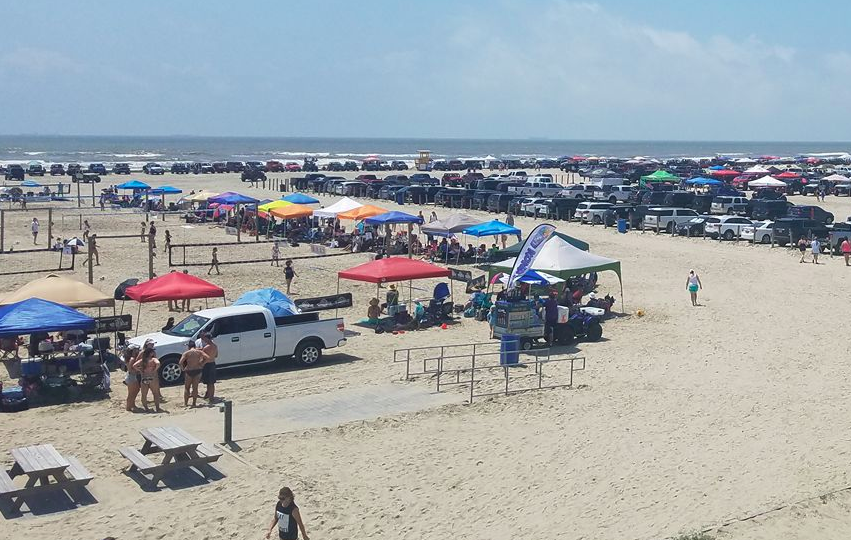 A Texas man was rushed to hospital last Saturday after his head was run over by a vehicle during a chaotic "Go Topless Jeep Weekend" event in Galveston County.
Tanner Francis, 21, was airlifted to the University of Texas Medical Branch (UTMB) after the incident, which allegedly happened when he fell from the back of another vehicle.
According to several Facebook updates posted by his mother, Julie DeRanieri Busby, Francis suffered brain fractures, bleeding and swelling, and was comatose. He was one of six people hospitalized during the beach party at Crystal Beach in Bolivar Peninsula—which also resulted in hundreds of 911 calls, more than 120 arrests and at least 18 crashes, police said.
Go Topless—referring to the Jeep Wrangler body—is an event for truck enthusiasts and claims to offer a family-friendly atmosphere and a car obstacle course. Officials said that it is becoming increasingly overcrowded. Footage emerged this year of fights taking place on the beach.
Newsweek subscription offers >
Francis is showing signs of recovery, Busby noted on Facebook yesterday. His mother said he awoke briefly and asked about his 1-year-old son Luke. When it became clear he was trying to speak the family gave him paper. "He wrote 'my head hurts'!" Busby said.
"We put a picture of Luke in his hand, he looked at it and started crying. I told him that he has a purpose and Luke is it. He started crying harder....they had to give him meds to put him back to sleep because his pressure was going up," the mother added, calling his state a "miracle."
KTRK-TV reported the local sheriff's office confirmed that a total of 126 people were arrested between Wednesday and Sunday in the area. Charges included marijuana possession, intoxication, driving under the influence and carrying an unlicensed weapon.
Newsweek subscription offers >
It was not immediately clear how many people attended the event. The Go Topless website said the number of Jeeps in attendance had spiked from 180 in 2016 to 700 2017.
More than 16,500 people have now signed a petition to put an end to the event, addressed to the Crystal Beach Chamber of Commerce on Change.org.
"[Go Topless] has become more and more dangerous over the years. It has become a danger for the people attending and for the residents of Crystal Beach," Wilson wrote, adding: "The blatant irresponsibility and gross negligence of the party goers has pushed this event over the edge and allowed it to become a deadly event. Let's [show] unity to end this reckless event."
The Chamber of Commerce responded: "We will be working with County and State agencies to see what can be done by law to help alleviate issues of this nature."
Texas Man Whose Head Was Run Over at a 'Go Topless' Event Survived Brain Injuries, Writes 'My Head Hurts' on Hospital Paper | U.S.