Texas GOP Chairman Says State Would 'Welcome' RNC As Trump Threatens North Carolina Withdrawal
Texas GOP chairman James Dickey said the state would welcome the Republican National Convention in late August as President Donald Trump threatened to move the event from North Carolina.
The state party chairman told CNN on Monday that Texas Republicans were also "on track" to have their own in-person state convention in Houston this summer.
"Texas would welcome President Trump and the RNC Convention," Dickey said on Monday. "Until then, based upon Governor [Greg] Abbott's progress in opening Texas, we are on track for our State Convention as planned in person in Houston in July."
The Texas Republican Party chairman threw the Lone Star State's hat in the ring as Vice President Mike Pence told Fox News that it was being considered as a host state for the RNC scheduled for August 24 to August 27.
"These national conventions take many months to organize and prepare," Pence said. "There are states around the country—we think of Texas, Florida, Georgia—the last two states I visited last week that have made tremendous progress on reopening their communities and reopening their economies."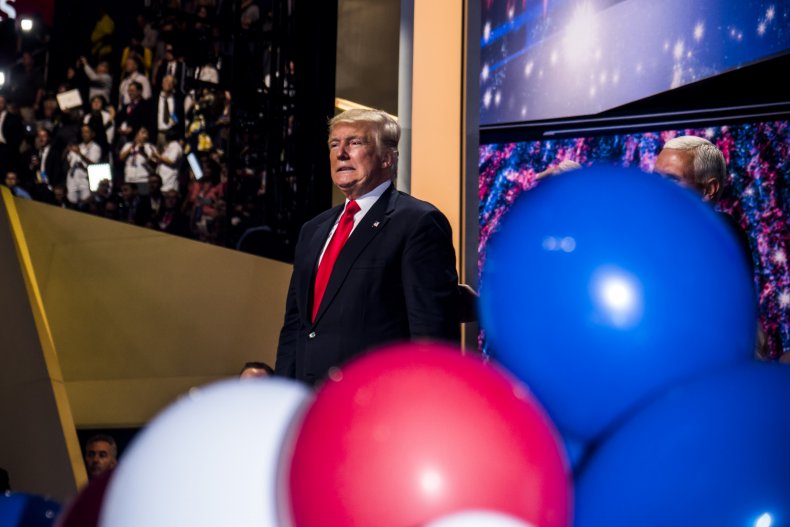 He added that the president wanted Republicans to be able to meet in a "safe and responsible venue" in August to renominate Trump for a further four years in the White House.
"We all want to be in Charlotte, we love North Carolina," Pence said. "But having a sense now is absolutely essential because of the immense preparations that are involved."
Not every Texan official was keen on the idea of the state being the host of the RNC amid the ongoing pandemic.
Responding to a story by CBS DFW on the possibility of Texas being home to the political event, Dallas County Judge Clay Jenkins tweeted: "The last thing we need right now is a large gathering of nationwide visitors coming to Dallas given we are currently at 'red' our highest threat level for Cocid19. No offense. Would say the same thing to the Democrats—please go somewhere else."
According to The New York Times' coronavirus case tracker, Texas has recorded more than 56,000 confirmed COVID-19 infections and 1,536 related deaths as of Tuesday morning.
But the Republican-controlled state has still shown an eagerness to reopen and kickstart its economy after a statewide stay-at-home order expired on April 30. Under new measures, Texas authorities have permitted restaurants, bars, movie theaters and other non-essential businesses to reopen with limited capacity since May 1.
Texas' status as a Republican stronghold with relaxed coronavirus controls could put it in good stead with President Trump as he looks for possible alternative RNC hosts amid his threat to withdraw the event from North Carolina.
"I love the Great State of North Carolina, so much so that I insisted on having the Republican National Convention in Charlotte at the end of August," Trump tweeted on Monday. "Unfortunately, Democrat Governor, @RoyCooperNC is still in Shutdown mood & unable to guarantee that by August we will be allowed."
The president later added: "Plans are being made by many thousands of enthusiastic Republicans, and others, to head to beautiful North Carolina in August. They must be immediately given an answer by the Governor as to whether or not the space will be allowed to be fully occupied."
Responding to the president's remarks, Gov. Roy Cooper's spokesperson said local health officials were "working with the RNC and will review its plans as they make decisions about how to hold the convention in Charlotte."
Newsweek has contacted the Republican National Committee for comment and will update this article with any response.