Texas GOP Congressman Is Still Deciding Whether to Vote for Trump
Representative Will Hurd has indicated he is still deciding whether or not to vote for President Donald Trump in November, adding it was accurate to describe him as "hesitant" to make the move.
The Texas Republican told FiveThirtyEight that he didn't like either of the choices presented by the GOP and the Democratic Party, and had "always" approached elections with an open mind.
Hurd, who is retiring from Congress after the November elections, also said he was "going to evaluate" his choice over the coming months.
Speaking to the FiveThirtyEight Politics Podcast, Hurd said: "Like a lot of Americans, I wish I had different options on the ballot. And my plan is always to support a Republican and we're going to be making those decisions over the next 98 days."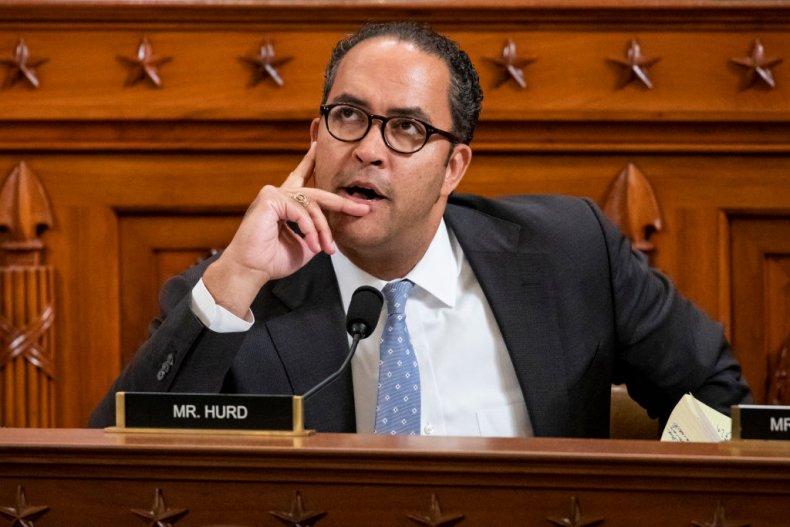 Pressed on whether he was saying he was still deciding whether or not to vote for Trump in the coming election, Hurd replied: "That's how I always approach my election, I'm just like everybody else."
"You previously said that you will vote for Trump this fall, so I'm wondering if you're hesitant a little bit now?" FiveThirtyEight host Galen Druke asked.
"I think that's accurate," Hurd said. "Y'all's polling are showing that. I'm like everybody else... I don't want to vote for a Joe Biden because in the end some of the policies a unified Democratic party is going to pass in a unified government would be tough for the country and the things that I don't support and haven't supported during my times in Congress."
Later asked if it was the case that he wasn't going to vote for Trump, the Texas Republican said: "I don't like either one of my choices, and in the end, we're going to evaluate this over the next 90 days, or 96 days."
Newsweek has contacted the congressman's office for further comment. This article will be updated with any response.
Rep. Hurd sounded hesitant about voting for Trump as polling showed the president trailing former Vice President Joe Biden on both the national level and in key battleground states.
According to FiveThirtyEight's weighted average of national polls, Biden is leading Trump by a little more than 9 points with just over three months to go until election day. One individual poll released by Ipsos on Tuesday showed Biden ahead by 14 percentage points.
The Democratic challenger also looks ready to overtake the president in Hurd's state of Texas, despite Trump's 9-point win in the state four years ago.
Battleground state polling published by Morning Consult on Tuesday showed Biden leading Trump by 2 points, with 47 percent of likely voters in the state backing the ex-vice president.
Another survey released by Quinnipiac University last week showed Biden had a marginal 1-point lead over Trump among registered voters in Texas.